An attack on a Predator street performer outside a shopping mall in Birmingham, U.K., went viral Monday after footage landed on YouTube.
The video, which was allegedly originally posted on the assailant's Facebook page before it was taken down, was uploaded yesterday on the blog I Am Birmingham. It has since garnered 36,000 views and hundreds of angry comments. It also spread quickly on Reddit, where commenters began hunting for the assailant's identity.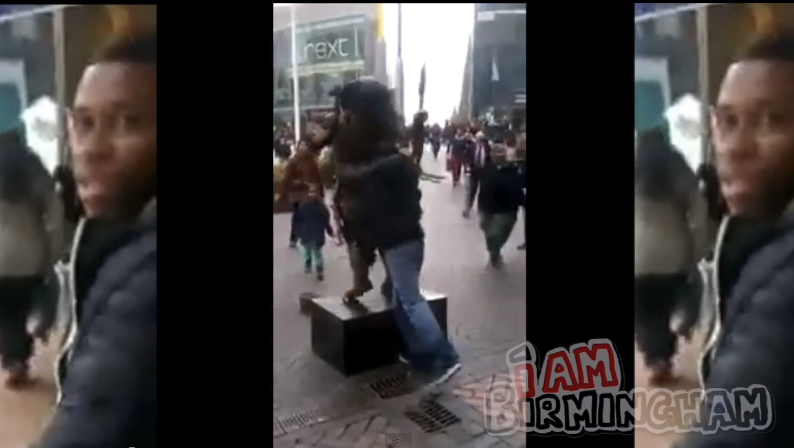 According to I Am Birmingham, the incident took place outside a shopping center in the Birmingham city center, where the victim—a street performer who dresses up as Yautja from the 1987 movie Predator—regularly performs. 
The video shows a young man running up from behind the performer. The cameraman laughs and eggs him on. The assailant then pushes the performer, who topples off his platform and lands directly on a small child. The culprit laughs and runs away. Both the performer and the child are believed to be OK.
After discovering the video, I Am Birmingham put out a call to Twitter, asking if they had any information on the assailant. They then asked the West Midlands Police if they had any further information on the attack:
Many have been appalled by this attack on a #Birmingham entertainer this weekend. Do you recognise the attacker? https://t.co/2L9Og5WbwE

— I Am Birmingham (@IAmBirmingham) October 21, 2013
@IAmBirmingham @brumpolice police are making enquiries into this but so far have not received any complaint from the victim

— West Midlands Police (@WMPolice) October 21, 2013
After the video went viral on Reddit, receiving 3,500 upvotes in a few hours, the alleged assailant's full name and Facebook page was posted to the original thread, which has since been disabled for violating Reddit's policy of revealing personal information. According to a thread in r/justiceporn, a Birmingham club also forwarded the attacker's Facebook page to the West Midlands police, after offering a reward of six months' free entry to whoever could identify him.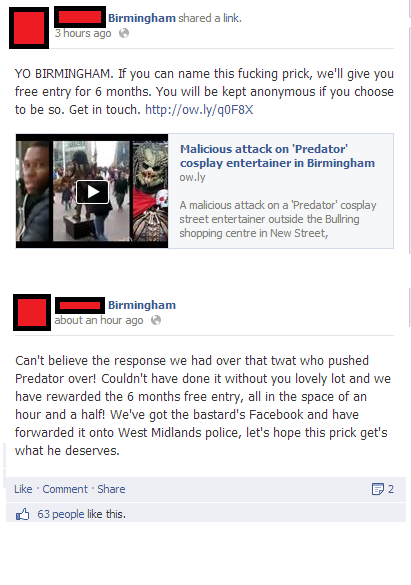 Despite the story's seemingly happy ending for Internet-justice advocates, the incident prompted many, um, unsavory responses from redditors and YouTubers. Sadly, many comments focused less on the attack itself and more on the assailant's race, whining about diversity in the U.K. Awful—but, sadly, not surprising.
H/T I Am Birmingham | Photo via Ice Foxx/Flickr