It's not every day you see a troupe of black drag queens strutting down the streets of a small Alabama town. 
It might have all been a misunderstanding, but it happened: The "Prancing Elites" dancers were invited to perform in the Semmes, Ala., Christmas parade on Saturday. 
Kentrell Collins, the captain of the troupe, told a Mobile television station that he was under the impression he and his performers were welcome at the event. He spoke on the phone with a parade organizer who said she was excited about the dance number. 
But once the group started marching, the reaction from the crowd was decidedly mixed, as jeers were shouted over cheers from the spectators. Despite the cold reception, the Prancing Elites shimmied bravely on in fur-accented red sweaters and tight white shorts. 
After the parade, some residents poured their outrage onto social media sites, posting damning messages on Facebook and Twitter. 
Dear Semmes Mayor, you will be seeing lots of mail coming your way concerning the parade. #smh

— John Vella (@jfvella) December 21, 2013
Trannys at semmes parade smh. What is the world coming to.

— dylanNOTdillon (@DPounds92) December 21, 2013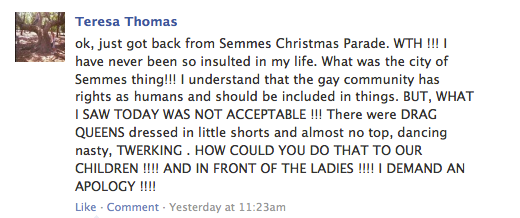 The dancers said they were just as surprised by the apparent mix-up as the residents. They said they'd rather have been pulled from the lineup than perform for an audience that wasn't receptive. 
"We do want to apologize if we offended anybody who did not know who we were before today, but still, at the end of the day, we only just came to dance and we did get invited," Colllins told Fox 10 News.
Though there was considerable backlash against the dancers, many people voiced support on social media as the story gained attention. 
If you need a boost of holiday spirit, Google the Semmes Christmas parade. 👯 #stayfabulousAlabama

— Claire Schwartz (@schwartzclaire1) December 22, 2013
Show some love to @PrancingE, the fab dancing group that's getting hate from their fellow Alabamians. Keep on dancing! <3 from Montgomery!

— Mia (@ItsJustMeMia) December 22, 2013
@PrancingE I here you guys killed it in my home town today. Regardless of what anyone says or thinks I wanted you all to know I support you!

— Jeremy (@jeremyisdope) December 21, 2013
For the record, this is the same troupe that had a small viral video hit earlier this year after a tweet from Shaquille O'Neal brought attention to one of their basketball game routines. 
SHAQTIN A FOOL PRESENTS. THESE DUDES B JAMMIN. https://t.co/5fDov676dQ

— SHAQ (@SHAQ) June 14, 2013
H/T Fox 10 News | Photo by prancingelites/Instagram