As 2018 comes to an end, Pornhub is celebrating with the release of its data about who faps to what, when, and where. Its sixth-annual year-in-review is a gold mine of every juicy statistic you didn't want to know (but low-key did), and it shows not even Pornhub is safe from 2018's absurd news cycle.
The site received over 33 billion visits this year. That's billion, with a "b," and it's 5 billion more than last year. In fact, in the time it probably took you to read this, Pornhub users uploaded 12 new videos, viewed over 207,000 videos, and logged more than 57,000 new searches. In case you're like me and bad at math, that's a total of 1 million hours of smut uploaded.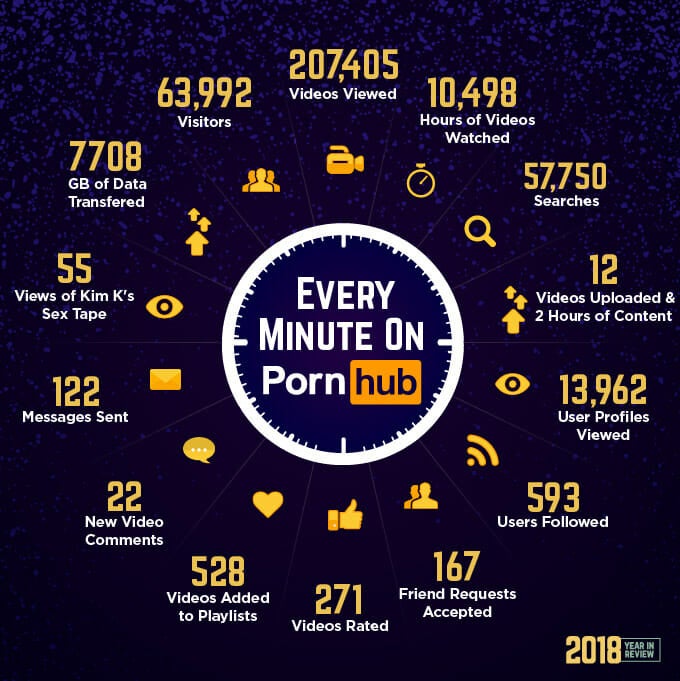 Even if you've never been to the site before (sure), you'll no doubt recognize the name of its most searched-for porn star: Stormy Daniels, the force behind a lengthy legal battle with President Donald Trump over their alleged affair. She even displaced Kim Kardashian, though thirsty users still watch her sex tape a whopping 55 times a minute, and it remains the site's most-watched video at 195 million views.
Not even Pornhub could escape the Fortnite fever that swept the world, ousting Overwatch as the most popular video game search. With every new character Epic Games released, the site became flooded with searches, and when the developer's servers crashed back in April, people searching for Fortnite smut shot up 60 percent in a single day.
Another viral subject of the year, the Bowser-Peach mashup meme Bowsette, dominated Pornhub as much as she did Twitter, racking up 3 million searches in a week and securing a spot as the site's most popular video game character.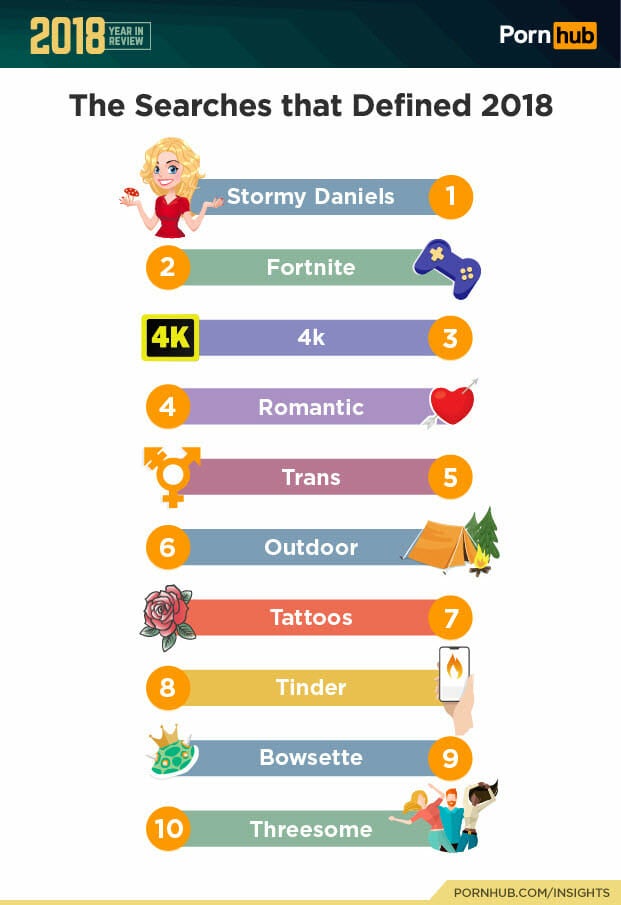 Finally, users continue to get frisky on their phones, which accounted for 71 percent of Pornhub's traffic, a 10 percent increase from last year. And Android users were the horniest, beating iOS users by 10 percent.
So don't feel so compelled to hide your internet history. If this list proves anything, you're probably just as kinky as everybody else.
READ MORE:
H/T BuzzFeed