A screenshot that appears to be taken of Pornhub's website has Twitter on fire.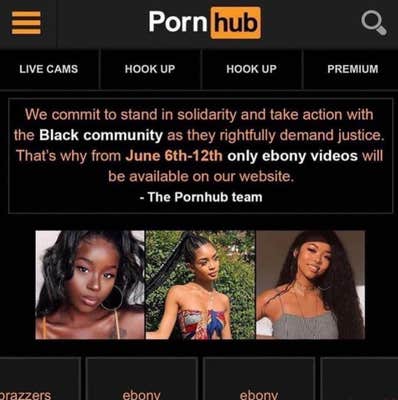 The shot captures what appears to be an announcement by the website that it will only feature Ebony videos for the next few days. It has caused quite a stir online, with some applauding the site's decision.
"COME TF THRU PORNHUB," Twitter user @d_notalwys_nice wrote along with a screenshot of the announcement.
Some other users were far more critical of the site's attempt at displaying allyship and took to Twitter to call out its history on failing to combat sexism, racism, and even revenge porn.
"For one Pornhub's video titles are extremely racist & dehumanizing toward Black women…on top of the fact that a lot of the "amateur" porn is from minors or human trafficking survivors being forced into sex on camera. They also refuse to remove videos reported as child porn," user @dylanali_ argued.
However, it is unclear whether the announcement is even real.
The Daily Dot looked on the website's homepage and found no such announcement. The site also appears to be still featuring videos from all genres, not just Ebony ones. We reached out to Pornhub for comment but have yet to receive a response.
READ MORE: