In a new study sure to turn the sex education community on its head, three researchers have discovered that women who frequently watch porn are less likely to have difficulty getting turned on and more likely to orgasm while masturbating.
In "Effects of Pornography Use and Demographic Parameters on Sexual Response during Masturbation and Partnered Sex in Women," an American and Hungarian research team discovered that frequent porn viewing in women was a predictor for "lower arousal difficulty and orgasmic difficulty, greater pleasure, and a higher percentage of masturbatory events leading to orgasm" while touching themselves.
Researchers found porn did not negatively impact women's relationships with their partners, either. The findings refute claims from conservative organizations, like anti-porn nonprofit Fight the New Drug, which argues "consistent porn consumption weakens, hinders, and destroys intimate connections in relationships." But per the research, porn actually has no bearing on romantic relationships; it just makes sex a lot more fun.
"In stark contrast to prior research findings and public opinion, we did not find strong empirical support for the hypothesis that pornography use is consistently associated with greater sexual dysfunction or relationship dissatisfaction," the study's authors conclude. "[N]o associations were observed between pornography use frequency and general relationship satisfaction or sexual relationship satisfaction with one's primary partner in the previous 12 months." (Emphasis is theirs.)
The report, which was published in late April, was comprised of 2,433 women responding to a 42-item questionnaire across three groups: 966 American women from Reddit, social media, listservs, word-of-mouth, and other similar avenues; 1,043 women on Hungarian social media; and 424 women from a Hungarian professional degree program.
Alongside the study's overall findings on porn usage, the authors found watching porn during masturbation was more likely among premenopausal women, women with "persistent anxiety or depression," queer women, American women, and women with two or more sexual partners.
"Women who use pornography during masturbation tend to be younger, indicate a higher interest in sex, masturbate more frequently, have lower arousal difficulty during masturbation, are more likely to reach orgasm during masturbation, and have longer latencies during masturbation," the study notes. Orgasmic latency (or orgasm lag, as this reporter calls it) is how long it takes from beginning masturbation to orgasming.
However, while orgasms might be easier during masturbation, it also served as a predictor for "greater difficulty reaching orgasm during partnered sex and greater distress regarding orgasmic difficulty during partnered sex." Increased porn viewing also predicted for "longer orgasmic latencies" during sex. This may be because of the increased importance porn generally places on orgasms.
"Sexual relationship satisfaction," not porn usage, predicted whether women would orgasm during sex.
"Specifically, greater sexual relationship satisfaction was associated with lower arousal and orgasmic difficulties during masturbation, and lower arousal and orgasmic difficulties, shorter latencies to orgasm, greater orgasmic pleasure, and greater percent of time reaching orgasm during partnered sex," the study notes.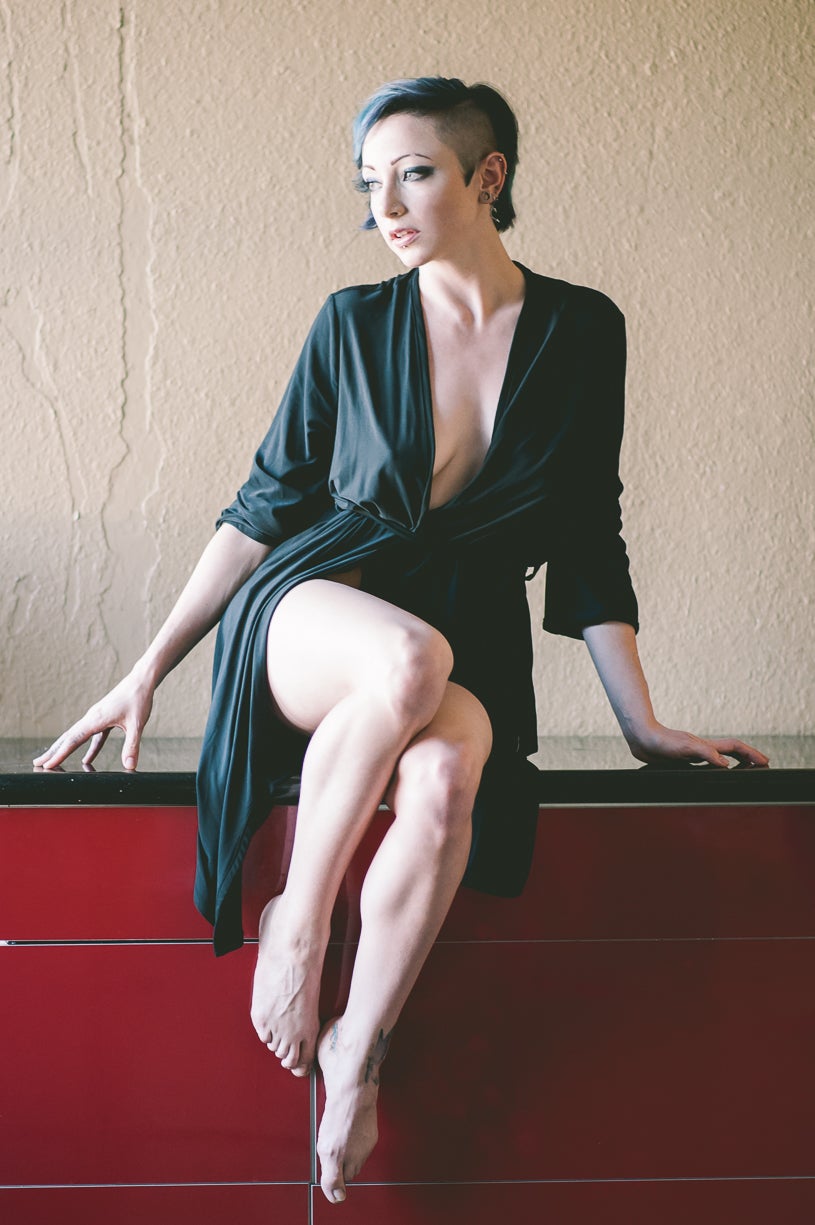 Women who reported anxiety or depression were more likely to have greater issues with orgasms, require more time to reach an orgasm, and overall experience increased difficulty getting aroused during sex. This culminated in a drop in both sexual and relationship satisfaction, suggesting that compulsive porn usage may be a symptom of mental distress.
"[I]t could well be that a subset of women use erotic materials to compensate for psychosocial factors (e.g., dissatisfaction in one's sexual relationships, ongoing anxiety or depression) that independently impinge upon sexual responsivity," the study states.
Meanwhile, education levels also served as a predictor for less issues getting turned on while masturbating, a "higher likelihood" of having an orgasm during sex, and experiencing less difficulty reaching an orgasm while touching oneself or having sex. In other words, if you have an advanced degree, you're more likely to nut.
"One common interpretation of this relationship is that more educated (and thus literate in many cultures) women are more aware of their sexuality, sexual issues, and sexual choices, and thus able to better articulate their sexual desires to their partner and to prioritize their own pleasure as an integral component of meaningful sexual relationships," the study notes. "Yet, while such relationships within emerging nations may not be surprising, the fact that similar relationships are found in highly literate societies as well is notable."
It won't come as a surprise to most sexually active women that porn feels great to watch and helps you cum while alone in bed, although this study offers plenty of food for thought regarding sexual content usage and queer experimentation. Psychology Today's Dr. Ritch C Savin-Williams argues women who engage in "performative bisexuality" at parties and bars to gain "desired male attention" may engage with queer experimentation because they are "motivated by the pleasure of the sexual encounter for them, whether men are watching or not." (Emphasis his.)
Hopefully, this new study will convince more "straight" women to admit it feels particularly nice to kiss other girls. Failing that, at least there's no shame in paying your friends $10 a month to watch them on OnlyFans.
READ MORE:
H/T Psychology Today