A few months ago, my sister texted me to ask if I knew of a porn star named Tyler Nixon. "Yeah, of course," I said. I'd discovered him on Tumblr a few months before, and my friends and I had become moderately obsessed with him due to his aw-shucks surfer boy looks and his uncanny resemblance to Josh Hutcherson. "Why do you ask?" "Lol Maggie (not her real name) is Tindering with him," she responded. Maggie is her best friend.
Naturally, I immediately sent Maggie the following text: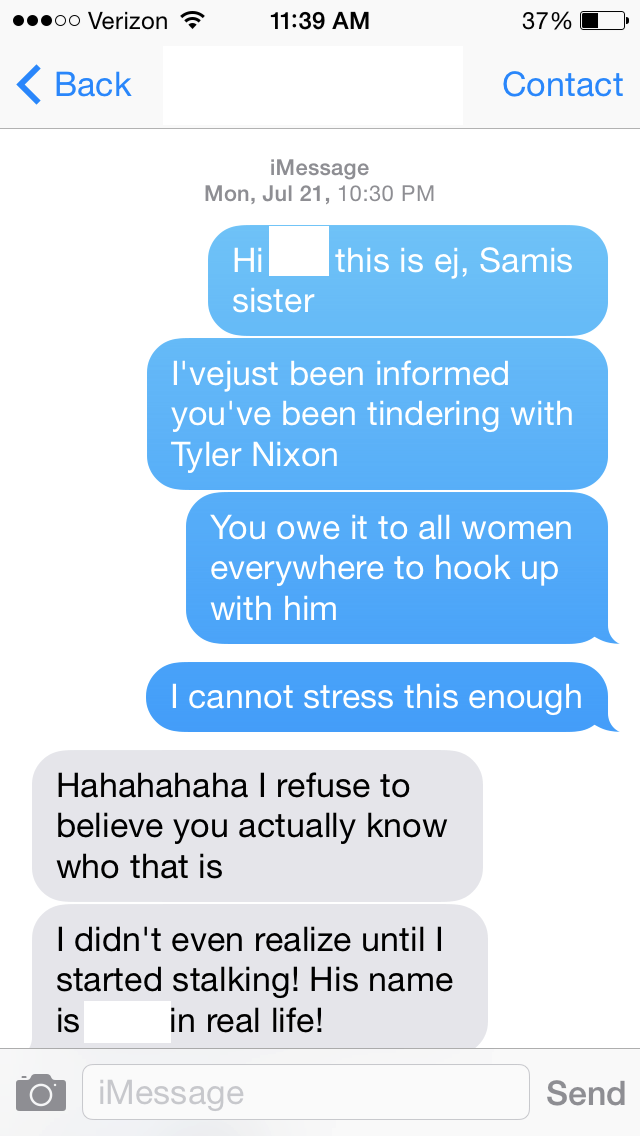 Although Maggie said they hadn't messaged in a while, she told me he'd messaged her a little over a year ago while she was living in Los Angeles. Nixon had used both his real name and his porn name in his Tinder profile, but she didn't put two and two together until she looked up his Instagram. Yet despite my encouragement, she didn't seem that interested in pursuing anything with him.
"Idk I think porn may be a deal breaker for me," she said. "I mean he put it on his profile so it's not like he's hiding it. But you know the new 'moments' thing? He sent one of him holding a slice of pizza over some girl's ass captioned 'afternoon snack,' so I don't know if I'm prepared for that sort of thing."
Later I reached out to Nixon to ask about his Tinder experience. (I didn't mention that we appeared to have a mutual friend.) He told me that while he mainly uses Tinder as a goof—"It's just fun to see what could be out there, kinda stroking my ego a little if you know what I mean:)"—Maggie's reaction to his profession was not atypical.
"Sometimes people ask about some of my pictures or the fact I have two names and begin interrogating me, and I'm truthful and straightforward," Nixon told me via email. "[Either] they don't believe me or just give me the :/ face lol. Girls are NOT down."
I can't say I didn't understand how Maggie felt. Even though I talk to sex workers pretty much every day and find them pretty much like everyone else I encounter on a regular basis (I mean, some of them have better hair, but still), I'm not sure how I'd react if I was messaging with someone on Tinder and found out they were a porn star. I'd like to think I'd be totally cool with it, but having never been in that situation, I can't say for sure if dating someone who regularly has sex with other people wouldn't be, as Maggie put it, a dealbreaker.
Maggie's account of matching with Nixon on Tinder made me wonder: What, exactly, is it like for adult performers to use dating apps? While it's not uncommon to see adult performers' photos used in fake profiles or escort ads on the app, there are also a "good number of people in the industry who use Tinder, along with other dating apps," says Claire Robbins, an adult performer who found out about Tinder from a performer friend of hers.
Given that the app makes an estimated 10 million matches per day (and that it's attracted its fair share of single celebrities), that in itself is fairly unsurprising. But considering that we usually think of adult performers as having an unlimited buffet of willing sexual partners at their fingertips, why would they use the same hook-up apps us civilians do? And if they are in fact looking for the same thing as the rest of the swipe-happy singles out there are, how easy is it for them to find it?
Apparently, while there are a slew of porn power couples in the San Fernando Valley (re: Stoya and James Deen), there's also a fair number of adult performers who prefer to date civilians, chiefly for pragmatic reasons. Given how small and insular the adult industry is, there's "basically no eligible bachelors to choose from," says Robbins, who says she has never dated anyone in the industry. "It's a very small industry and the women strongly outnumber the men. Of the gentlemen present in the industry, many of them are already in relationships. That leaves a pretty small percent of single dudes."
Robbins started using Tinder last year, "mainly out of morbid curiosity." While she used her real name on the app, she was open with her matches about her adult career. "I figured if these were people I'd be dating, or at the very least fucking, they had a right to know that having sex with other people on camera for the world to see is 90% of my job description," she says.
When she told people on Tinder what she did for a living, the reaction, she says, was mixed: While most people were fairly cool with it, "there were probably 2 people that told me to fuck off, which is fair enough. There were maybe 5 people that wanted to know EVERYTHING, which immediately freaked me out. Those are the sorts of people I try to steer clear of; they're the kind that will eventually ask to have their friends gang-bang you, or something equally uncouth."
Although she went on a few dates, she ultimately found it disappointing: "It wasn't the cornucopia of penis I had been warned about." But Robbins' Tinder experience wasn't all for naught. She's currently dating a man she matched with on Tinder, though they had been friends for months prior.
"I like to think that Tinder had a part in that. If it weren't for our match, who knows if we would have progressed past being good friends."
In most respects, Robbins' experience on Tinder wasn't that different from those outside the adult industry: She met a handful of decent guys, and also her fair share of creepers. But generally speaking, many adult performers seem to be stuck in something of a catch-22: While many performers share an aversion to mixing "business with pleasure," as former performer Carmen Luvana told the Sydney Morning Herald about her civilian relationship back in 2007, it's hard to find someone who both understands the profession, and doesn't let jealousy get in the way of the relationship.
Although Tinder has made it a lot easier for some of us to hook up online, it seems like that's not the case for people who have sex for a living and are looking for love among the civilian population. "My personal sex life does not exist lol," Nixon wrote to me when I asked about his love life outside the industry. "As embarrassing as it is, besides my ex a year ago, I haven't been with anyone romantically."
Still, he holds out hope that he'll find someone—just not necessarily on a hookup app.
Ultimately, Nixon, like most of us who spend hours blithely swiping right and left on the series of anonymous faces on Tinder, thinks the app "is just entertainment for me," he says. "I would like to meet a girl the old fashion [sic] way, and by that I mean arranged marriage :). Just kidding.
"But seriously. [I'd like to] go out and meet someone that shares the same interests."
H/T Richard Abowitz | Illustration by Fernando Alfonso III