If we had to elect an ambassador of sorts for the adult industry, the pool of candidates would probably include the usual suspects: the Stoyas, the Sashas, and the Jameses, performers with a high level of name recognition and mainstream cred. I, however, would nominate a slightly lesser-known, yet nonetheless familiar candidate for this (admittedly ludicrous) position: Aurora Snow.
An AVN award-winning adult performer who shot her first film in 2000, Snow spent more than a decade in the adult industry before retiring in early 2013. As a result, she's witnessed the myriad economic and technological changes in the porn industry firsthand, and has lent her expertise to the Daily Beast as one of their regular contributors ("A Porn Star's Letter to Her Unborn Son," a piece Snow wrote while pregnant with her firstborn son, went viral last December). Snow's writing on adult industry issues, from racism in porn to STI testing, is frank and occasionally controversial: For instance, she's one of the few former or current adult performers to come out in favor of the porn condom mandate Measure B.
This week, Snow, who lives in the Midwest with her husband and newborn son, brought her perspective on porn to the Ivy League in a speech at Harvard Law School March 6. The Daily Dot caught up with Snow before the adrees to discuss condoms, how social media has killed the porn star, and whether the Internet has permanently changed the adult industry (spoiler alert: It has).
So tell me a little bit about your plan for speaking at Harvard.
My subject is "Sex, Drugs, and Rolling Dice: On The Regulation of Vice." I'm there as a guest speaker, basically to humanize the subject of pornography and talk about how the testing is implemented, and what working conditions are like. The students are learning about laws that regulate the adult entertainment industry, and I'm there to put a face on it and talk about how they affect performers personally.
So you'll be talking about the condom mandate [Measure B, the 2012 law requiring adult performers to wear condoms]?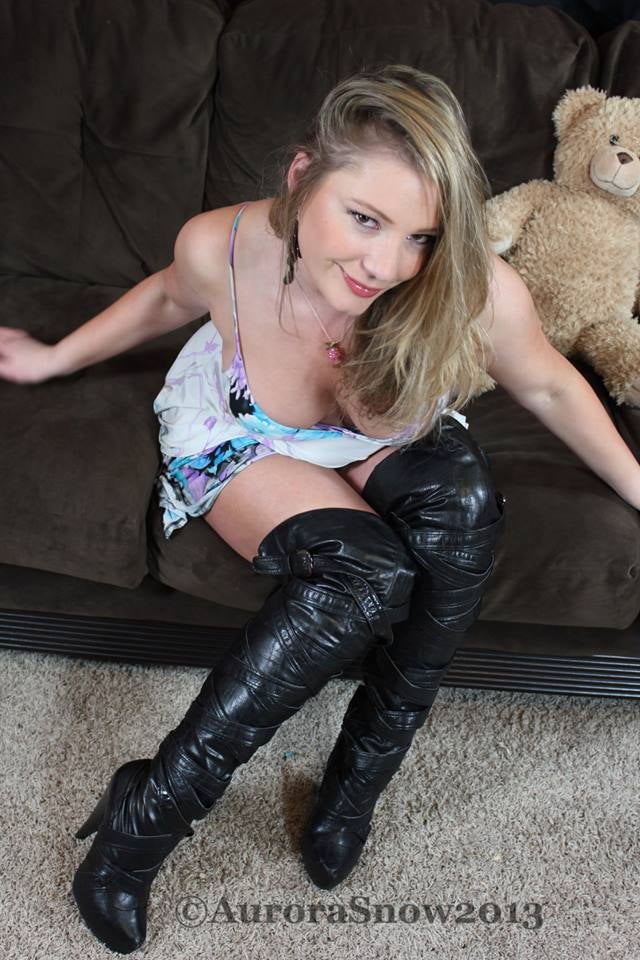 via Aurora Snow/Facebook
I'll be talking about Measure B and how that impacted performers. When I wrote about it in the Daily Beast, I know a lot of performers saw me kind of as the enemy when I came out in favor of Measure B, because a lot of the feminist and Christian groups were also in favor of Measure B. And I was not an enemy of the industry by any means. I came out for that because I thought it was such a favorable way to institute workplace safety in a way that we hadn't been able to institute before, and more than that it really legitimized porn. To implement workplace safety helps others recognize the business as a real, legitimate business.
My understanding is that the vast majority of the industry doesn't see it that way. They sort of see it as enforced regulation, like, the government has to come in and babysit the dirty porn industry.
Yes. I think that performers are less worried about STDs and maybe more worried about tearing during a scene, because the argument is that condoms increase the risk of tearing during shoots, which may increase the risk of infection, and that's why Measure B was such a big concern for some.
What was the response like in the adult community after you came out in favor of the condom mandate?
Publicly, it was a pretty divisive response. Publicly, there were a lot of people saying, "I understand what Aurora is saying, however, I disagree strongly." And privately, in DMs on Twitter and in emails, I had several performers email me saying, "Thank you so much for writing that. I wanted to say something like that, but I feel like I can't speak up or I'm gonna lose work." And I understand that. It's something that, had I been an active performer at the time, I would've had reservations about writing it, because I would've been afraid of losing work. And I probably would have.
There were four known cases of HIV infection in the industry in 2013, which led to three separate moratoriums on shooting. In light of that, do you think the conversation on Measure B and regulation has changed in the industry at all? Do you think that most people are largely still in opposition to it, or that more people are starting to think, "Hey, this might be a good idea?"
I think the conversation has definitely changed. When I came out in favor of it in the piece, I was one of maybe a few. And in part because of the moratoriums and the HIV cases that have sprung up, more and more people have crossed the line and said, "Hey, Measure B is maybe a good idea." And I think that's a good thing. They're starting to understand what that kind of legislation can do.
The rise of adult agencies is a relatively new development in the industry. What role do they play in the conversation over condom use? How prominent are they in the discussion?
Agents wield a lot of power. Girls coming in the business, girls in the business, look to the agents for advice on what they should and shouldn't do to prolong their careers. I don't know how agents felt about Measure B. I'm sure most of them didn't like it, but maybe some of them didn't necessarily care, as long as work was still happening.
In 2000, when I started, the business only had a few agents. You didn't have as many as you have now. And when I started, the business was a bit word-of-mouth and the Internet was just becoming huge at the time, though not as big as it is now. Back then, agents had to advertise in the classifieds and didn't really have a mainstream approach to getting girls in the industry. Now, with the Internet, they can have their websites and put ads out there. So girls who really wanna get in can look at the websites and the girls they're representing, and if they happen to be fans of those people, they're more likely to approach that agent. I feel like there's a huge influx of talent and so many more people that flock to the industry now. Everyone's hoping to be the next Jenna. You didn't have that when I started.
Yeah, you came in at a time when the Internet was sort of just starting to really explode. What's the one major way that the Internet has changed the adult industry since you first started?
When I started, there were hundreds of companies, and performers could work as often as they wanted to. There was tons of work. Now, there aren't as much companies, in part because of the Internet. It's cheaper to produce, cheaper to distribute. You don't need to have a big company. You can do it all pretty much from your home and run a website. You don't need to have the overhead of a company. Unfortunately, it reduces the work and reduces the type of rates performers can demand or get paid. But more than that, it's made it a little personalized. Now, a performer doesn't necessarily have to do much scene work: You can do a few scenes, create a name, then take that name home and offer webcam shows, offer personalized custom videos to your fans, communicate directly to your fans on social media. And you couldn't do any of that before. It's definitely become more personalized.
Do you think it's necessarily a positive thing that social media and cam shows and the like have bridged this gap between fans and performers?
Well, by bridging the gap between fans and performers, it's definitely taken away some of the fantasy. The performers are no longer girls on pedestals. They are now girls you can actually talk to and touch in some way. That's great for fans. It can be a really good thing for a girl in the business. She can build her fan base without having to do 80 or 100 scenes, just by interacting with them and maybe doing a webcam here and there so they can see her face and get to have that one-on-one interaction. However, I think it really takes away from the building of a porn star. With this kind of social media, I don't think you can really have another person like Jenna [Jameson]. The way she blew up, I don't know if that's achievable anymore.
Why not? How does a porn star being super-active on Twitter or Instagram or camming detract from that?
I think part of the attraction is that she was this unattainable fantasy. Girls are no longer an unattainable fantasy. Once your fans get to know you, they start to—I've had fans get to know me on social media, and they've said, "Hey, I've gotten to know you, I really like you, and now I have a hard time watching your movies." And so now they don't necessarily wanna be members of my website, they don't wanna watch me have sex anymore. But they do want to have conversations with me on social media. They become a friend, as opposed to a fantasy they wanto to buy into.
In terms of how piracy and the tube sites have affected the industry, you actually wrote about this at length on the Daily Beast [in the piece "5 Ways to Save Porn"]. Do you feel like we're moving in a direction where porn stars will basically be independent contractors camming and offering interactive services from their homes, like we were discussing before? Are we gonna see a day where there's no pre-recorded content whatsoever?
I think there's always gonna be prerecorded content. There's always gonna be a subsection of people who really love to film themselves, and there's always gonna be a group of people who really love to watch it. What we might lose is the actual porn star. But we'll always have amateurs filming themselves, uploading it, and we'll also always have professionals doing the same thing. The issue is that there's so much content out there, I don't know how much that prerecorded content is actually gonna pay the directors and the performers and the camera ops.
There was a time, way back when, that the people who were getting into porn were getting into porn for fun. I don't think they were getting into it for money 20 years ago — it might've been a motivating factor, but it was more of a fun thing to do than a business. Now it's a business. And maybe as the money dries up, it's going to be less of a business and the people getting into it are getting into it for fun.
Would you personally have entered the industry as is now, in 2014?
I don't know. I was a little naive when I entered the industry in 2000. I felt like I'd probably work in it for a year and maybe not be well known, and then 10 years from then I could completely deny it and no one would ever know I did it in the first place. I definitiely couldn't have that belief in 2014, no matter how naive I was. And I think in 2014, with all the social media, I would've had to do some heavy considering, trying to figure out whether I wanted my face or my body blasted all over Facebook and Twitter. And now it's not just adult performers blasting nude images all over the place, you also have kids doing it: 21-year-olds, frat boys, sorority girls. Our generation has changed in that regard too.
Do you think the fact that sexting and amateur porn are so prevalent indicates that porn isn't taboo anymore, that it's gone mainstream? Given the moral outrage over, say, the Duke freshman porn star, I'm not inclined to think so.
Yeah, I think the Internet has taken porn mainstream. James Deen is in a movie with Lindsay Lohan. Jenna Jameson is a household name. We have so many porn stars that have crossed over. Sasha Grey is on Entourage. Porn has become kinda cool. People want porn stars in their music videos, and they want to cast porn stars in their movies. Everyone's very excited about it. It causes a buzz. I have never seen so many porn news articles on the Internet as I have in the last year. I think the reason is people are curious, they want to read about it, they want to talk about it. Even if people comment and are like, "Oh my God, how can you publish this on a mainstream news website?" at least it's starting a conversation. I just don't think porn is taboo anymore.
I wrote my son [Quentin, who is two and a half months old] the letter, "Letter to my Unborn Son," on the Daily Beast, and I think about that [how to explain my porn career to my son] a lot. He's going to have have a lot of questions. But I think with the generation he's growing up in, the questions won't be the same as they were in my mom's generation. He's going to be used to people that don't really care about privacy, he's gonna be used to people sexting and posting half-nude photos of themselves. So I think what I've done won't be such a big deal.
I think the fact that you're speaking at Harvard Law sort of indicates that we're at least moving in that direction.
(Laughing) Yeah, I think that shows how far porn has come. Never in my wildest dreams would I have imagined that was possible, and I think 10 years ago, it wouldn't have been. We owe a lot of credit to the Internet for that. The Internet has put porn in everybody's home. There's no more seedy book shop, people picking up their DVDs and coming out with a brown paper bag. You do it in your own home, and it's comfortable, so it allows people to feel more comfortable about porn, which I think has created that mainstream appeal.
It seems like, with your writing and with this speech, that you sort of still have one foot in the adult world, and you kinda have this position as a spokesperson for adult industry issues. Now that you're retired and you have a child, are you comfortable being in that position, where people are always asking you about porn, porn, porn?
I enjoy that role. I don't know if I see myself as a spokesperson, but it was a career I spent over a decade on, so I certainly have a lot of experience. I really enjoy helping people learn about it. I feel like I'm a middle-of-the-road voice. When I was active in the industry, I was very bothered by the fact that you always had extremists: People were either very pro-porn, everything about porn is good and there is no bad, or people were very against it. The whole thing was just awful. So I always wondered, why can't people recognize the good and the bad, because there's good and bad in everything? And I feel like I'm that person.
Photo via Facebook, Aurora Snow