Fall Out Boy vocalized its support for the Black Lives Matter movement in a statement posted to Twitter on Tuesday and committed to donate $100,000. As the retweets rolled in, people remembered that bassist Pete Wentz is half-Black.
In the statement, the band wrote, "We support the black community in the struggle against racial inequality, injustice, and police brutality by committing to donating $100,000 from the Fall Out Boy fund." The statement continued, "We will begin with donations to National Bail Out and Black Visions Collective. We realize this is a marathon and plan to continue and expand our support."
Twitter user @chanceharbour quoted the tweet and commented, "people forget that pete wentz is half black and that fall out boy has always been anti-racism and pro-lgbtq." The user also reminded people that Fall Out Boy "showed kaepernick kneeling at their shows."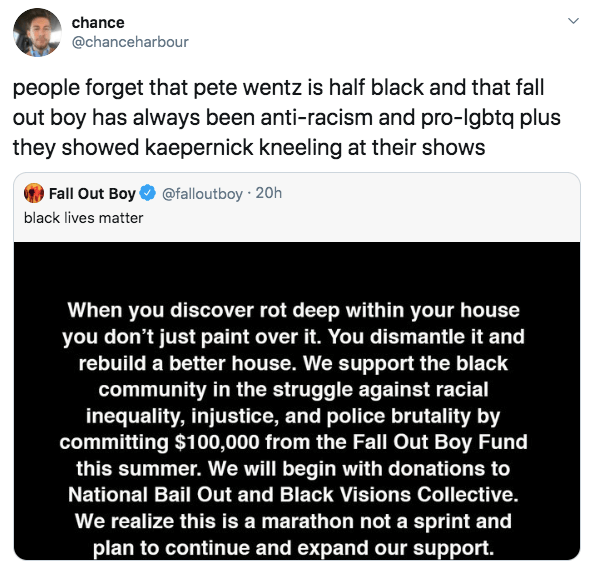 According to Wikipedia, Wentz's father is "of English and German descent," and his mother is Afro-Jamaican.
Other Twitter users remembered Wentz's early days on the punk scene with his second band Racetraitor, which formed in 1996 with Wentz as a bassist. The group's first album was called "Burn the Idol of the White Messiah."
A review on Punknews.org said in its lyrics, Racetraitor "attacks colonialism, slavery, non-Muslim organized religion, but is best when articulating a poetic, rebellious ire."
Wentz left the band and formed Fall Out Boy in 2001.
READ MORE: