The popular astrology app Co-Star is facing backlash after turning the George Floyd and Black Lives Matter protests into a meme titled "At the Demo," short for demonstration, in an Instagram post on Wednesday.
The meme used the zodiac signs' personality traits to guess how people would act or how prepared they would be while protesting.
"hey everyone if you have the co—star app do me a favor and delete it right now," Twitter user @karolinaswitch said. "they turned the protests into a meme. they turned fighting for the end of police brutality & murder against black people into a MEME."
Some of the joke horoscopes include: "Scorpio: Wears a pair of sunglasses to protect their eyes and their emotions" and "Gemini: Had trouble deciding which 'good friend's' number to write on their arm as an emergency contact."
The post's caption was later edited to include "demo tips," according to screenshots shared by @karolinaswitch. "A life worth living requires a commitment to each other," the revised caption said. "The way forward is uncharted. It's ok to want destruction. The future doesn't exist until we make it." The post is no longer on Instagram.
Co-Star added a new Instagram post on Thursday with protest tips. In the caption, Co-Star said its team members "have been protesting against white supremacy and police violence for decades." The caption further explained that protest tips were originally put into meme format as "a palatable way to share the things we've learned about keeping each other safe in the street."
"We believe it is crucial to spread information about the correct way to deal with tear gas canisters, how to use encrypted messaging, that milk causes eye infections, that layering is the quickest way to change clothes in a pinch etc," the post says.
The app, which did not immediately respond to the Daily Dot's request for comment, said on Instagram the intent was not to minimize the protest but to "make them feel less scary; to encourage people to take action."
Twitter user @BADIDEASVINYL said this isn't the app's first problematic post. Screenshots showed the Co-Star account previously posted an astrology meme about "going missing from a manic episode."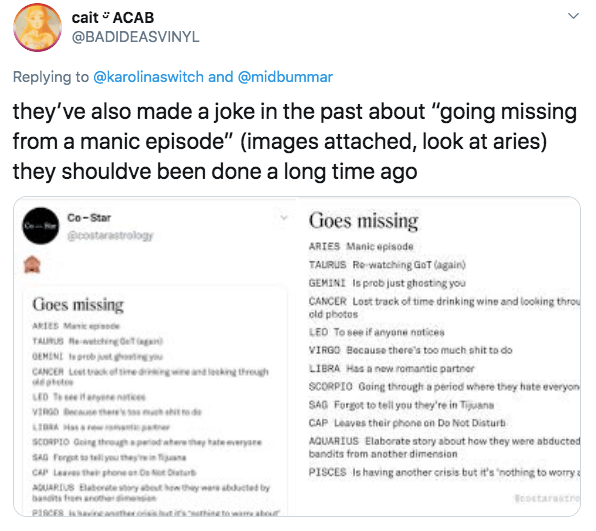 The user and others shared other astrology app options, including Time Passages and The Pattern, for people looking to disconnect themselves from the app.

READ MORE: