An influential donor at the University of Mississippi who is also the namesake of the journalism school shared a Facebook post this week that implied two Black women dressed up for a night out would cause real estate prices to fall and a decline in enrollment.
Edwin Meek, 77, posted to Facebook two images of Black women, apparently taken in the early morning hours after an Ole Miss football game.
"I hesitated until now to publish these pictures but think it is important that our community see what the camera is seeing at 2am after a ballgame," Meek wrote in a since-deleted post, via the Daily Mail.
"I hear there were 180 police working the weekend but of all the pictures late night, the fights and scenes, I have seen no police presence … Enough, Oxford and Ole Miss leaders, get on top of this before it is too late. A 3 percent decline in enrollment is nothing compared to what we will see if this continues…and real estate values will plummet as will tax revenue."
He also wrote that "we all share in the responsibility to protect the values we hold dear that have made Oxford and Ole Miss known nationally."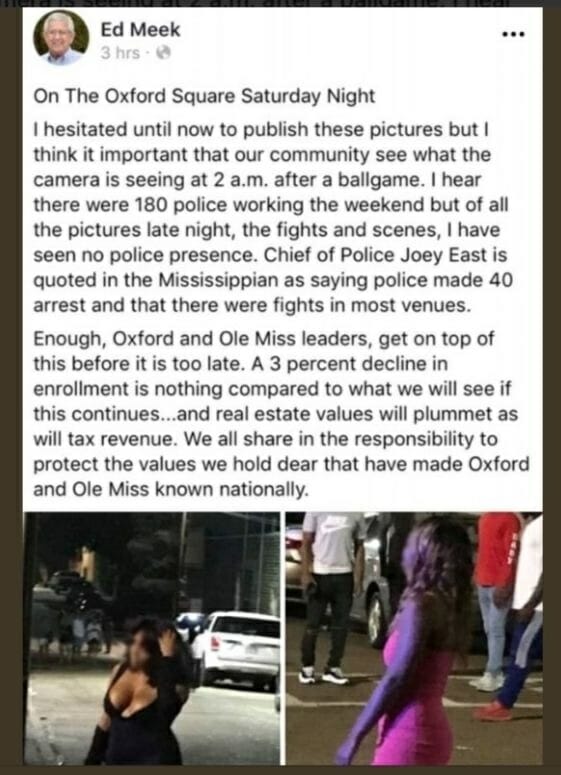 According to the Daily Mail, Meek deleted the rant about five hours after he posted it, but now, some students want him punished.
More than 2,700 people have signed a Change.org petition demanding that the school remove Meek's name from the journalism school. The creator of the petition wrote, "The actions of Ed Meek have not only violated basic ethics of the journalism, but have also contributed to the notion that racism is alive and well at the University of Mississippi, despite the University's consistent efforts to reconcile its shameful past."
The dean and four assistant deans of the journalism school also released a statement saying that they were embarrassed by Meek's actions. Meek reportedly apologized in a subsequent Facebook post but then deleted that one, as well.
One of the women in the photo, Mahoghany Jordan, wrote in the student paper, the Daily Mississippian, that his post "reeks of racist ideology as well as misogyny and is not representative of who either of us are." She said she would not accept his apology, and she said she was proud of who she was and what she looks like.
"As for Ed Meek: one should never use the physical appearance of a person as a measurement of their morality," Jordan wrote. " … I don't need anything from the reciprocal guilt you feel after being called out for what you are. The two things that automatically put me at a disadvantage in our society, you'll never completely understand."