Tech

Tech

The gadgets, platforms, and software that make your digital life possible. If it bleeps, clicks or blinks, you'll find it here.

Internet Culture

Internet Culture

There's a community for everyone online.

Streaming

Streaming

News, reviews, and guides for the world of online entertainment.
The Oatmeal shows the money
Here's the moment we've all been waiting for: the money shot. 
Now this is how you end a season-long spat!
The Oatmeal founder Matthew Inman closed the book on his bizarre, hilarious saga with Internet rights attorney Charles Carreon, fulfilling the final order on his original pledge to creatively counter a shifty lawsuit filed against him by the even shiftier website FunnyJunk.
Last night, Inman published a blog post featuring photos of the popular Web comic in his apartment with stacks upon stacks of cash amounting to $221,233.04—money that Inman had raised for the National Wildlife Foundation and American Cancer Society in retaliation to FunnyJunk's original lawsuit.
If all goes to plan, it will be the final nail in the coffin that is the Inman v. Carreon dispute, one that's featured two lawsuits, an amendment, two fortuitous charities, more than a few lewd drawings, and one attorney who now walks with his tail tucked firmly between his legs.
Posted under a header that reads "As promised, here's the photo of $211,223.04 in cash we raised for charity," Inmans's photos detail the hefty amount in a number of posed positions. (The money, it should be noted, is not the same exact bundle of cash that will go to the NWF and ACS. That money has already been transferred to the two charities. This bundle was money Inman had withdrawn from his personal account, according to MSN.)
One photo shows the sum of money in a duffle bag. Another finds the money laid out in need stacks on a white table. A third shows the bundles arranged such that they spell out the letters "F" and "U." That photo appears under a note saying, "And here's a photo that I'm mailing to Charles Carreon."
Inman plans to mail that shot to the attorney's Arizona address, along with a photo of a woman seducing a bear in what he considers a "lovely care package."
"Because remember folks," he wrote before switching his font from Trebuchet to cold hard cash, "Philanthropy > Douchebaggery."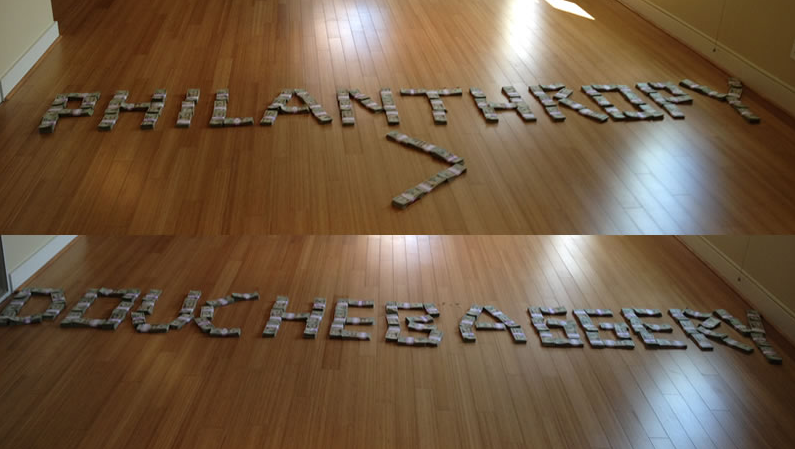 Photo from The Oatmeal
Chase Hoffberger reported on YouTube, web culture, and crime for the Daily Dot until 2013, when he joined the Austin Chronicle. Until late 2018, he served as that paper's news editor and reported on criminal justice and politics.
© The Daily Dot, all rights reserved.
Represented by Complex Media, Inc. for advertising sales.