Celebrating the LGBTQ community during Pride month really does bring the homophobes out of the woodwork. But one Tennessee hardware shop owner's anti-gay patron policy is backfiring in the form of negative Yelp reviews. The comments are showcasing support for the community, with some depicting the store as the "Sodom and Gomorrah" the owner so clearly detests.
Across Twitter, Yelp, and even Google Maps, prideful LGBTQ community members and allies are crushing the homophobic establishment of Jeff Amyx, the owner of Amyx Hardware and Roofing Supplies in Washburn, Tennessee. This week, Amyx raised a sign in his storefront stating "No Gays Allowed," drawing the ire of gay, lesbian, and transgender patrons across the internet.
Amyx Hardware, who reposted their "No Gays Allowed" sign after the SCOTUS ruling, is now categorized as a "gay bar" on Google and the reviews are epic.

"I'm usually a fan of cornfed midwestern boys, but…" pic.twitter.com/wXMxSymrIh

— Kaz Weida (@kazweida) June 7, 2018
People against homophobia have criticized the store and its sign with tweets and shaming reviews on Yelp. Some have posted images of the store the store's Yelp page featuring people enjoying themselves at pride parades, gay couples kissing or having sex, and rainbow imagery.
Some reviewers got to the heart of what Amyx was doing, aka discriminating against the LGBTQ community.
"No Gays Allowed? This establishment discriminates against the LGBTQ community. Discrimination can't be tolerated. Boycott this business," one one-star review advises.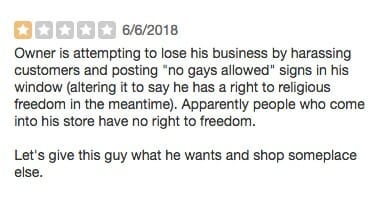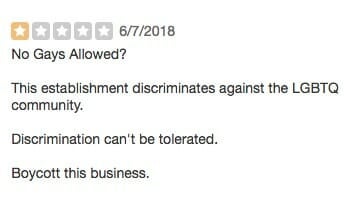 "I tried to buy some supplies for me n my wife's liberal & lesbian shenanigans shed, but the door wouldn't budge. Is there a secret way cishets open the door??? I only thought they were only good at closing them," another sarcastic one-star review reads. "Either way, me and my wife's power tools are gonna get rained on. Was hoping to buy some stuff for our roof. Oh well."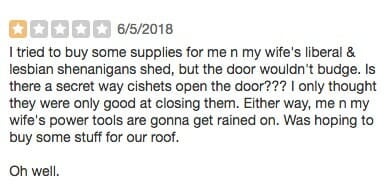 Others openly mocked Amyx's "Christian" stance and denouncement of Sodom and Gomorrah by insisting his shop was a different kind of hardware shop—a sex-positive haven supplying sex toys and double entendres for all.
"This place is so fucking amazing! They have anal toys, dildos, sub/dom outfits, butt plugs and roofing supplies. You know, so you can hammer in your nail, hard. They carry an array of different types of nipple rings and gags, as well. I would definitely shop there if you're in the mood for some fun sex," one fake five-star review reads.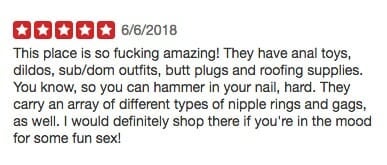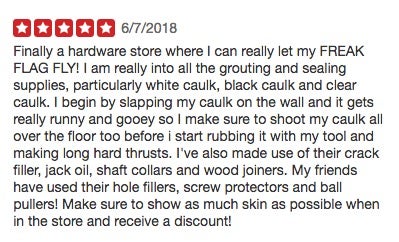 Even if Amyx's store wasn't sex-positive to some, it was certainly accepting of gay people, as some of these sarcastic reviews implied.
"This hardware store has everything for your pride parade needs!" says one photo caption. Another showed the Google Maps description of the shop is a "gay bar."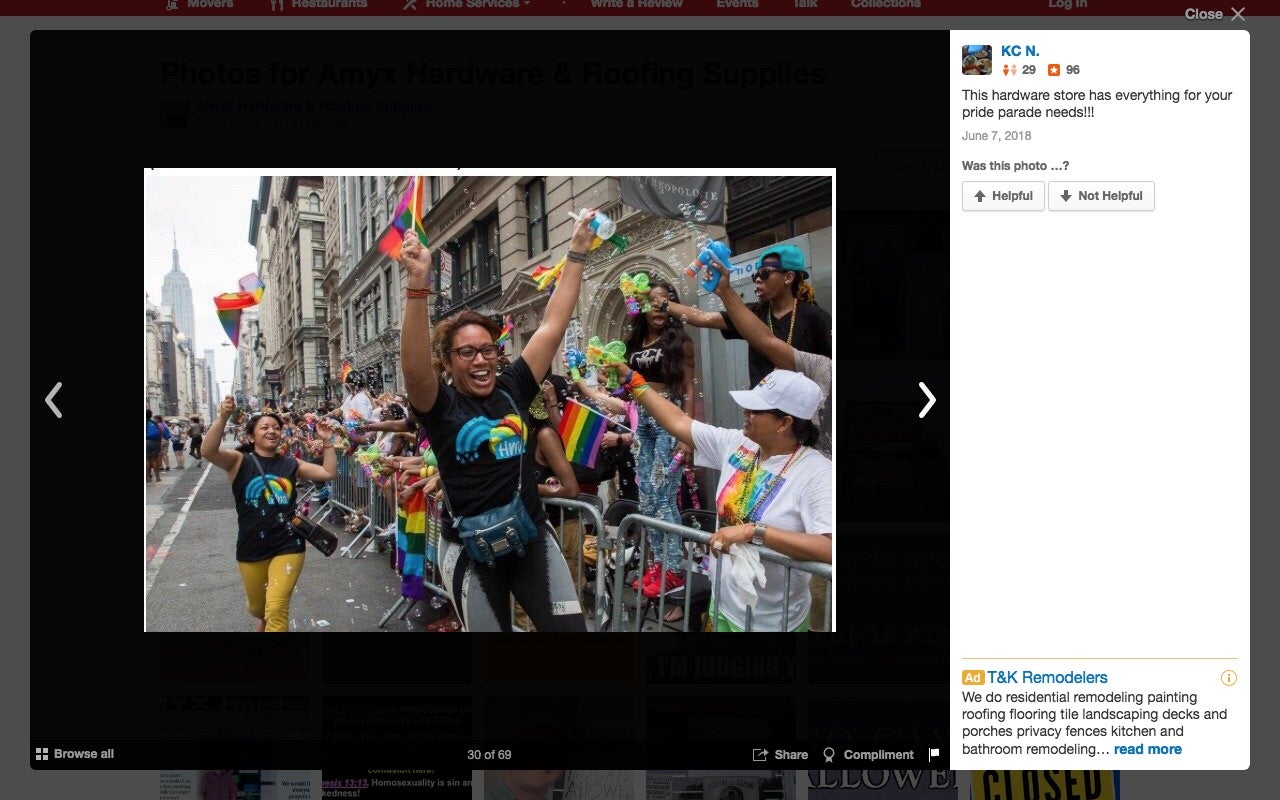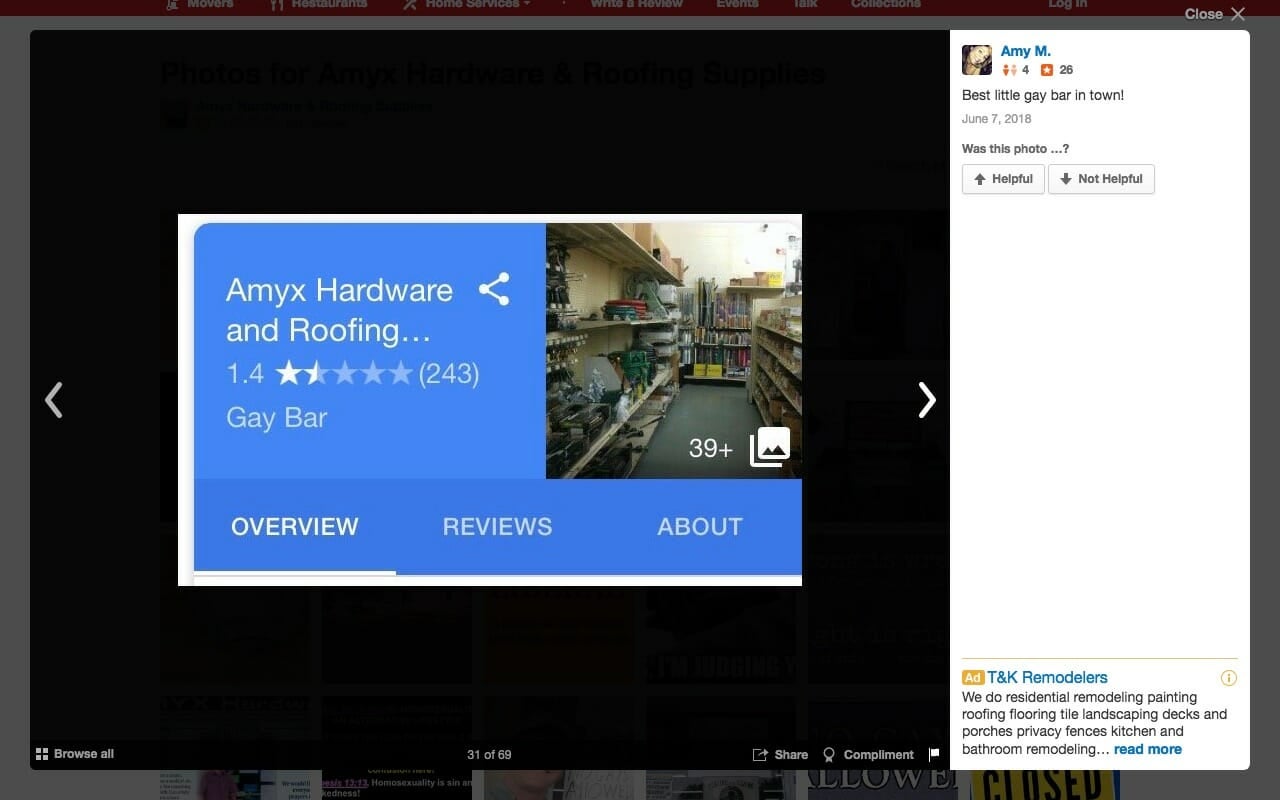 Some instead humored Amyx's anti-gay stance, asking for a few specifics—how gay was too gay to not be allowed to shop at the store? And what about lesbians: Did they count, even if they weren't included on the sign?
"Your sign specifically states 'no gays allowed'—what is the test to determine one's gayness? Is there a test? Is one percent gay OK, or up to 49.9 percent? I'd like to know before I drive all the way over there!" one poster's question reads.
"Are all gays banned, or are lesbians ok?" another asks.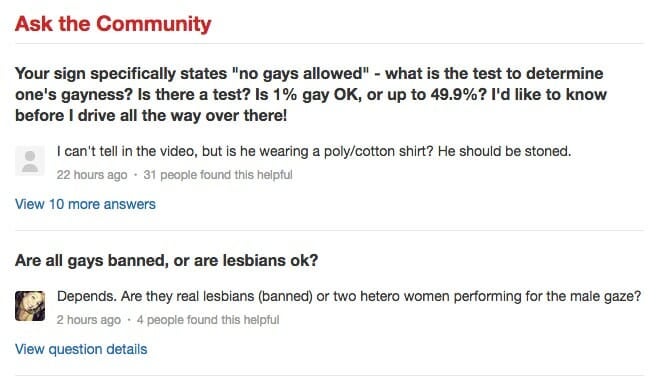 Much of the Twitter reaction around Amyx's sign appears to tote his homophobic store policy as news, particularly in light of the Supreme Court ruling siding with a Colorado baker who refused to bake a wedding cake for a gay couple, and June being Pride month.
The fallout from SCOTUS failing to settle the issue of the right to discriminate on the basis of religious freedom from Masterpiece Cake continues as the "No Gays Allowed" sign is replaced with a "right to refuse service based on freedom of speech and religion" sign. pic.twitter.com/G0Oa8Isgcn

— Amee Vanderpool (@girlsreallyrule) June 7, 2018
Homophobic No Gays Allowed sign put up by homophobic Tennessse store to show devotion to noted non-homophobe Jesus.

— John Fugelsang (@JohnFugelsang) June 7, 2018
https://twitter.com/NMamatas/status/1004619785005486080
It was never about cake.
"NO GAYS ALLOWED"
https://t.co/GmeIFvZ821

— Sara Bonaccorsi (@SNBonaccorsi) June 7, 2018
https://twitter.com/EdKrassen/status/1004714917218476033
I see a news story:

"Store owner puts 'No Gays Allowed' sign in their store"

And I'm just like dude, it's 2018. Do you just get off on being on the wrong side of things?

I see folk calling Pride month 'anti-straight' month and like, really? REALLY? =w=

— SmallerGod (@JennySmallerGod) June 7, 2018
This isn't the first time Amyx displayed homophobic haterade. In July 2015, Amyx first garnered the attention of USA Today when he put up the "No Gays Allowed" sign on the glass door entrance to the shop. His Yelp page also displays "Christian" flags over American flags and signs that read, "Choose God or Gays," and "God destroyed all the Sodomites…" (attached to a rousing announcement that the store now mixes paint).
Amyx told the publication that gay and lesbian couples are "against his religion."
A Baptist minister, Amyx said he was inspired to display the homophobic policy by the pride of the LGBTQ community.
"They gladly stand for what they believe in, why can't I? They believe their way is right, I believe it's wrong. But yet I'm going to take more persecution than them because I'm standing for what I believe in," Amyx said.
Even Amyx's first Yelp review from 2016 maintained his homophobic demeanor, along with photos of the establishment's anti-gay signs he posted himself.
"I was made to feel very uncomfortable here, holding hands with my partner and walking through the store. Bible verses were thrown at me aggressively, and I gave serious consideration to filing harassment charges," the first review from January 2016 reads, before turning the Christianity table on Amyx himself. "Then I remembered that the book of Matthew says—'Why do you look at the speck that is in your brother's eye, but do not notice the log that is in your own eye?'—So I decided that I should just walk away, at least one person there shouldn't be a big fat hypocrite, might as well be me."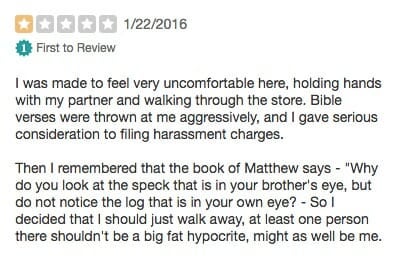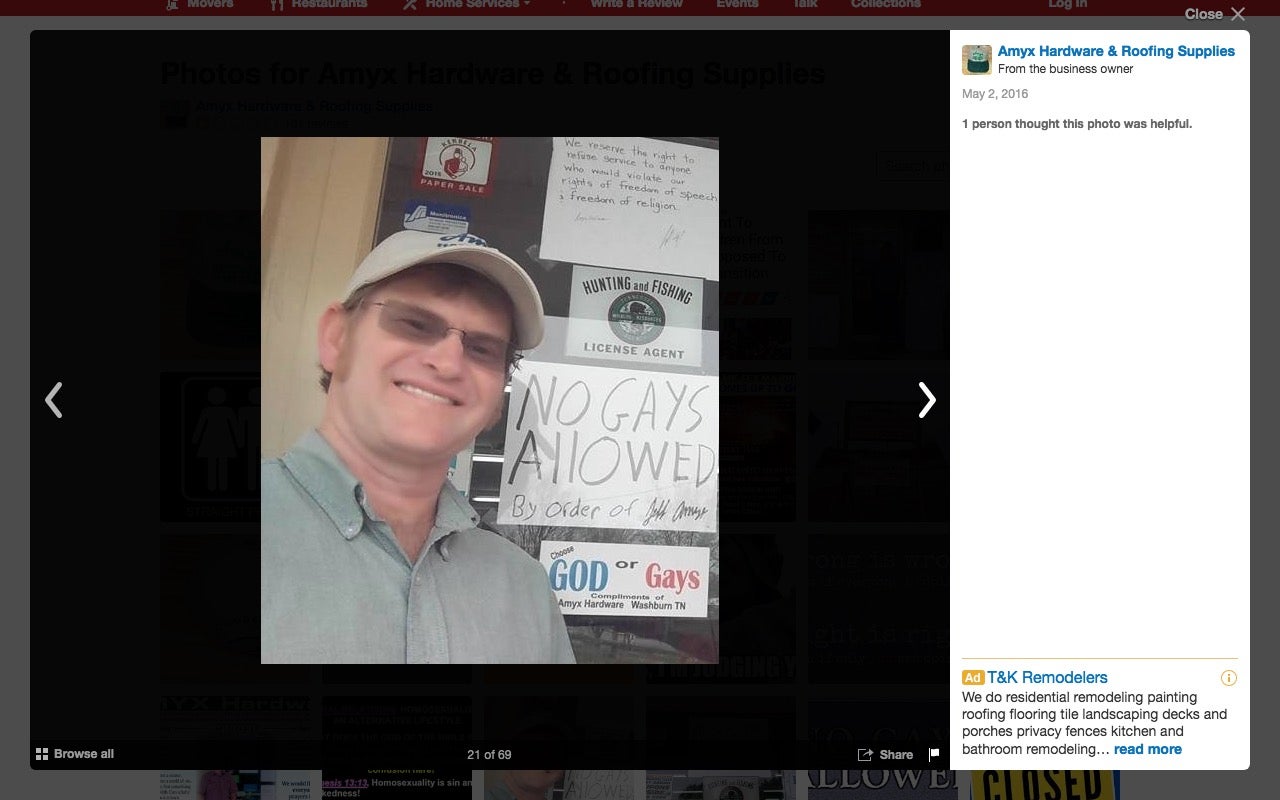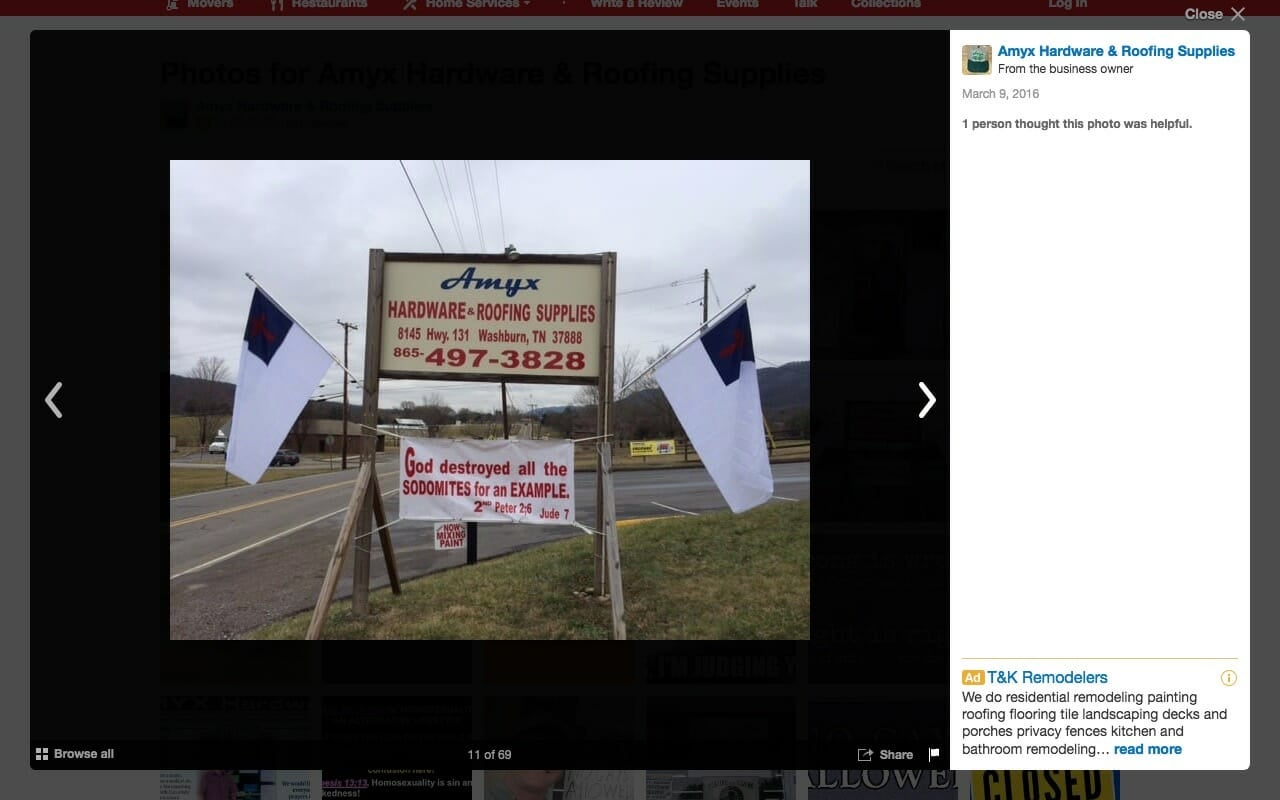 At the time, a Facebook group was created to boycott the hardware store, another group vowed to drive out of the way to shop elsewhere, and U-Haul dropped the store as a customer. Amyx later replaced the sign with a note that read, "We reserve the right to refuse service to anyone who would violate our rights of freedom of speech and freedom of religion," and he told TV station WBIR that he wasn't planning on asking customers about their sexuality.
But according to a June 4 story from WBIR, Amyx has raised his "No Gays Allowed" sign back up after this week's Supreme Court ruling in favor of the Colorado baker. This time, he told the station he's celebrating the "win."
"Christianity is under attack. This is a great win, don't get me wrong, but this is not the end, this is just the beginning," he said. "Right now we're seeing a ray of sunshine. This is 'happy days' for Christians all over America, but dark days will come."
Despite Amyx's homophobic celebration, legal experts say the cake case doesn't necessarily create a precedent for anti-gay establishments because the ruling only applied to the Colorado baker. The court only ruled that the Colorado Civil Rights Commission was hostile toward the baker because of his religious beliefs and didn't rule on religious liberty as a whole.
Yelp has caught onto the negative reviews responding to Amyx's homophobia and has flagged the page for a "clean up," implying that reviews made after June 7 may be taken down for not specifically sharing Yelp users' experiences at the establishment.
"This business recently made waves in the news, which often means that people come to this page to post their views on the news," Yelp's message reads. "While we don't take a stand one way or the other when it comes to these news events, we do work to remove both positive and negative posts that appear to be motivated more by the news coverage itself than the reviewer's personal consumer experience with the business."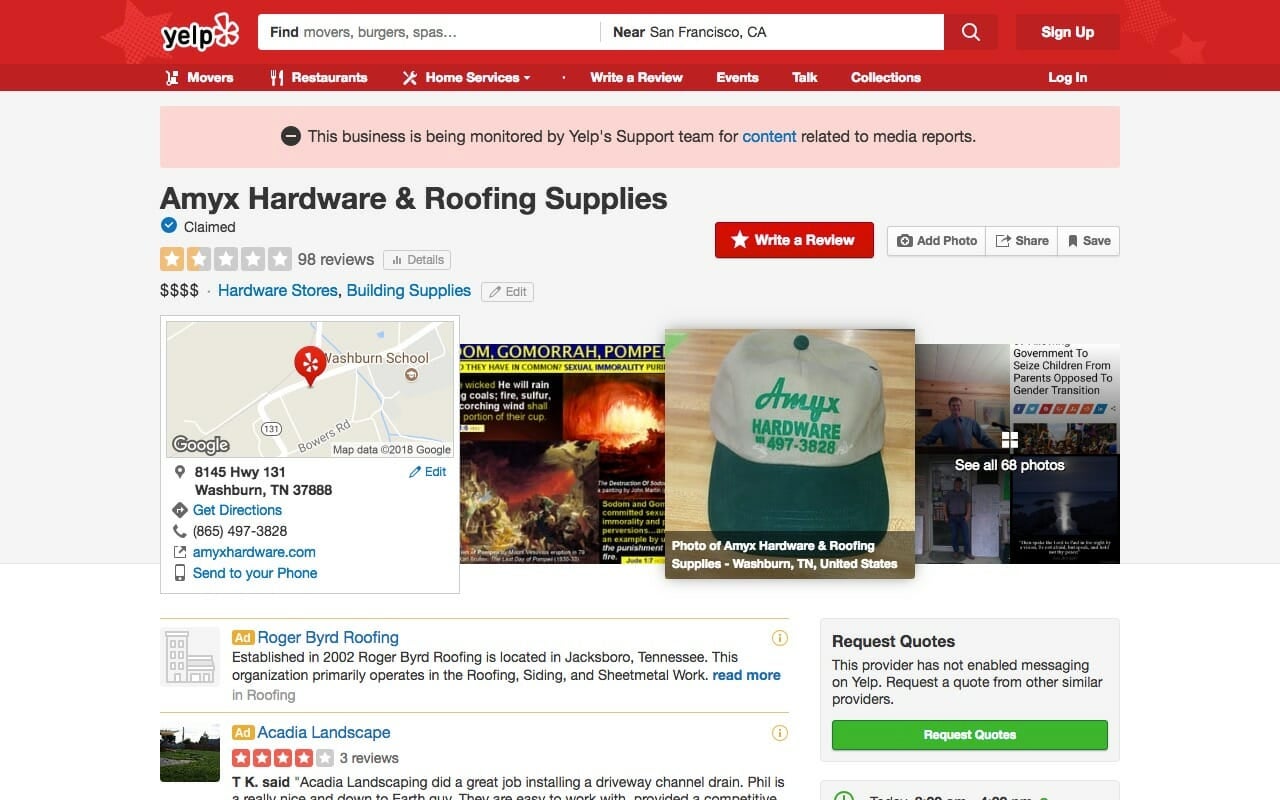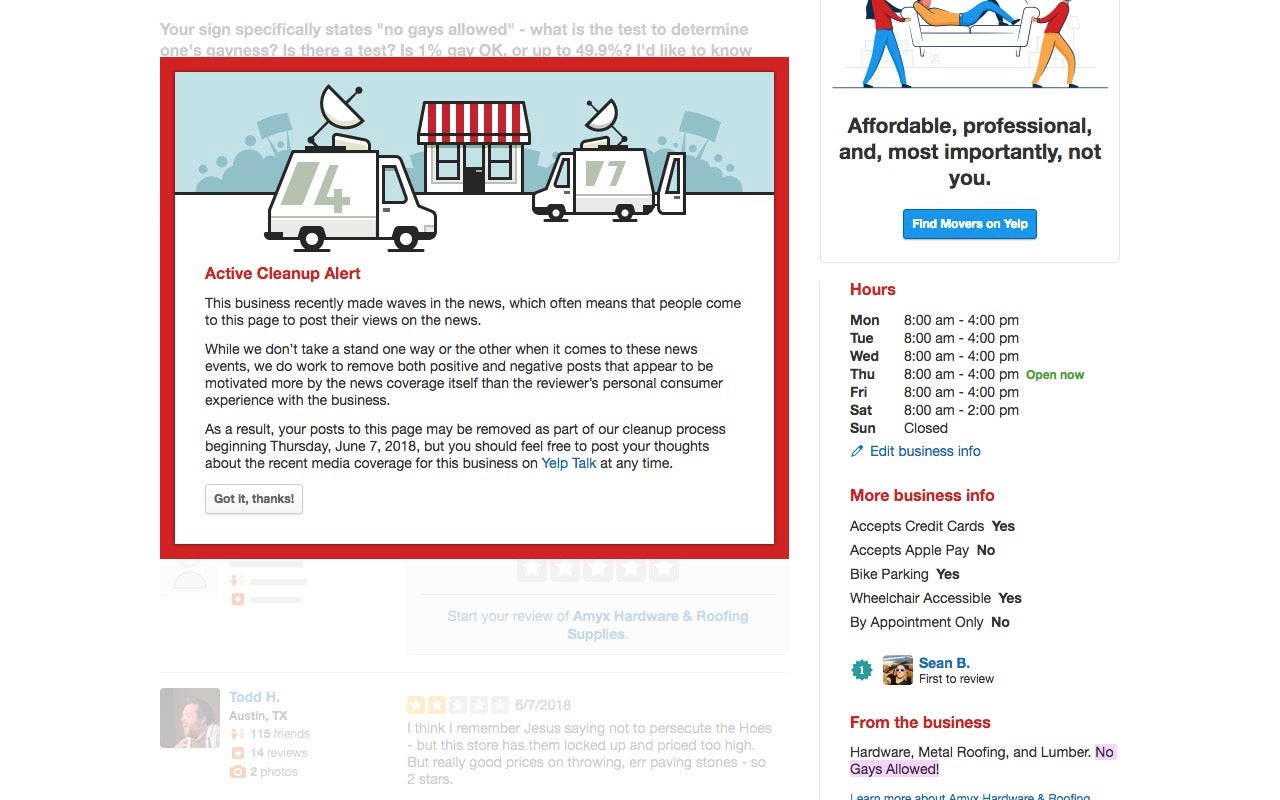 In a statement to the Daily Dot, a Yelp spokesperson said reviews "aren't the place for rants about a business's employment practices, political ideologies, extraordinary circumstances, or other matters that don't address the core of the consumer experience."
"Although most instances like these do not reach the current level of scrutiny and media attention, Yelp has proven policies in place to deal with such events and will remove content that violates our Terms of Service, including reviews that only attack a business's political ideologies," the spokesperson said.
Amyx did not respond to the Daily Dot's request for comment.