Influencer Nikita Dragun is facing immense backlash for promoting her new song "D.I.C.K." by stamping the word "DICK" over the faces of various trans women, including the late Marsha P. Johnson and SOPHIE.
Dragun dropped the video on her Instagram and Twitter on Thursday, and has since been swarmed with responses from people who condemned numerous issues in the video.
People took to social media to call Dragun out for stamping the word "DICK" on the faces of late trans icons and for calling herself the "first trans pop star"—both issues users said disrespected the legacy of trans women like Johnson and SOPHIE.
Some had a problem with Dragun terming herself "The First Trans Pop Star" because the statement erases the work of various trans artists who have been working for years. Folks pointed to the late SOPHIE and Kim Petras as established trans pop stars.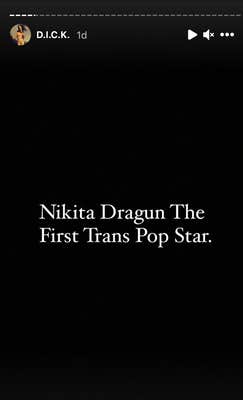 "THE COMPLETE AUDACITY OF NIKITA DRAGUN CALLING HERSELF "THE FIRST TRANS POPSTAR," wrote one user on Twitter.
Others spoke against the placement of the word "dick" on faces of Johnson and SOPHIE.
"writing 'DICK' on the faces of trans women in history just to promote your music is very harmful," said one user on TikTok. "especially considering trans women are harmed in real life for 'coming out as trans,' and don't have the resources to keep them safe in these situations."
On Thursday, Dragun mocked those criticizing the video, claiming that she's not actually releasing a song.
"i made DICK just to pussystunt in my DICK dress," she wrote.
She then doubled down, defending her song and claiming that the backlash was "sexualizing trans women" after people claimed she was trying to "expose" men in her DMs.
She did not address specific criticisms about writing "D.I.C.K." on Johnson and SOPHIE's face or about claiming that she is the first trans pop star.
Until Friday afternoon, her Twitter name was "Nikita Dragun first trans popstar." But by late afternoon, she'd changed it to Venus Xtravaganza, the trans ballroom icon from Harlem and star of Paris is Burning who was murdered at the age of 23 in December 1988.
It's not clear why Dragun chose to replace her name on Twitter with Xtravaganza's. Her team did not respond to the Daily Dot's request for further information.
---
Today's top stories