Combine alcohol, social media, daredevil thrills, and peer pressure, and you've got a solid recipe for untimely death: NekNomination, a sort of online binge-drinking game that appears to have originated in Australia, is being blamed for the deaths in Ireland of two young men this past weekend, and Facebook has done nothing to shut down pages devoted the foolish sport.
It was the admins of Northern Ireland's NekNomination group, in fact, who made the decision to turn it into a NekNom "awareness" page after Ross Cummins, 22, and Jonny Byrne, 19, both died playing the game.
Cummins, a DJ, passed away in a Dublin hospital from an apparent case of alcohol poisoning, while Byrne jumped into the River Barrow in Carlow as part of an escalating series of stunts and never made it to shore. His body was recovered hours later. 
The somewhat flexible rules call for players to down (or "neck") a pint or bottle of alcohol on video, ideally while engaging in another reckless behavior simultaneously, then nominate friends via Facebook and Twitter to top their performance within the next 24 hours.
One popular NekNomination video features a man skateboarding down a highway while chugging from a beer bong; the last guy featured in this compilation appears to nail his scrotum to a picnic table.
Byrne's brother, Patrick, was with him when he drowned, and nearly died himself.
"I jumped in to try and save him," he said in an interview on BBC Radio Ulster, "and I had him nearly out, but he broke free from me and pushed me under the water, and I was nearly gone only for my girlfriend and a passerby jumped in and pulled me out."
He recounted his other friends' close calls and lamented the envelope-pushing aspect of the deadly game: "A guy who turned down a challenge last week was called a chicken and a coward for turning it down. Basically what it has turned into now is a bullying competition. Anyone who is doing it should stop."
Patrick issued a similar plea on Facebook and is now fighting with people from around the world to get NekNomination pages removed. But aside from the NI NekNomination hub, which had amassed 10,000 likes in just a week, most are still up and running—in fact, just hours after Byrne died, a new one emerged with a banner image declaring, "It's not a crime to get drunk."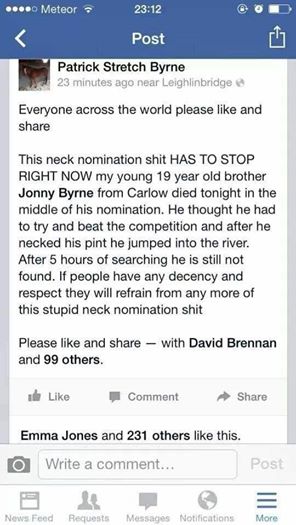 Facebook, meanwhile, was fairly immune to calls for action. "It would be helpful if Facebook agreed to take down [NekNomination] pages, which promote a stupid and silly phenomenon," remarked Pat Rabbitte, Ireland's communications minister. Representatives said that Facebook was reviewing NekNom videos, which on first pass don't seem to violate the site's community standards. "We do not tolerate content which is directly harmful, for example bullying, but controversial or offensive behaviour is not necessarily against our rules," they said. 
As popular as NekNomination is, it's gotten plenty of pushback from responsible drinkers and anyone in possession of common sense. The Facebook pages and #neknominate hashtags are now overrun with dire warnings and links to stories like Byrne's. Others have subverted the game more directly. This South African man, for example, used his nomination as an opportunity to make a positive difference in someone's life, rather than to risk his own.
#NekDonate response from @ografiannafail to #neknominate pic.twitter.com/Fouze93l6s

— Seán Earley (@seanearley) February 4, 2014
Social networking, of course, is just one part of the problem here. Young drinkers have been making bad decisions for millennia at this point. Even so, mixing a sense of invincibility with the desire for viral Internet fame—worldwide bragging rights, that is—has made for a lethal cocktail.
H/T BBC | Photo by Michael mcguinness/Flickr