Opinion
PRESENTED BY THE NATIONAL PARK FOUNDATION
There's only so long I can go before I need to unplug. To get where push notifications can't reach me.
I'm fortunate to be able to work remotely. There's not an aspect of my job I can't accomplish in some form or fashion on my phone. But that also makes it difficult to step away. There's always another email, another breaking news alert. The internet doesn't sleep.
"It can be really stressful living your life on social media," notes Nickelodeon star turned Instagram model Victoria Justice. "[You have to] get off your phone for an hour or two and get out into nature."
We're sitting on the park benches at the onset of the Volcano Trail at Petroglyph National Monument in New Mexico. It's a sunny April afternoon, so windy that you have to hold your hat down. The dust obscures our view of the mountains on the horizon. It's the final day of a press tour sponsored by National Park Foundation, the charitable partner of the National Parks Service, and Justice has been brought in essentially for an Instagram post.
In 2016, NPS celebrated its centennial, with an emphasis on America's most beloved parks. This year, which marks the 50th anniversary of both the National Trails System Act and the Wild and Scenic Rivers Act, the National Park Foundation is shifting its focus to the national treasures hiding in plain sight: the monuments, memorials, scenic trails, and recreation areas in our own backyards.  
That's literal in the case of the Petroglyph National Monument. The back entrance is tucked away in a nondescript parking lot in a suburban neighborhood just outside Albuquerque. It's barely marked. Just walk a hundred yards or so past the opening in the chain-link fence and suddenly you're confronting countless petroglyphs that date back hundreds, if not thousands, of years. The stone carvings resemble crude memes—symbols and images of the Pueblo spirit world (birds, streams, snakes, and hands) scraped into the boulders' desert varnish.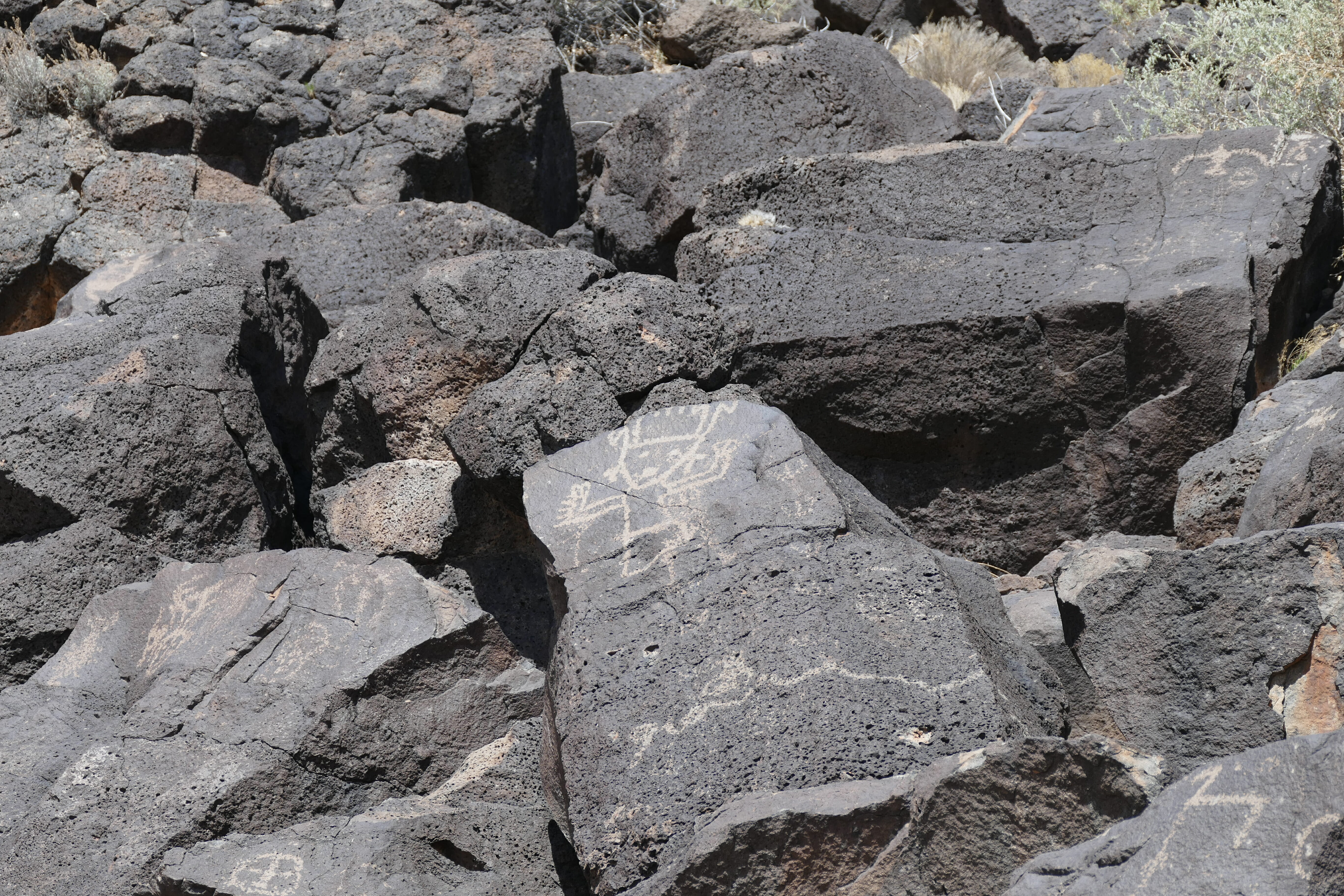 There are more than 24,000 petroglyphs on this 17-mile stretch in the West Mesa, and they hold a special significance to the 21 Pueblo tribes who once called this land home (and still work with the local park rangers). It represents a fractured origin story and documents their lives and struggles; there are countless crosses placed by the Spanish settlers of the 1690s, looking to solidify their supremacy. It's truly something to behold, like putting together a puzzle without referencing the box.
Once you start to look, history surrounds you.
We started our road trip at Martineztown Park, a National Historic Trail in Albuquerque. It's not much of a trail—in fact, it's only about two blocks long, but each step of it has been thoughtfully considered. It's anchored by a large-scale sculpture by Luis Jimenez Jr., while "mile markers" on the neighboring sidewalk lend perspective to El Camino Real de Tierra Adentro, the 1,600-mile trail that connected traders from Mexico City to Santa Fe, which served as a vital crossroads for early commercial efforts.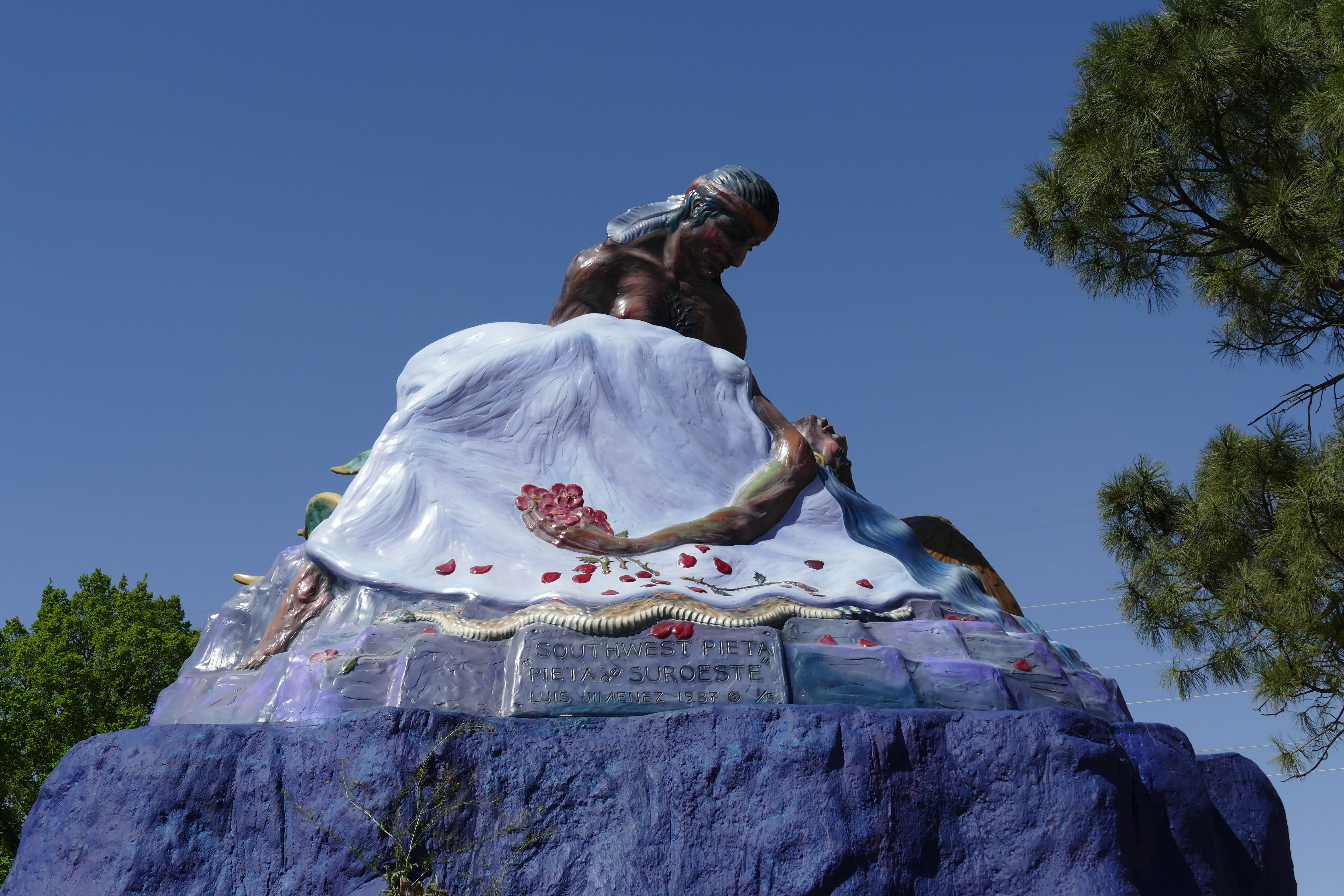 In New Mexico's capital, you can learn all about and retrace parts of the Santa Fe Trail, which led to Missouri. Downtown is ripe for discovery, from the historic Palace of the Governors to San Miguel Chapel, an adobe church partially destroyed in the 1680 Pueblo Revolt. Both the Sante Fe Trail and El Camino Real underscore the two-way trade and transportation that connected Mexico and the untamed West.
"We share a history that cannot be divided by a political border," emphasized Angélica Sánchez-Clark, a historian with National Trails Intermountain Region.
What's truly remarkable about New Mexico—aside from the red and green chilies that accentuate every meal—is just how much there is to see and how breathtaking even the views from the highway can be. There are 50 park units in a 10-hour driving radius from Petroglyph National Monument, including and perhaps most notably, Bandelier National Monument, about an hour outside Santa Fe near Los Alamos.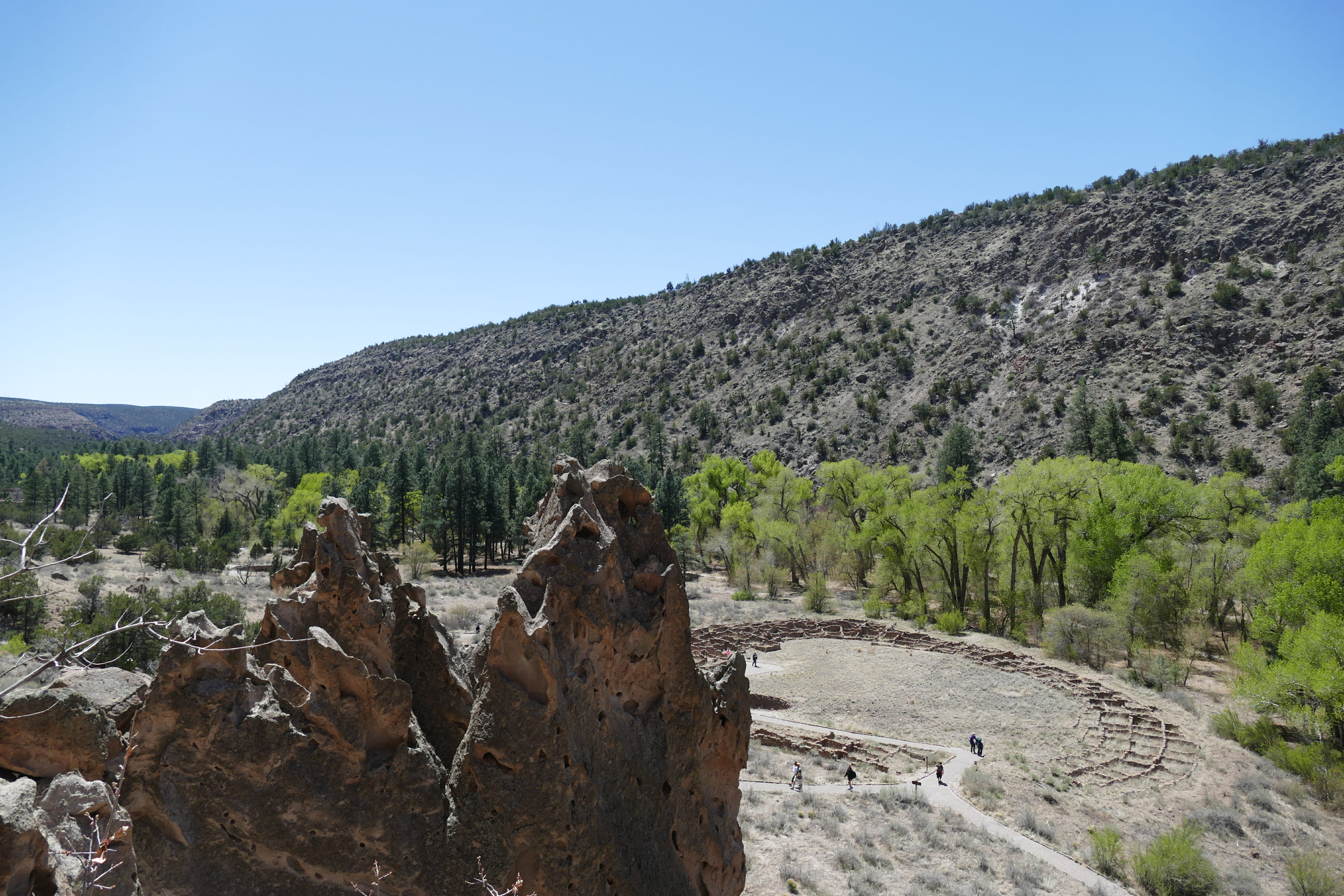 Bandelier encompasses 50 square miles on the Pajarito Plateau, and it's defined by massive formations of tuff—soft, crumbly pink rock created by two eruptions of the Jemez Volcano more than 1 million years ago—that Ancestral Puebloans both carved and built into to create caves and multistory dwellings.
Most parks either provide educational value or adventure. Bandelier offers both. While most visitors quickly tour the main dwellings, the monument boasts 70 miles of trails and overnight camping. There are some 3,000 archeological sites on the property, the vast majority of which are unmarked and waiting to be rediscovered. I hope to return to find a couple of them myself.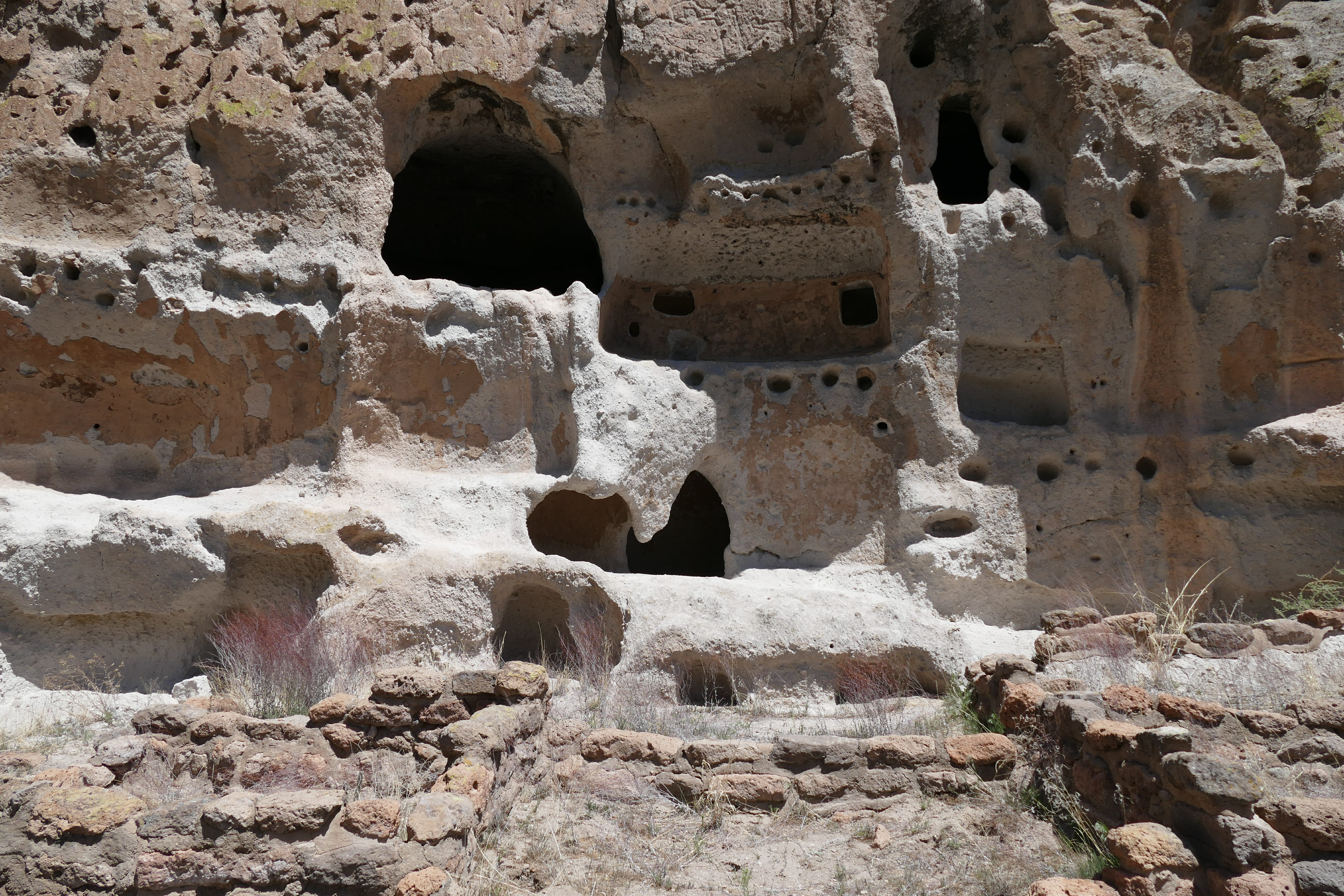 Once you leave Bandelier and drive over the ridge, you're greeted by the sweeping, golden meadows of Valles Caldera, America's newest national preserve (and the partial backdrop for Adam Sandler's otherwise forgettable Netflix original movie Ridiculous 6). The 88,900 acres feature snaking streams and old-growth Ponderosa pine groves. Every vantage point stuns. As our vehicle approached, we had to slow down for a prairie dog crossing. Two months ago, a herd of elk spurred a viral Facebook video on the same gravel path.
Both Valles Caldera and Bandelier are worth visiting if only for the excuse of cruising down New Mexico State 4, surely one of the greatest stretches of road in America, winding through Jemez Springs, where the dirt's so red it will stain your hands. The drive is always one of my favorite parts of every trip; it's what makes time feel like it's slowing down.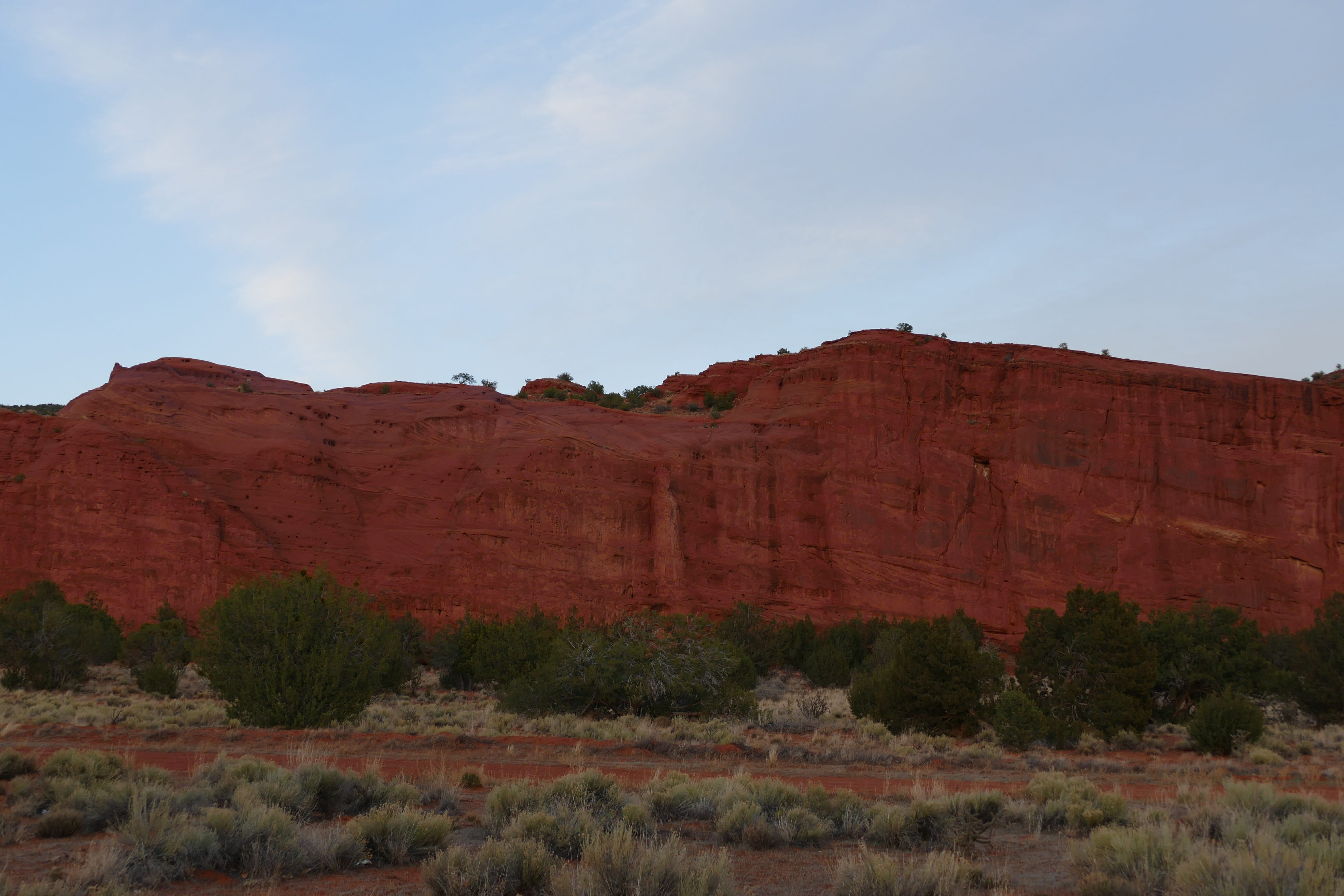 You can practically map my relationship with my wife across the National Parks. One of our first trips together was to the Grand Canyon, which boasted a scale and magnificence no Instagram post could ever capture. That was followed by countless hikes in Klamath National Forest and Cascade-Siskiyou National Monument on the border of California and Oregon with our dog Boris, and a summer trip to the San Antonio Missions National Historical Park. Even when we're visiting familiar trails, it's never the same experience.
We took practically everyone who visited us in Southern Oregon to either Crater Lake or the Redwoods. There's always something new to discover: a wildflower, a vantage point, and inevitably, what we forgot to pack. Now that we're in D.C., we're enveloped by national parks and monuments, both of which lend a much-needed sense of calm and permanence to counter the city's current calamity.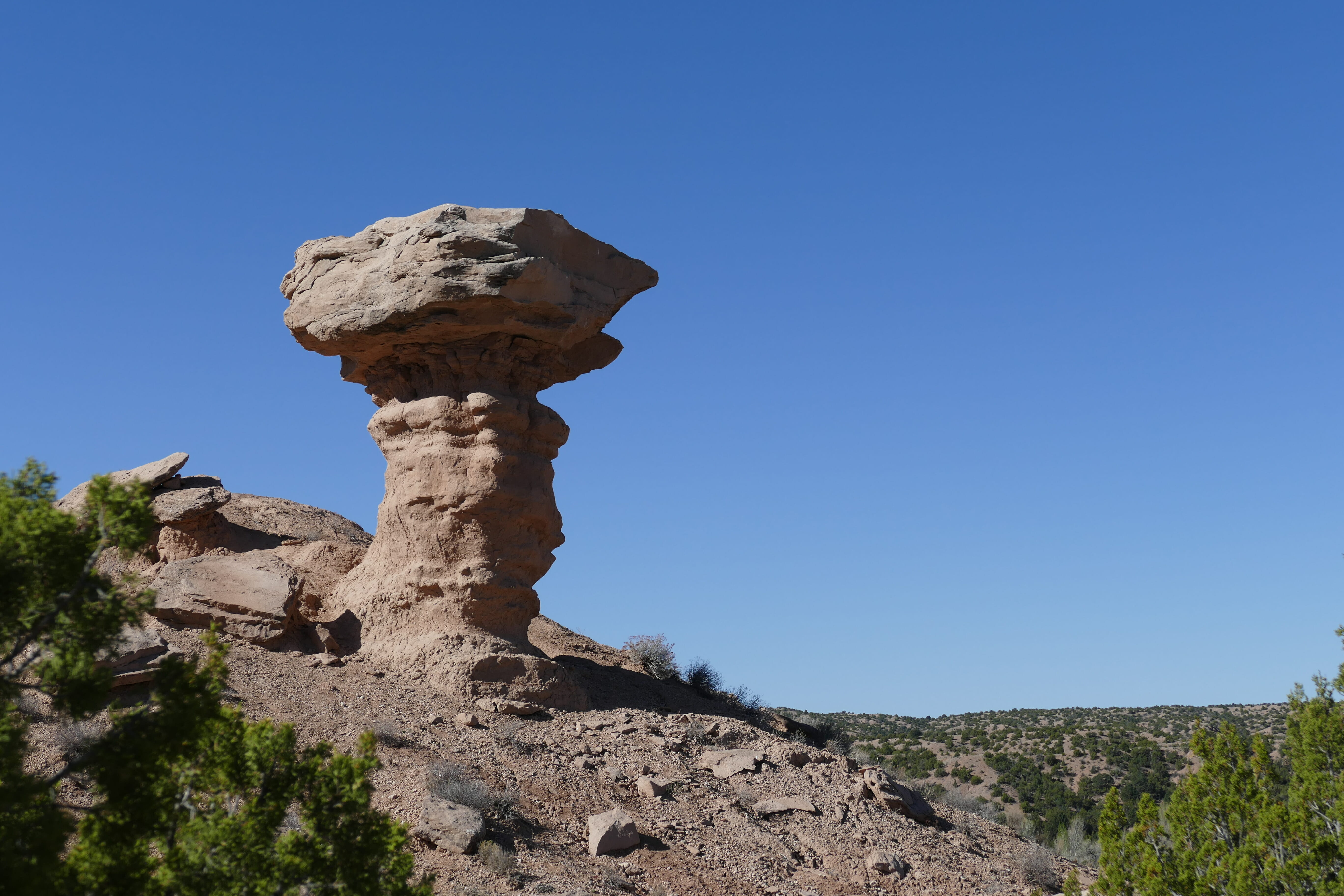 In between, on our honeymoon, we road-tripped across the U.S., visiting the "crown jewels" of NPS: Glacier National Park, Yellowstone, Mount Rushmore, and the Badlands, where a tornado left us huddled for shelter in the dressing room of a visitor's center. As cliché as it sounds, each stop brought us closer together and to ourselves, offering humbling perspective and awestruck moments of reflection.   
"Wilderness, solitude, and self-discovery, the absence of man—that's why we have National Parks," said Jason Lott, Bandelier's superintendent.
This particular trip offered something of a second chance for me. A work event forced me to miss the New Mexico portion of our move across the country. Even more fortuitous, we're expecting our first child in July, and suddenly, we were presented with the opportunity—all expenses paid—for the babymoon we weren't at all anticipating.  
Not that it slowed my wife down. Even at six months pregnant, she keeps a remarkable pace on a trail and has a radiant curiosity about her surroundings. It certainly helped that nearly every site we visited was remarkably accessible. But she even managed to climb to the top of Bandelier's Alcove House, a site thought to have housed 25 Ancestral Pueblo people, 140 feet above the Frijoles Canyon reachable only by four massive wooden ladders.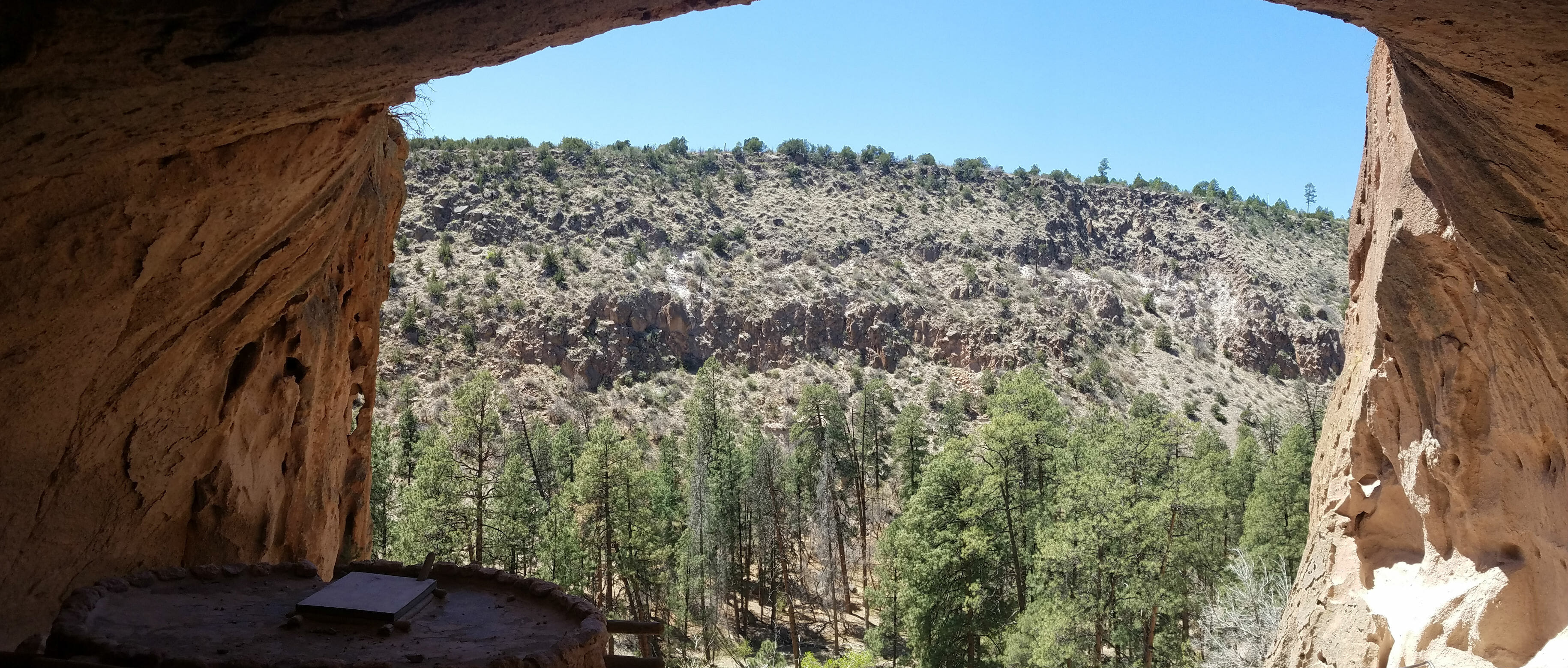 As we hiked together, my mind kept drifting to the experiences I hope to share as a family, teaching our son how to pitch a tent, start a fire, and chop firewood. I can already picture us on a trail, somewhere deep in the Pacific Northwest, clapping as a family and calling out "Hey Bear." Maybe we'll get him one of those miniature park ranger outfits.
What really hit home for me on this trip, though, especially in conversation with various park rangers and our hosts, was just how much work goes into establishing, developing, and maintaining these national treasures. That was especially evident at Valles Caldera, which has the potential to be a real destination for hiking, camping, and cross-country skiing. But having only reached official status in 2014, it still has years of work ahead to make the preserve more accessible to the general public—in addition to its notable conservation efforts. That will require considerable funding, community support and partnerships, and compromise.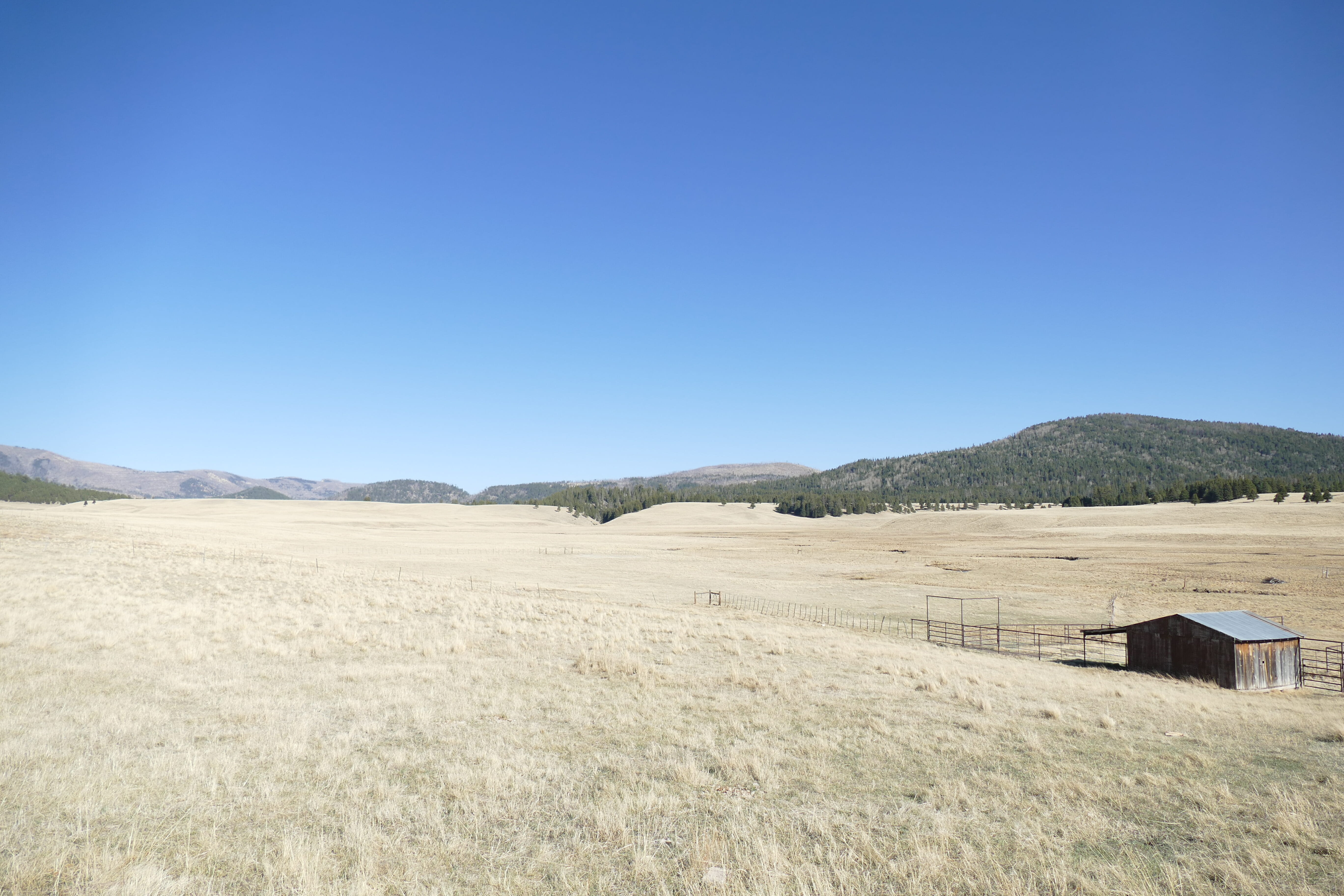 "Every park is a civics lesson," noted Dennis Vásquez, the superintendent of Petroglyph National Monument. He noted how the monument's status can be traced back to activists and local geology students in the 1960s, who rallied to protect the petroglyphs from vandalism. It's an ongoing struggle, too: The 7,300-acre monument must still contend with the effects of its neighboring city's encroachment.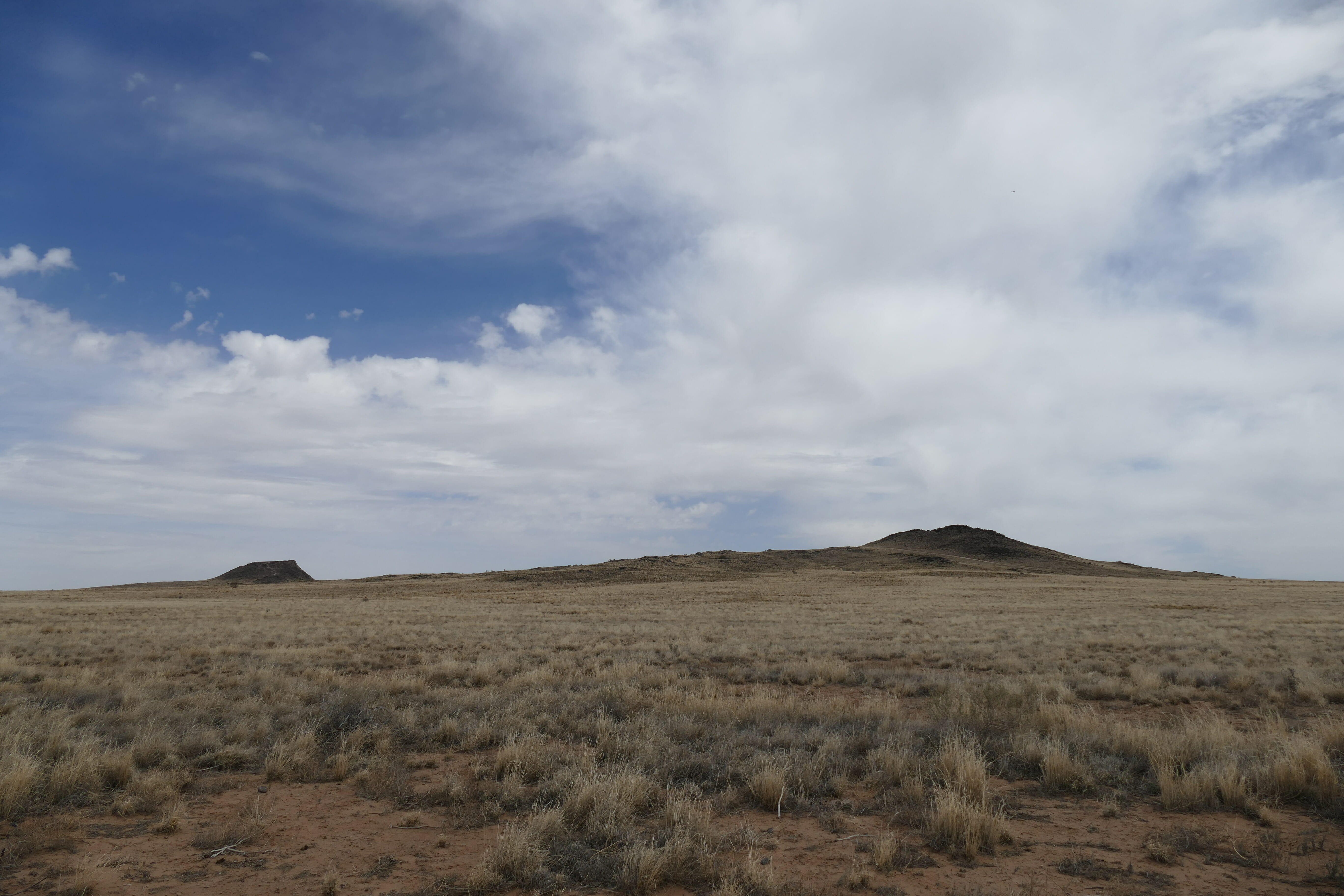 But our national parks system and forest services are worth fighting for—and it needs your support. In December, President Donald Trump dramatically reduced the size of two national monuments in Utah, Bears Ears and Grand Staircase-Escalante, and he weighed similar actions via executive order against 27 others. Likewise, late last year the Department of Interior proposed doubling the price of entry to some of America's most popular national parks, an effort that many labeled as class warfare. Only after considerable backlash did the agency scrap the plan earlier this month. That's to say nothing of Trump's withdrawal of the U.S. from the Paris Climate Accord and the abomination that is Scott Pruitt's defanged Environmental Protection Agency, the ramifications for which we'll likely be reeling from for decades to come.  
So this National Park Week, get outdoors and reflect on what's at stake. Turn off your phone and get lost in nature. You don't have to go far. You just have to go.
Find your park. Find yourself. Or at the very least, find a great Instagram pic.
The National Park Foundation, the official charitable partner of the National Park Service, invites you to celebrate National Park Week, April 21-29. To learn more about special events and parks near you, visit NationalParks.org. #FindYourPark #EncuentraTuParque
Correction: The National Park Service celebrated its centennial in 2016. This article has been updated for clarity.