National Organization for Marriage (NOM), a nonprofit organization with a strong stance against same-sex marriage, was hacked this morning.
Both the NOM site and its associated social-media accounts were affected. At press time, the only remnants of the hackers mischief was on the organization's Twitter page.
The prankster(s) replaced NOM's Twitter avatar to that of a rainbow flag and deleted all of NOM's original tweets. In their place, the hijacked Twitter account proceeded to tweet out 12 messages over the course of 30 minutes supportive of the lesbian, gay, bisexual, and transgender (LGBT) community.
"NOM apologizes for its evil race-baiting past and pledges to work towards FULL civil equality for all LGBT Americans!" tweeted the hacked account, collecting more than 50 retweets.
Besides tweeting messages asking followers to sign pro-LGBT-rights petitions or engage in pro-LGBT activism, the account also celebrated "television's champions of LGBT rights," such as Rachel Maddow, Thomas Roberts, and Don Lemon.
The hack happened immediately after NOM expressed public support for presidential nominee Mitt Romney.
No group has taken responsibility for the hack.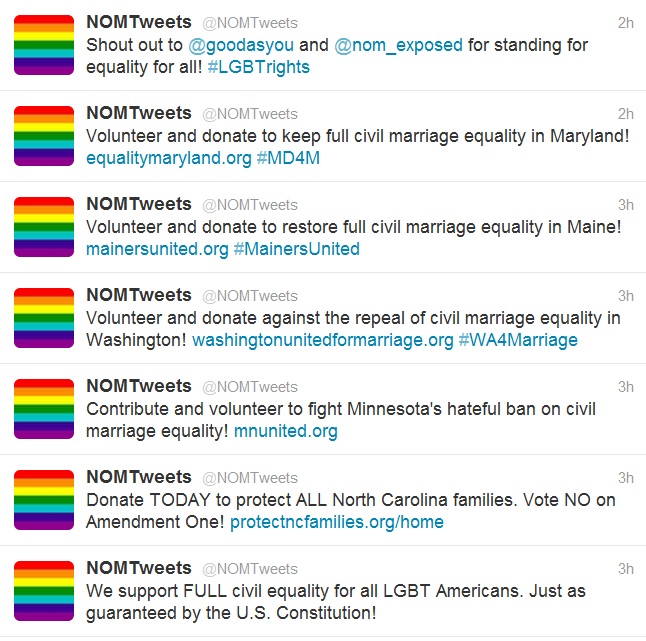 Photo by Kevin Wong