A Nashville hat shop owner is under fire for antisemitism after advertising the sale of Star of David patches that say "not vaccinated" on them.
The practice of using this style of Star of David patches to identify people has historical roots in the Holocaust. At the time, Nazis forced Jewish folks to identify themselves with them.
The Tennessee Holler (@TheTNHoller) shared a screengrab of the now-unavailable and possibly deleted post, in which HatWRKS is advertising its patches.
"Patches are here!!" the caption reads. "They turned out great. $5 [each]. Strong adhesive back… we'll be offering trucker caps soon."
Following backlash after its patch announcement, Hatworks Nashville defended itself by telling commenters that their "disgust" would be deleted.
"People are so outraged by my post?" the post reads. "But are you outraged with the tyranny the world is experiencing? If you don't understand what is happening, that is on you, not me. I pay much more respect to history by standing up with the fallen than offering silence and compliance. That is the worse crime. It was then and is now. I will delete your disgust and hope you put it where it belongs."
According to the Tennessean, HatWRKS is run by hat maker Gigi Gaskins. On her website, Gaskins offers hats with names like "green eggs and scam," "hunter is a crackhead," and "only you can prevent socialism."
Twitter user @SPTO said this must feel like a "slap in the face" to the families of those who died in the Holocaust.
"To the families of those who were sent to Nazi concentration camps this has to be the ultimate slap in the face," @SPTO wrote. "Anyone caught wearing those stars are no better than those concentration camp guards who literally sent thousands to die."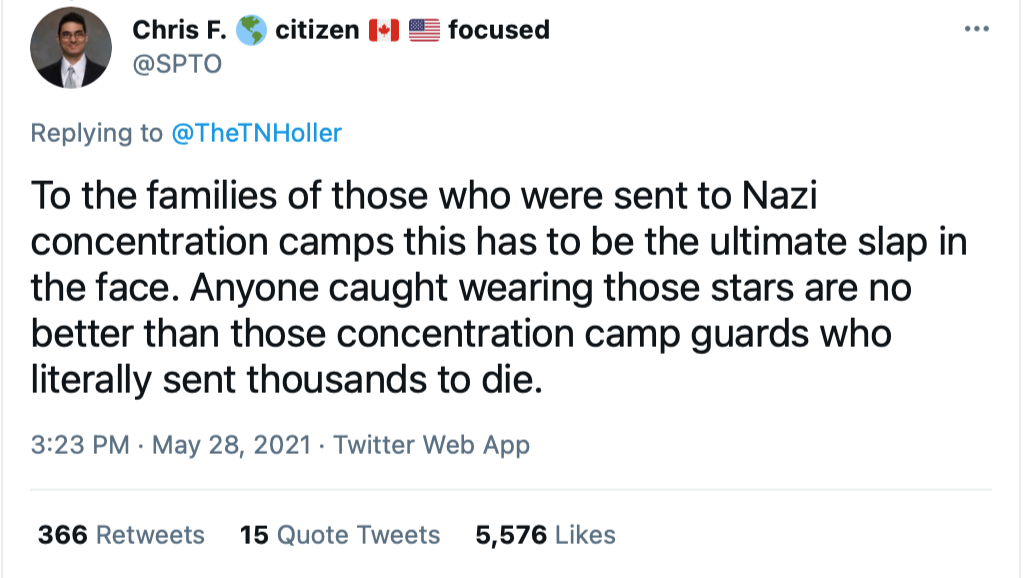 One such family member chimed in, saying that the movement of people doing things like this "enrages and terrifies" her.
"One of those family members here!" @JGCarpenter wrote. "Can confirm this whole movement simultaneously enrages and terrifies me & also feels like a physical gut punch. She is vile. Her belief system is broken, dangerous, & evil in her willingness to spread her rejection of history, science, empathy."

The patch has generated enough controversy in Nashville that it was discussed on local news channel FOX 17. As part of this newscast, Nashville Jewish Federation CEO Eric Stillman weighed in, calling it a "massive slap in the face."
"It is just a disservice to the memory of the 6 million Jews who were murdered, to use Holocaust images or symbols for any other purpose," Stillman said.
The Daily Dot has reached out to Gaskins.
---
Today's top stories
H/T the Tennessean