Here at the Daily Dot, we swap GIF images with each other every morning. Now we're looping you in. In the Morning GIF, we feature a popular—or just plain cool—GIF we found on Reddit, Tumblr, or elsewhere on the Internet.
Motocross racer Meghan Rutledge was one turn away from taking home the gold this weekend at the X Games. All the Australian needed was to nail one last jump. But like many athletes before her, Rutledge got overexcited and made a terrible mistake.
In mid-air, Rutledge let go of the handlebars to pump her fist, causing her to lose partial control of her bike upon landing. Rutledge spun out and fell to the ground while American Vicki Golden passed her to take home the gold.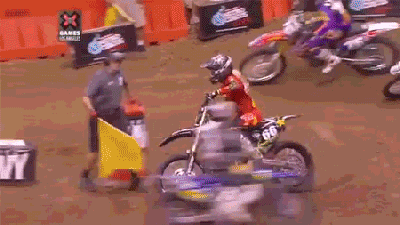 Since blowing the race, Rutledge has been silent on Twitter. If the comments on YouTube clip of her wipeout are any indication, Rutledge should probably stay off social media for a little while. 
"There's a lesson to be learned here for her, so no, it's not bad for you to revel in her misery," Kamikaze Gorilla commented. "It would be abnormal if you didn't. It was her pride that caused her to fall, and it is? our duty as her peers to belittle her and rub salt in her wounds so that she may learn her lesson."
Here's the full video. 
Photo by johnthescone/Flickr