A restaurant that was reportedly damaged during the Minnesota riots is gaining popularity online after it shared in a Facebook post that it continues to support the protests for George Floyd. 
Gandhi Mahal Restaurant in Minneapolis, Minnesota shared in a Facebook post on Friday morning that their location had caught fire and been damaged.
The incident took place early morning on Friday, according to BuzzFeed News, marking the fourth day of massive demonstrations in Minneapolis following the killing of George Floyd, a 46-year-old Black man, by Minneapolis officer Derek Chauvin.
The video showed Floyd pleading for his life and saying "I can't breathe," while Chauvin kneeled on his neck and pinned him down before Floyd died.
"Don't worry about us, we will rebuild and we will recover," read the Facebook post written by a woman who identified herself as the daughter of Ruhel Islam, the owner of the restaurant. Gandhi Mahal Restaurant did not respond to the Daily Dot's request for an interview by publishing time.
"As I am sitting next to my dad watching the news, I hear him say on the phone, 'let my building burn, Justice needs to be served, put those officers in jail,'" wrote the daughter, who identified herself as Hafsa. 
Hafsa also wrote in the post that they've received support from their neighbors who "did their best to stand guard and protect Gandhi Mahal."
"Gandhi Mahal May have felt the flames last night, but our firey drive to help protect and stand with our community will never die!" read the concluding note of the post.
According to BuzzFeed, Islam and his family are immigrants from Bangladesh, and he drew parallels between the "police state" there and the current situation.
Their message has been shared and liked thousands of times since it was posted just a few hours ago. 
On Twitter, many shared the message, calling it a symbol of true solidarity with the Black Lives Matter movement.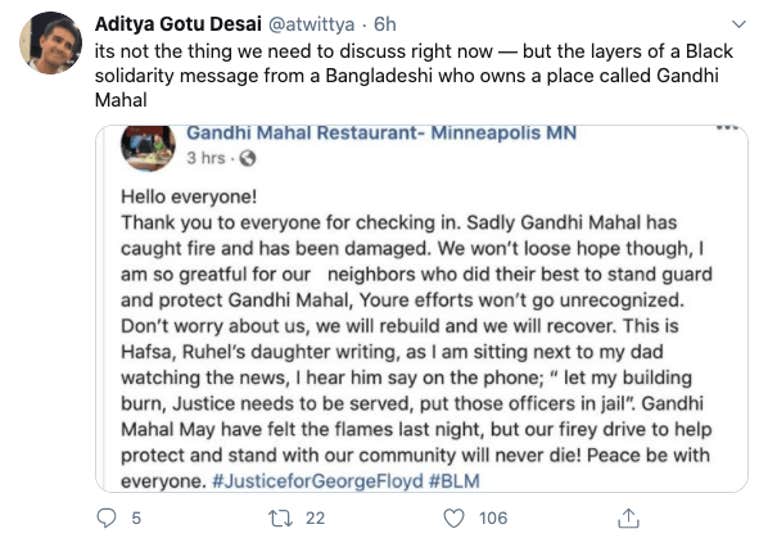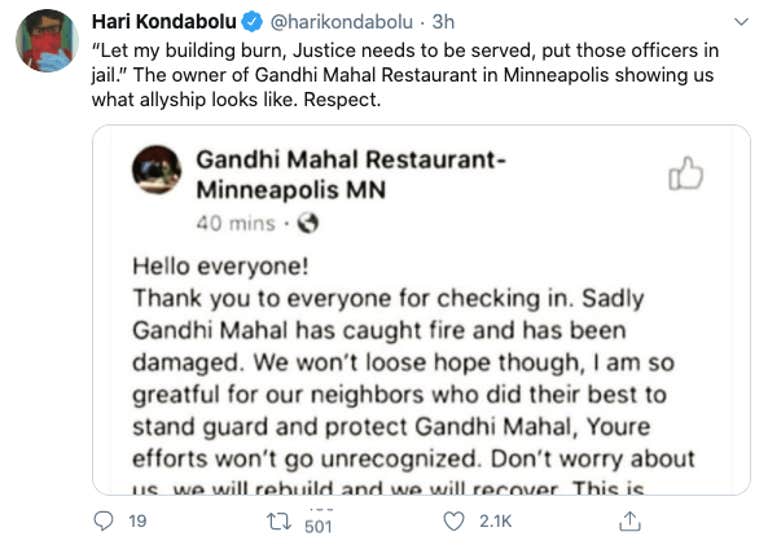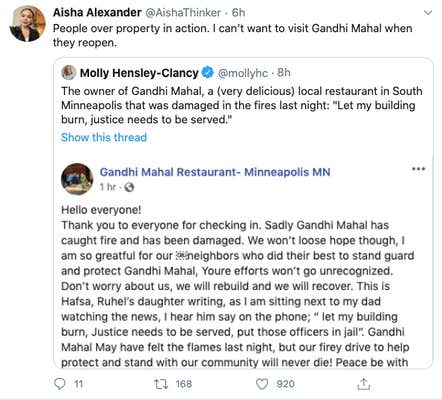 They aren't the only ones showing this kind of solidarity. Dayna Frank posted a similar status about the Turf Club that was flooded during the riots. 
Frank shared videos showing the insides of the establishment flooded with fire alarms and sprinklers going off.
"Unfortunately, the Turf was hurt last night. But we'll rebuild; we're not dead. You know who's still unhurt? The murderous cop and his accomplices," Frank wrote in a post on Friday noon. "And you know who's dead? George Floyd."
Her videos have collectively been viewed more than 40,000 times in just a few hours. 
She also received a lot of support on her message.
"Be strong Dayna. Your community needs leaders like you now more than ever," wrote one user.
The Daily Dot has reached out to Frank for comments.
A fundraiser was set up for Gandhi Mahal, which has so far raised $3,580 of its targeted $3,500. 
"An immigrant & man with such grace deserves to be supported at this time," wrote one user. "His restaurant destroyed by no fault of his own."
On Friday afternoon a few hours after Gandhi Mahal and Frank shared their solidarity messages on Facebook, Chauvin was arrested and charged with the murder of Floyd.
READ MORE:
H/T BuzzFeed News