GIF Hound is changing the way people digest news.
Over the last two months, BuzzFeed's Mike Hayes has used clever GIF animations to report on some of the biggest events from around the world.
For example, when SpaceX Falcon 9 launched Tuesday from Cape Canaveral, Fla., Hayes paired a short news blurb with an animation of the rocket taking off. And when the world was gasping at the rare "fireball" solar eclipse Monday, Hayes brought the news to life with a GIF of people wearing funky eye protection.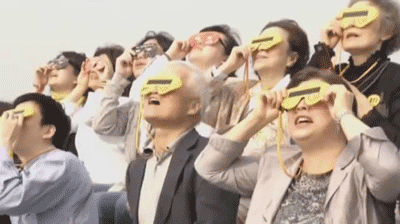 "I think GIFs are going to be an important part of how we tell stories online from now on," Hayes, 28, told the Daily Dot.
"GIFs are the best thing on Tumblr, but I felt there was kind of a GIF void in Tumblr's news category. I wanted to experiment with taking something truly native to the platform and using it to help get important headline news stories in front of people who are on Tumblr because they really connect with GIFs as a shareable form of media."
Almost all of the animations on the site are originals that Hayes, who has worked as BuzzFeed's social media editor for more than a year, created using Photoshop. With breaking news reported nearly every minute, Hayes has to be selective with what he turns into a GIF.
He uses a simple rule: "It's not a GIF-worthy story until it's a trending story in social media."
Since April 10, Hayes has created more than 90 animations. His top two hits are of Pizza Hut's Crown Crust Burger Pizza and the Space Shuttle Enterprise flying over New York, with 16,534 and 16,534 and 8,626 notes, respectively, respectively.
His favorite, however, is of President Barack Obama delivering a speech to the Joplin High School graduating class of 2012 on Tuesday. That GIF was reblogged by Obama's official Tumblr account.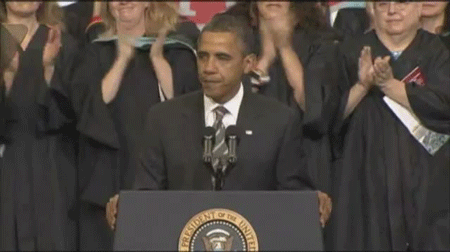 Now that the blog has nearly 800 followers, Hayes has no plans on slowing down.
"I don't want this to be one of those GIF blogs that are a trend lately that are cool for a day or two and then you forget about them," he said. "I don't anticipate any shortage of GIF-appropriate news stories in the near future, especially with the general election debates on the horizon."
Photo taken from a GIF of Hayes (foreground), actor Justin Long and humorist John Hodgman at the Webby Awards.