Last week, one California high school senior class showed that life really does imemetate art.
On April 26, the seniors of Olympian High School in Chula Vista, California, dusted off their SaltBae deep v-necks and re-carved their Limecat fruit helmets for "Meme Day," a costumed tribute that was part of the school's spirit week, and it went viral faster than you can say "Damn, Daniel." The students sported looks of different memes from the early aughts to present day, showing an impressive depth of knowledge.
in case you havent heard, it was meme day at school today pic.twitter.com/FmMhsabkBo

— nic⁷ (@babytheydie) April 26, 2017
How many memes can you spot? We have that weird-ass mannequin head dance, the confused math lady, double our appropriate serving of tiny hands, modified Limecat (or should he be called water-resistant Meloncat?), Chef Gordon Ramsey's idiot sandwich, the You on Kazoo kid, a #NotMyRodrick protester (yeah, a little to fresh to be meme-worthy, but we'll let it slide), and SaltBae.
i was hoping i would get recognized for my hardwork and future career… but here i am, getting noticed bc oF A MEME

— daph (@ddaaaph) April 29, 2017
Everyone who's tweeting "I wish I went to this school" you can take my place any time https://t.co/3DBuTVETJF

— persona non grata (@andrealoya_) April 29, 2017
https://twitter.com/KogiAltamirano/status/858165569538764802
May 1, 2017
Nicole Pinto, the student who shared the video and dressed as Dwayne "The Rock" Johnson's infamous '90s fanny pack pic, told New York Magazine that maybe half the senior class participated in the festivities ("There's a large amount of students that are 'closeted memers' and normies that don't get any of them at all," she said). Pinto said the hardest part of grappling with the attention has been trying to explain what the memes are to her parents.
"I didn't really mention anything to them until we passed a million views on 9gag. That's how I knew it was getting big. I just kind of showed them the posts and was like, 'Hey, guys, remember when I went to school dressed like the Rock? Well, I took a video of everyone else's costumes, and it's gone viral,'" Pinto told New York Magazine. "I had to show them comparison pictures of everyone to clear it up a little better. I will say, they started to get the joke, but they are definitely still a little lost as to why it got so huge so fast."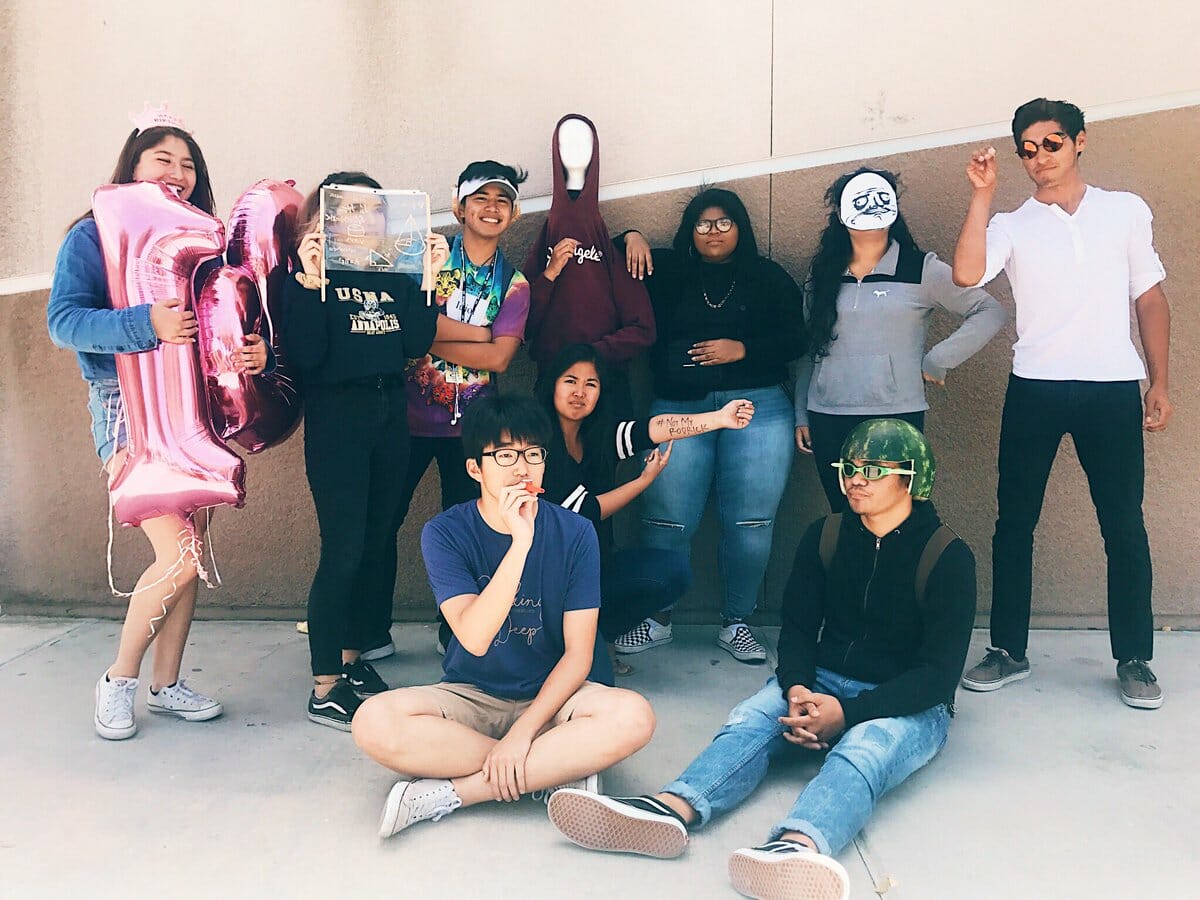 Other photos of the spirit day include a few other internet favs, such as the Me Gusta face and Guy Fieri (though the student looks more like an homage to a David S. Pumpkins skeleton, tbh.) You might be able to spot a few other honorable (questionable?) mentions, but at best we've got a girl dressed as a spoiled teen from MTV's My Super Sweet 16 and a combo of the vine of the girl dancing to the intro of Aha's Take On Me and "Deal With It."
Ehh—we didn't say all the memes were winners, but on Meme Day, everybody wins.