Match.com has always seemed like a "serious" alternative to hookup-oriented services like OkCupid and Grindr. Its users are more likely to be seeking long-term relationships, and they have to pay a considerable recurring fee for access—double if they swing both ways. 
This has been Match.com's stance on bisexuality since at least August 2013, when freelance journalist Emily Magdij received an email from the company about her interest in searching both men and women as potential partners, later published by the European gay outlet PinkNews.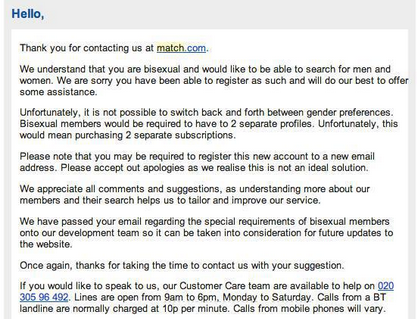 For all the conciliating touches here ("unfortunately," "apologies," "not an ideal solution"), the missive still boils down to: "We are not equipped to handle someone of your fairly common sexual orientation and will therefore have to impose a financial penalty, you weird free-spirited nympho." And given that an account can cost $34.99 monthly, it's hardly a minor surcharge.  
The call for suggestions as to how to remedy the situation, meanwhile, invites a deadpan reply: "Uh, just don't do it that way?" But apparently Match.com has received enough polite feedback to consider addressing their troublesome bias—PinkNews just received another corporate letter which first notes that most dating sites don't allow both genders to be scanned from one profile, then indicates a willingness to evade any blowback for this lazy arrangement:
We can confirm that we will set up [Magdij] with two profiles so that [she] can review both male and female profiles on the site. The second profile will be provided at no additional cost to the member. In addition, we will be making it easier for bisexual members to use the service. All they need to do is contact our customer services team directly to be set up with two profiles as part of the existing subscription.
So: no more discrimination against the "B"s of the LGBT set, unless you count the necessity of calling technical support and telling them exactly where you stand on the Kinsey scale. But why should you care about such intrusions—you're already looking for love online, right? As long as you're being judged by strangers, one more surely couldn't hurt.   
H/T PinkNews | Photo by Connor Mah/Flickr (CC BY-SA 2.0)