A video posted to social media shows a white man yelling "Ching Chang Chong, motherfucker" on a train with at least one Asian American passenger in New York.
A series of videos posted by an Instagram user, @nikkimchi or Nikki, who was on the train at the time, shows the incident unfolding.
"Originally, I started recording this because I wanted to show how ignorant this drunk guy was—talking about how Covid is FaBrIcAtEd and FaKe, didn't need to wear a mask," Nikki wrote in the description. She added that he started yelling anti-Asian slurs at multiple people on the train.
The video starts with the man, who is not wearing a mask at first, boasting about having survived the coronavirus.
"I'm chilling. I had this shit; I'm alive," he screams.
"I'm a fucking beast," he says, thumping his chest a few times. He looks to his right, though it's unclear what he's looking at as it's out of the frame.
He then gets up, screaming, "I'm built different. … I'm fucking built different."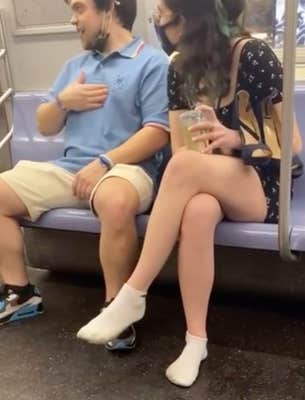 His friend, who is sitting next to him and wearing a mask, shakes her head, seemingly in annoyance.
She keeps shaking her head and looks at Nikki, but it's not clear if she knows they're being recorded.
"I had the shit. … I'm alive," the man goes on.
"Ching chang chong, motherfuckers," he yells loudly toward his right. "Ching chang chong, bitch!"
He then thumps his fist against the subway door.
In a second video featured in the same post, Nikki confronts the man's friend, asking her why she didn't stop him. The man is now seen wearing a mask, eyeing the camera from time to time, while his friend speaks with Nikki.
"You think that's OK? Do you guys not see what's going on in the news right now, and you think that's OK?" Nikki asks. The man's friend says she was "trying" to let the man know his remarks were not OK.
"It's not OK; it's never OK," the friend says to Nikki.
"I mean, you're sitting back while he's saying 'ching chong'" Nikki says, while the man stares at her from his seat.
The friend keeps insisting that she was "trying," but Nikki accuses her of not doing anything. "I don't see you doing shit!" she says.
In another video, the friend is heard saying, "I don't condone that shit!"
Nikki says the friend "just patted him on the shoulder." This was not caught on video, but the friend doesn't deny it.
"You guys are ridiculous," Nikki says, before the video ends.
Nikki wrote on Instagram that she wants the incident to be an example of how much of the hate and racism currently happening starts with "small" and "harmless" commentary such as this.
"I am trying to prove a point that this shit, as 'small' and 'harmless' as it can be with just words happens and it's funny how as soon as the crazy haired Asian says something, this punk puts his mask on and goes in the corner," she wrote.
She added that there were others on the train who stood up for her after she spoke up, and she urged others to do the same when witnessing similar incidents. There has been a rise in anti-Asian racism and violence in the last few weeks.
Nikki's video went viral around the same time another video surfaced, showing a brutal attack on a 65-year-old Asian woman in New York. Beyond the shocking violence in that attack, what infuriated many was how a bystander—a security guard—watched the attack without taking any action to stop it or help the woman. The spike in anti-Asian violence has generated a conversation regarding bystander intervention, with some resources even offering free training on it.
The Daily Dot reached out to Nikki.
---
Today's top stories