Deciding that he would no longer live in fear of judgement, 90-year-old Kenneth Felts came out as gay to his friends and family over email and Facebook.
The man, who is often depicted wearing a rainbow sweatshirt, told the Denver Post that he waited to come out so long because in earlier decades, members of the LGBTQ community came out alone.
"There was no gay community, there really weren't gay organizations or anything," Felts told the Post. "And I guess I didn't have the courage to face society at that time, so I just went ahead and buried it."
However, Felts said he made the decision to come out this year while working on his memoir and reflecting on his "one true love," Phillip. Felts told the Post that his decision to live as a straight man for the majority of his life left him in the closet behind "rows and rows of clothes."
But he was welcomed with loving emails and Facebook messages when he came out as gay, Felts told the Post.
"He's just so brave and he doesn't even realize that he is, but it's extraordinary," his daughter, Rebecca Mayes, added.
On his Facebook profile, Felts indicated that he would be participating in the 2020 Denver Pride Virtual 5K, where he more than doubled his fundraising goal. His fundraising page, which has raised $500 for LGBTQ community organization the Center on Colfax, describes the cause as "very important" to him.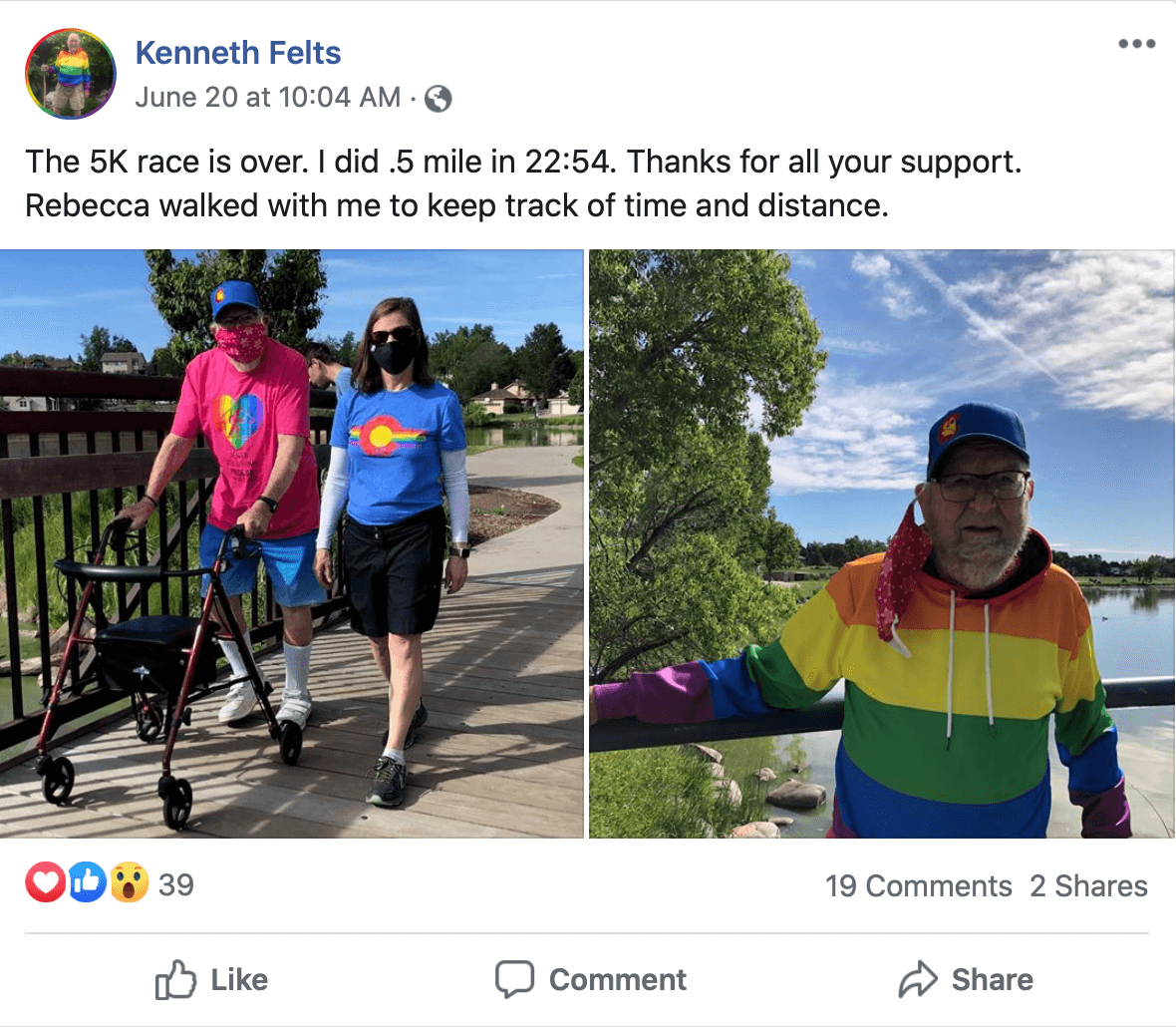 As Felts' story was shared, some users went to his Facebook profile to congratulate him for his courage.
"Sending love and hugs to you," Facebook user Ted Bach wrote. "Someone sent me a link to your story this morning. I was moved by your story, especially since I just came out to my family as well at 80 years old."

READ MORE:
H/T the Denver Post