Singer Madison Beer is embroiled in a public battle after she was photographed behind a bush at a cosmetic surgery clinic. Last month, TikTok creator Katie Kelly (@girlwithgreenbeanie) accused Beer of getting cosmetic work done and "setting unrealistic body and face standards for young women."
In the comments of Kelly's video, Beer responded by calling her a "mean, bitter person" and wrote she was the exception to "women supporting women." Beer also wrote: "You SCREAMING saying I set unrealistic beauty standards for women is a joke. I'm not the beauty standard and NO ONE SHOULD BE."
Madison admitted in a video that she got her lips done. "I fucking regretted it and I hated it," she said in the video. "I got them dissolved. This is literally my fucking natural face."
She continued, "I'm just exhausted of seeing people say that I'm setting a false beauty standard, I'm lying to my fans. Guys, it's not difficult to go and scroll back on my Instagram. My photos from when I was 12 are still on my Instagram... I look the same!"
Beer said she is "hurting" from all the comments directed towards her. 
But this week, pictures circulating on social media showed Beer hiding behind a bush at a cosmetic surgery clinic. Things escalated when former porn performer Mia Khalifa posted a video of herself bandaged up from a rhinoplasty.
She seemed to make shots at Beer in the caption, which said, "I'd never hide behind a tree. Don't compare yourself to anyone on the internet, you're beautiful."
On Tusday, Beer responded to Khalifa in a tweet. "bandwagon hate and mass bullying is something i'm not okay with. sorry," she wrote, "bullying has been an issue that has led to suicide and depression for so many for years and years and still people do not care to change. focus on your own lives and stop being so hateful towards strangers."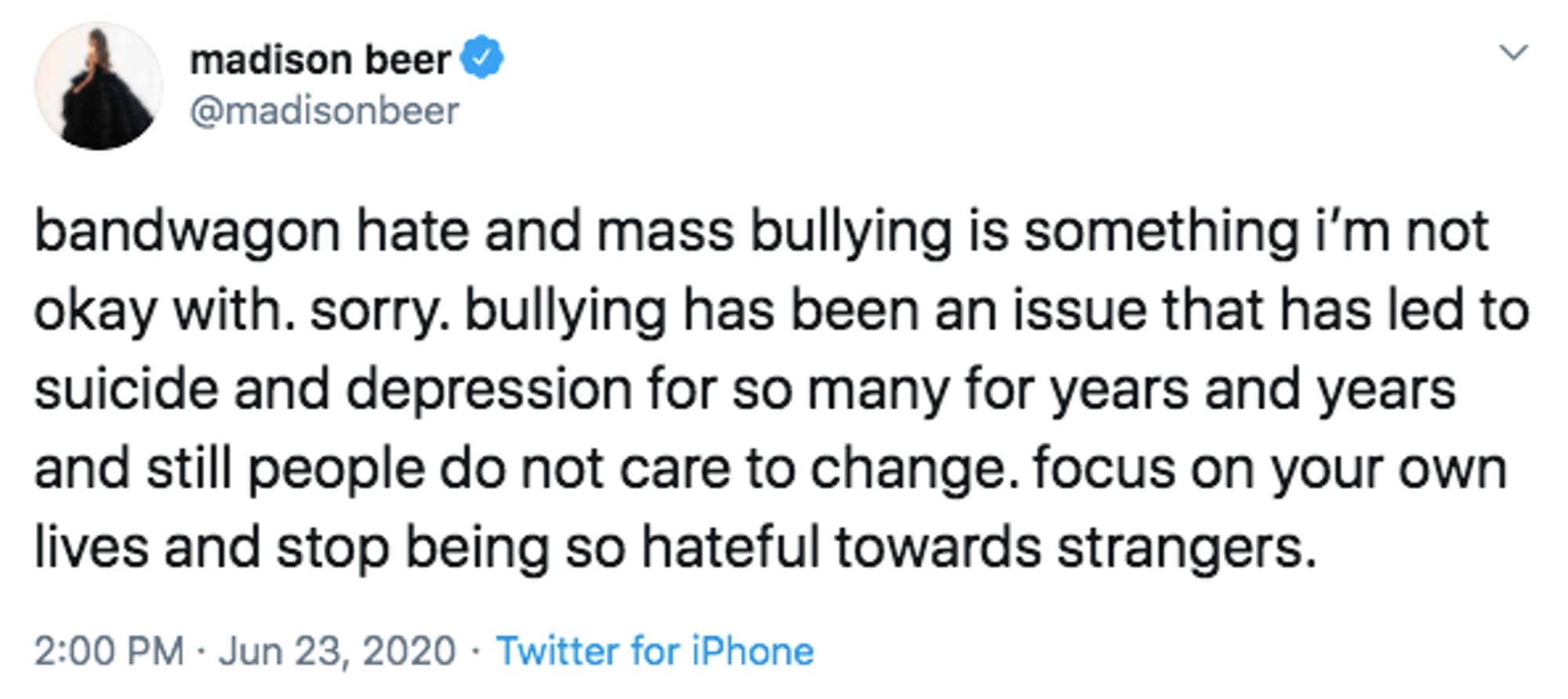 Beer's fans begged her to be honest about why she was at the clinic. She later said that she was getting a mole removed and that she shouldn't have to clarify because "that's my business."
"I was waiting for my car and walked out normally. But these pics go ignored. I've gotten death threats because of this situation. See the issue?" she tweeted.
She also said she is going to focus on her music and hopes "one day we can end bullying together because it's fucked up."
READ MORE:
H/T BuzzFeed