Trump Housing official Lynne Patton has apologized to White House correspondent April Ryan after posting a photo of the journalist on Twitter, calling her "Miss Piggy" and a "broke blogger."
According to BuzzFeed News, Patton, who handles the federal government's New York and New Jersey housing programs, began tweeting at Ryan, a reporter for the American Urban Radio Networks, on Tuesday, in response to a CNN clip in which Ryan says she's received death threats since she began reporting on the White House.
Patton, in response, wrote that she too has received death threats for three years, telling Ryan, "welcome to the club."
As a conservative black female who has publicly worked for & supported @realDonaldTrump, I've been getting death threats from fellow minorities on the left for the past 3 years – so welcome to the club, @AprilDRyan. pic.twitter.com/0EeG9pBesy

— 🇺🇸 Lynne Patton (@LynnePatton) January 21, 2018
Ryan then called Patton a fool and questioned who Patton was, while Patton called Ryan a blogger working for a bankrupt outlet.
https://twitter.com/LynnePatton/status/956315194719744001
https://twitter.com/LynnePatton/status/956313823484497920
https://twitter.com/LynnePatton/status/956314866968559617
Eventually, Ryan told Patton to "kick rocks," then questioned her position at the Department of Housing and Urban Development (HUD). In response, Patton shared her now-deleted tweet fat-shaming Ryan.
"I hear #MissPiggys still on a rampage. Gee, I must've struck a nerve, @AprilDRyan! #BankruptBlogger," Patton wrote.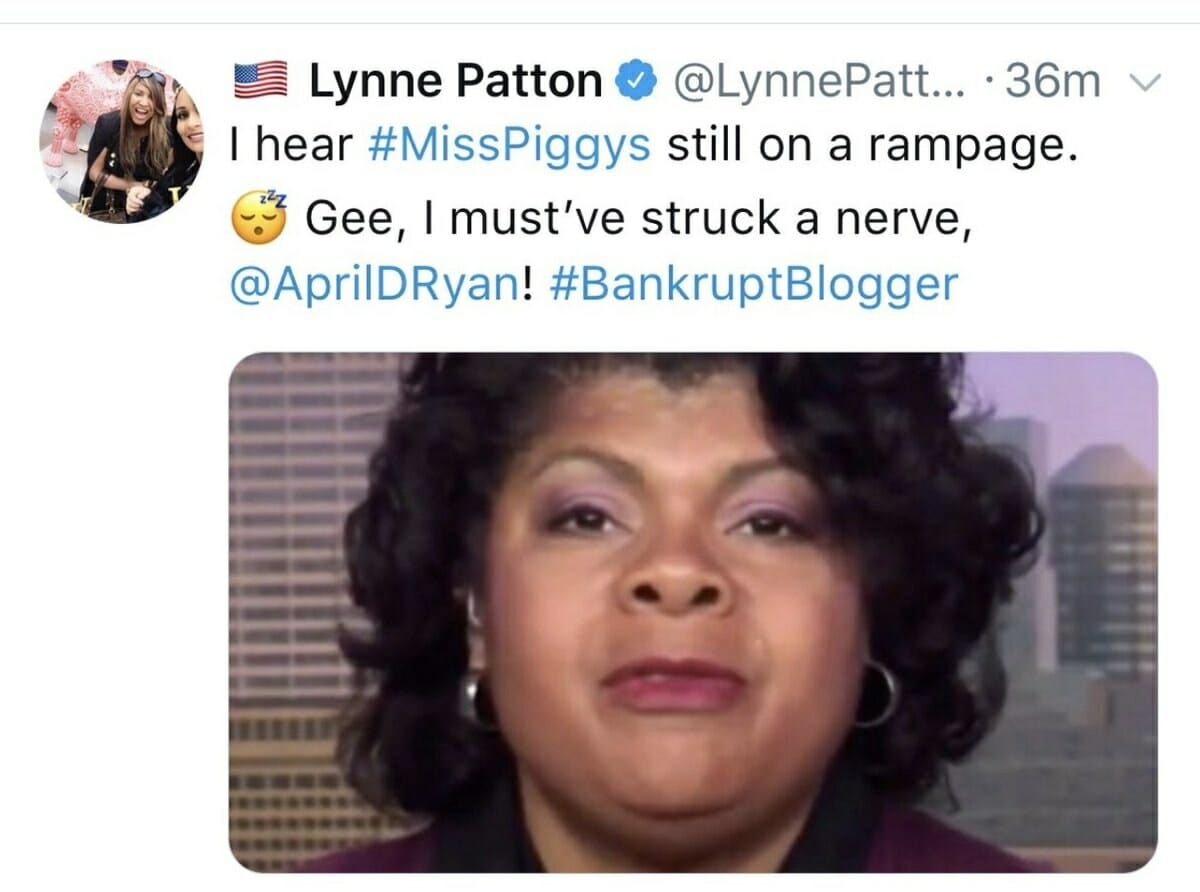 Thanks for the support. For the record I don't know this woman @LynnePattonHUD and don't know why my name is in her mouth. Since she started targeting me yesterday over my death threats I have found out.

— AprilDRyan (@AprilDRyan) January 25, 2018
On her personal profile, and on her HUD official Twitter, Patton has apologized to Ryan for sharing the insult, calling the move "beneath" her, and apologizing to the Trump family and HUD Secretary Ben Carson as well.
https://twitter.com/LynnePatton/status/956335497365852161
https://twitter.com/LynnePattonHUD/status/956348422449254400
While BuzzFeed didn't receive responses to requests for comment from the HUD, Patton, nor Ryan, political pundit Armstrong Williams tweeted on Thursday morning that Carson is "deeply disappointed" by Patton's comments, and has tried reaching out to Ryan.
I have known @AprilDRyan for 25 years. No one should be shamed and she has my profound apologies. I spoke with Dr. Carson and he was deeply disappointed by what occurred. He tried reaching out to April this morning, but wasn't able to reach her. He offers his deepest apologies.

— Armstrong Williams (@Arightside) January 25, 2018
Thank you. Sorry I missed your call. I want to talk with Dr Carson about this when he has time today! Thank you @Arightside and @RealBenCarson for the Apology! https://t.co/diM5klfSPX

— AprilDRyan (@AprilDRyan) January 25, 2018
Ryan has had a contentious relationship with the Trump administration and has repeatedly been ostracized for taking the president to task. Last year, Trump made racial assumptions about Ryan during a press conference; Ryan also said that former administration official Omarosa Manigault threatened her. Ryan was also reportedly not invited to the White House holiday media party. After Trump called Haiti and El Salvador "shithole" countries, Ryan blatantly asked him if he was racist.