People on Twitter accused Lizzo of being a "snitch" after the artist exposed a Postmates delivery woman's identity—including her name and photo—and accused her of stealing food.
The tweet, posted on Monday evening has since been taken down, but screenshots show Lizzo's complaint tagging Postmates.
"Hey @Postmates this girl Tiffany W. stole my food she lucky I don't fight no more," Lizzo wrote.
In another tweet responding to a fan calling her out for exposing the woman's name, Lizzo wrote, "…the front desk told me she walked in, clocked it as delivered, then walked out with food in hand."
"She clearly knew what she was doing and I just don't want someone else to get they shit stole too…" she said in the now-deleted tweet.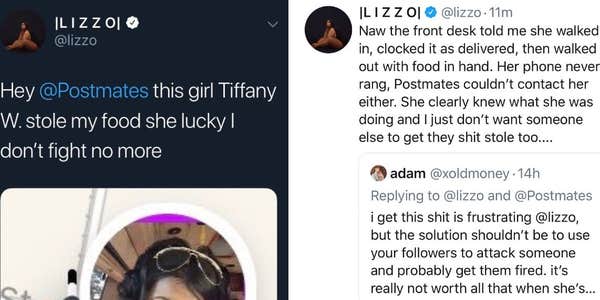 Postmates confirmed the incident with the Daily Dot and said the delivery woman waited at Lizzo's residence for the allotted five minutes and had to leave after she wasn't able to reach the customer, as per the rules.
A lot of people felt that it was justified Lizzo was upset but argued she didn't need to expose the identity of the delivery person.
"i think you should acknowledge that showing the postmate womans face was a bad move though," one user tweeted.
So Lizzo posted the photo of the person who stole her food… on the internet. So she "twitter do ya thang"-ed over a postmate delivery? I'd be upset about my food too, but i'd probably just tweet about how I called customer service.

— FKA Wigs (@vj_burton) September 17, 2019
One time a postmate ran off with my food when my bf and I hadn't eaten the entire day and the next time we could eat wasn't until hours later. Not even then was it ever that serious. That's just ugly of lizzo

— Dani (@boredmamacita) September 17, 2019
Some people equated her white women, like BBQ Becky, who have infamously called police on people of color for arbitrary reasons.
Lizzo posting the postmate lady info was upper middle class white lady behavior

— ArisTHOTle (@karachikween) September 17, 2019
https://twitter.com/PrettyBadLefty/status/1173934930843320320?s=20
Some commented on the power dynamic differences between a rich, famous person and a delivery driver caught in the gig economy.
"Lizzo you're a multi-millionaire, what are you doing?" one person tweeted. "You know how much postmate contractors make? Whatever you're thinking it's even less than that."
https://twitter.com/aScottyMr/status/1173932958580903936?s=20
https://twitter.com/frankieisfrank/status/1173998934651539457?s=20
https://twitter.com/fakerapper/status/1173997898452750336?s=20
Does she not kno that she could or already has put this person in harms way??

— Leontyne (pronounced: leonteen) (@leontyne1231) September 17, 2019
https://twitter.com/TheDreamGhoul/status/1173887631077322752?s=20
A Postmates spokesperson told the Daily Dot over email that the company had spoken to Lizzo to resolve the issue.
"We apologize to Lizzo for any inconvenience," the spokesperson said.
Door Dash, another food delivery service, tried to cash in on the incident. "Truth hurts, need something more exciting? DM us," the brand tweeted.
Truth hurts, need something more exciting? DM us ❤️

— DoorDash (@DoorDash) September 17, 2019
And of course there were memes:
Postmates regional manager: Tiffany W, would you please just go back and pick up Lizzo's food. The restaurant saw the tweet, they've remade the order free of charge. You aren't in any trouble, please..

Tiffany W.: pic.twitter.com/Nt8k8u8sqS

— Mr. Anakin "Sensitive" Summers (@theAntiBinge) September 17, 2019
Lizzo seeing the postmates delivery driver info before coming to the timeline pic.twitter.com/nS9CZSIRE0

— Ahmed/My #Elite Group (@big_business_) September 17, 2019
Tiffany W. To Lizzo after stealing her Postmates order pic.twitter.com/RUblulbf33

— vern (@DopeChubbyChick) September 17, 2019
Tiffany W. walking into the crib with Lizzo's 4 for $4: pic.twitter.com/HYlyPLSC55

— Bathilda Backshots (@SeptimusFires) September 17, 2019
While some of the memes were pure humor, others were outright fatphobic. On Tuesday, Lizzo wrote she would be taking a break from Twitter, though she didn't explicitly say why. "Twitta not my friend today imma have to log tf off," she wrote.
https://twitter.com/lizzo/status/1174003285289820160?s=20
READ MORE: