Browsing rental ads is an online bloodsport. 
The most recent piece of real-estate hate bait was a "modern studio apartment" advertised on Rightmove. It was so small that the bed stopped the kitchen cupboards from opening. The market is such a killing field that this £737-a-month hellbox in the London borough of Islington was snapped up in 16 hours, before an Internet backlash persuaded local housing authorities to intervene.
Photo via Huffington Post
In January, a "former storage space," accessible only by ladder, was advertised as a "loft conversion" for £40 a week. "Please note you cannot stand upright in the room," warned the Gumtree advert discovered by Time Out. In fact, there looks barely enough headroom to use the ensuite—a plastic bottle next to a sleeping bag on a parquet floor.
It would be comforting to think these listings were some gross mistake. But according to Alex Chesterman, the head of property website Zoopla, we shouldn't call what we're seeing a bubble, since the prices aren't artificially inflated. They're the natural result of a largely unregulated property market, where rising house prices are electoral catnip.
Dreams of the silver screen
Before our standards were systematically lowered by years of market excesses, it was every kid's fantasy to have a cinema in his house. Well, the good news is that a nightmare housing market may actually provide the key to your childhood dream, albeit via a back door. Rent in London and New York is now so expensive that it's cheaper to live full-time in a movie theater than to let even the worst apartments. 
This idea was mooted on Facebook by Chaz John Ross, a musician who complained of being priced out of an area that has become synonymous with people such as himself. The promoter and frontman of comedy electro-rock band the Coolness was recently served with an eviction notice on the house he has lived in for nine years in Bethnal Green, East London. 
"It seems like a tidal wave of bourgeoisie has hit East London," Ross told me via email. "The types of people moving to the area are willing to pay stupid prices. Nowadays living East is some kind of cool, middle­-class status symbol that young professionals can boast about."
As his artist's studio in nearby Hackney was also being cleared by developers, Ross and the band moved his leotards and old Casio keyboards into storage. Then Ross started thinking about where he could live close to the club scene on his modest budget.
"I worked out it was cheaper to live in a cinema."
The Greater London Authority's latest figures show that rent in the same East London borough, Tower Hamlets, costs more on average than buying all-day tickets at the local pictures. With rents rising by nearly 10 percent a year in the capital, studio flats in the borough now cost, on average, £1,083 a month without bills. Keys to a one-bedroom flat change hands for £1,257 before utilities.
Instead of renting a flat in Bethnal Green, Ross could see every film at the nearby Genesis cinema in Whitechapel and have change left over. Tickets at the Genesis go for between £3.50 and £8, depending on the time of day. I've worked out that a person can exist for £31 a day ($52.62), or £930 ($1,579) a month, at East London's best value cinema.
Become a regular customer
"We do have regular customers," Genesis cinema's events manager Abi Stroman said. "Theoretically you could spend your day here legitimately, without it being weird." 
There are obviously a few inconveniences you should consider if you want to call an auditorium your home. Stroman said that all customers have to vacate the screen between shows, but only for 15 minutes. On the plus side, there are plugs for charging electrical items, and the café opens at 8am. 
Stroman clearly regretted humoring me when I asked if I could live there. "Um… we don't have a shower. I feel like that's something the majority of people would be looking for in a live-in experience."
But Chaz John Ross, the musician, has that covered. Take care of your hygiene and stay fit in a 24-hour gym for £45 per month in the City of London. Storage for possessions is around £80. 
Even with these extra outgoings, you can live in the Genesis for £1,055 a month. That's £28 cheaper to see movies all day than rent a small apartment nearby. And of course, it comes with free cinema.
New York City
Renters in New York's gentrified Brooklyn face a similar discord between the cost of everyday necessities and premium entertainment. According to real estate agent MNS's report for May 2014, a studio in the borough costs, on average, $2,164. Having a bedroom separate from the the living space elevates rent to $2,634.
A cinema seat in Brooklyn is vastly cheaper than renting in the same neighbourhood. The Cobble Hill Cinemas is one of the cheapest tickets in town, charging $8 per show during daytime hours and all day Tuesdays and Thursdays. If you decided to make Cobble Hill Cinemas your home for the whole duration of the opening hours, two matinee tickets and three at full price would cost $55 a day, which works out to $1,650 for 30 days. Put it another way, a month in the cinema is $1,000 cheaper than the average one-bedroom apartment in Brooklyn.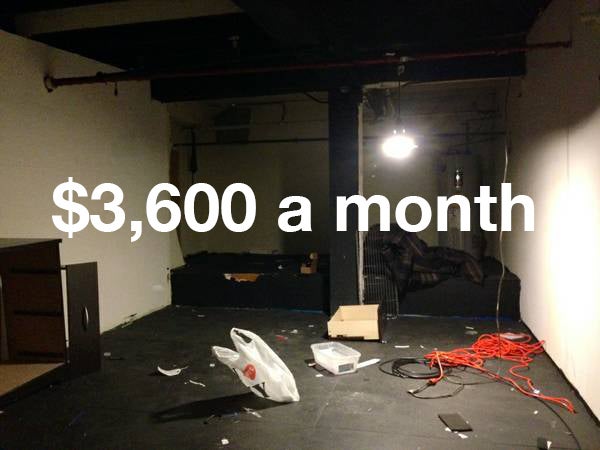 Photo via The Worst Room
Although in reality, the monthly cinema bill would be even more of a bargain, since you'd save $15 a night, or $75 a month, on Tuesday and Thursday special offers where the matinee rate applies all day. There isn't a landlord I've ever heard of that offers discounted rent any day of the week.
New Yorkers could even stray from the cheap seats to find better value than Brooklyn rents. Walking into any movie theatre and seeing five films a day at the average citywide ticket price of $13.50, including IMAX, 3D movies, deluxe options, and special offers, is still only $2,025. That's $150 cheaper than a Brooklyn studio. 
Animal lovers, keep reading
Admission to the London Zoo costs £24 a day. Buying a ticket every day for a month would only set you back the cost of the London hovel, £728, and way less than average East London rent. It also has more greenery and is probably safer.
Animal lovers get an even better deal in New York City, in a truly stunning location. While real estate overlooking Central Park goes for millions of dollars, general admission to the zoo located in the middle of Central Park costs just $12, or $360 a month.  
Asked to choose between the cinema or the zoo for his next rental, Ross said, "The zoo might be better but only in the summer, plus more friends. Cinema has higher turnaround of roommates."
This lighthearted research has a serious conclusion. Extortionate rent doesn't mean seeing more movies or having fun sleepovers close to the meerkat enclosure. Homelessness is rising at roughly the same rate as private rents.
"Homelessness in the capital has risen for the fourth year running, with the ending of a private tenancy the leading cause," said Leslie Morphy, chief executive of homelessness charity Crisis. 
"Rough sleeping in London has been rising at an alarming rate, with a massive increase of 75 percent over the last three years. Behind these numbers are thousands of people struggling to keep a roof over their heads."
In addition to the official count of rough sleepers, there are thousands staying in what Ross calls the "Booty hotel." I'm sure we all know somebody there. Although officially known as hidden homeless, residents of the Booty Hotel don't appear in statistics but are nevertheless in a state of despairing precarity. They're the ones, often working full-time or interning, who stay on friends' couches, on floors, at work, or in the case of a friend I know who speaks French, Japanese and has a degree in maths, in a ditch at the back of Liverpool Street station. 
Living in the cinema or the zoo obviously isn't a realistic option for these people, or anyone for that matter. But the fact that big-screen entertainment is more affordable than the most modest houses suggests that something has gone disastrously wrong.
Photo by Leo Hidalgo/Flickr (CC BY 2.0) | Remix by Jason Reed