Body positivity champion Lili Reinhart is at it again, this time calling out a Photoshopping app for contributing to unrealistic body expectations.
Reinhart, known for her role as Betty Cooper in the CW's Riverdale has never shied away from keeping it real with her fans. From talking about her own journey with mental health to calling out Cosmopolitan Philippines for altering an image of her, Reinhart has always spoken her truth.
And this time is no different. On Sunday, Reinhart posted on her Instagram story about an app she found while searching for one that would help her resize photos to better fit on Instagram. The app, BodyTune, allows users to alter their images to make themselves look thinner.
"This is not okay," Reinhart wrote. "This is why people develop eating disorders. This is why social media has become hazardous to our health. This is why people have unrealistic expectations of their bodies."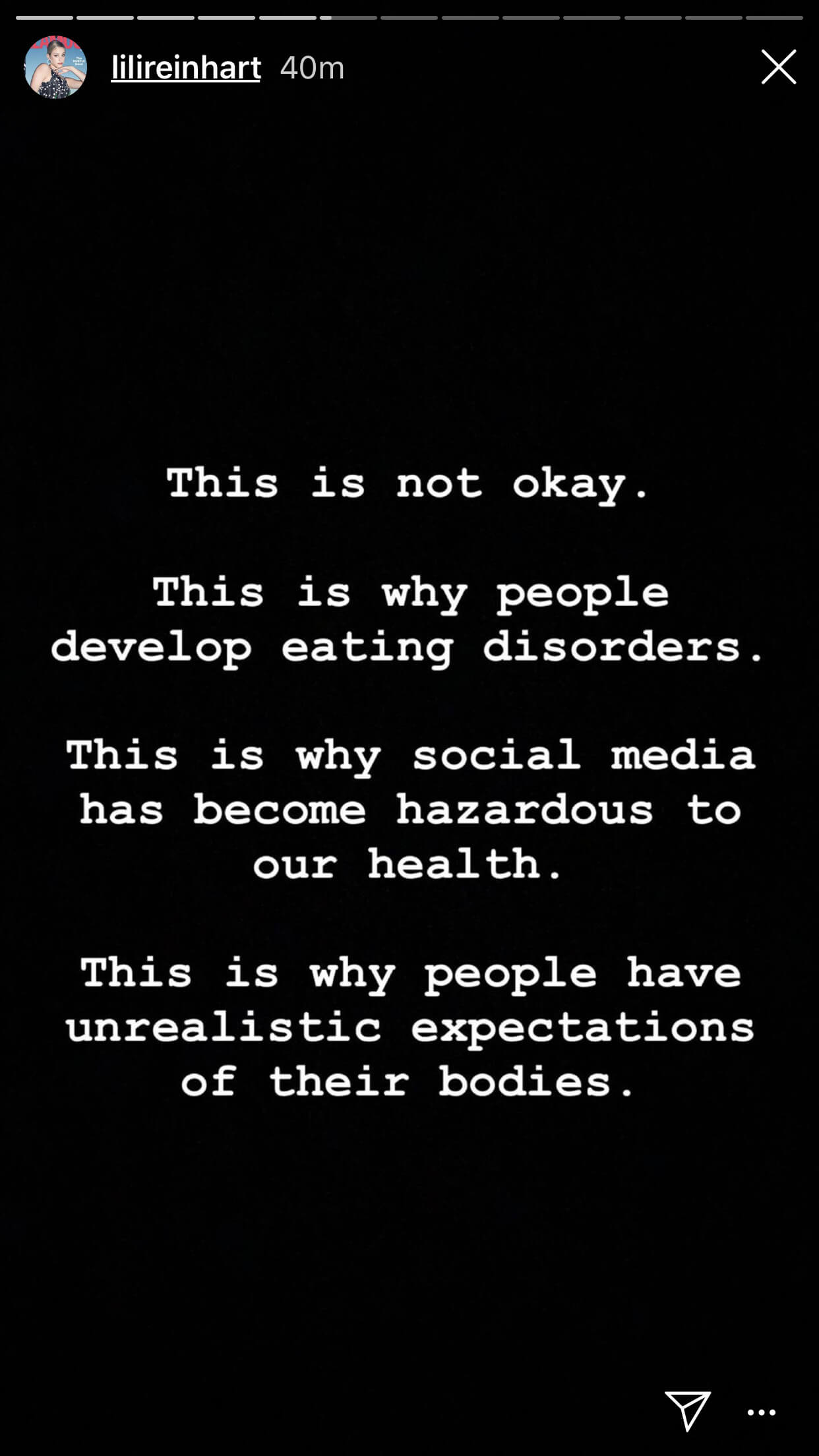 "I implore you: do not use these kinds of apps," Reinhart continued. "If you Photoshop your body, you are adding to this problem. … This is how unrealistic standards of human bodies have been created—to the point where people alter their bodies surgically to achieve unattainable results. We are better than this."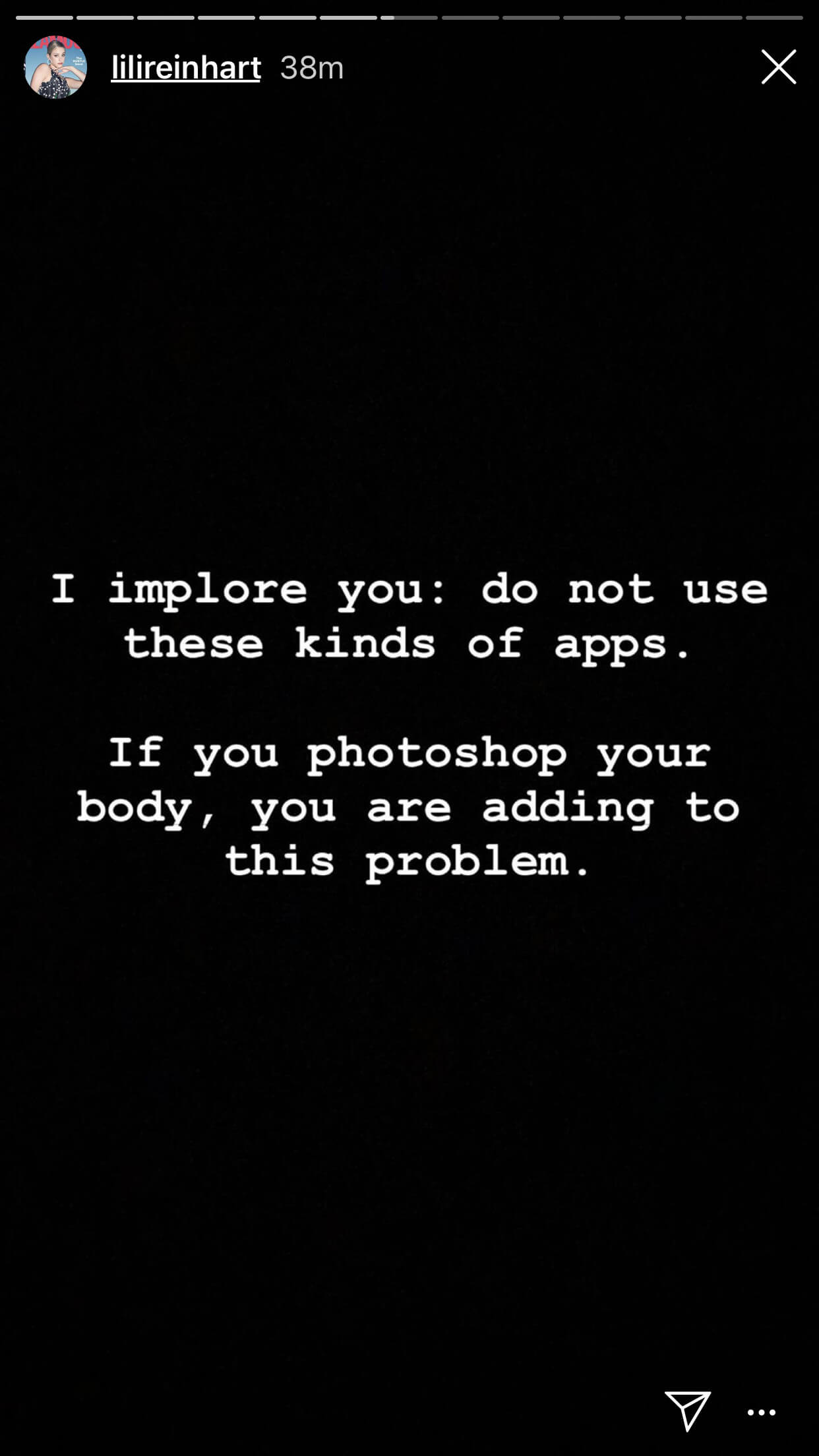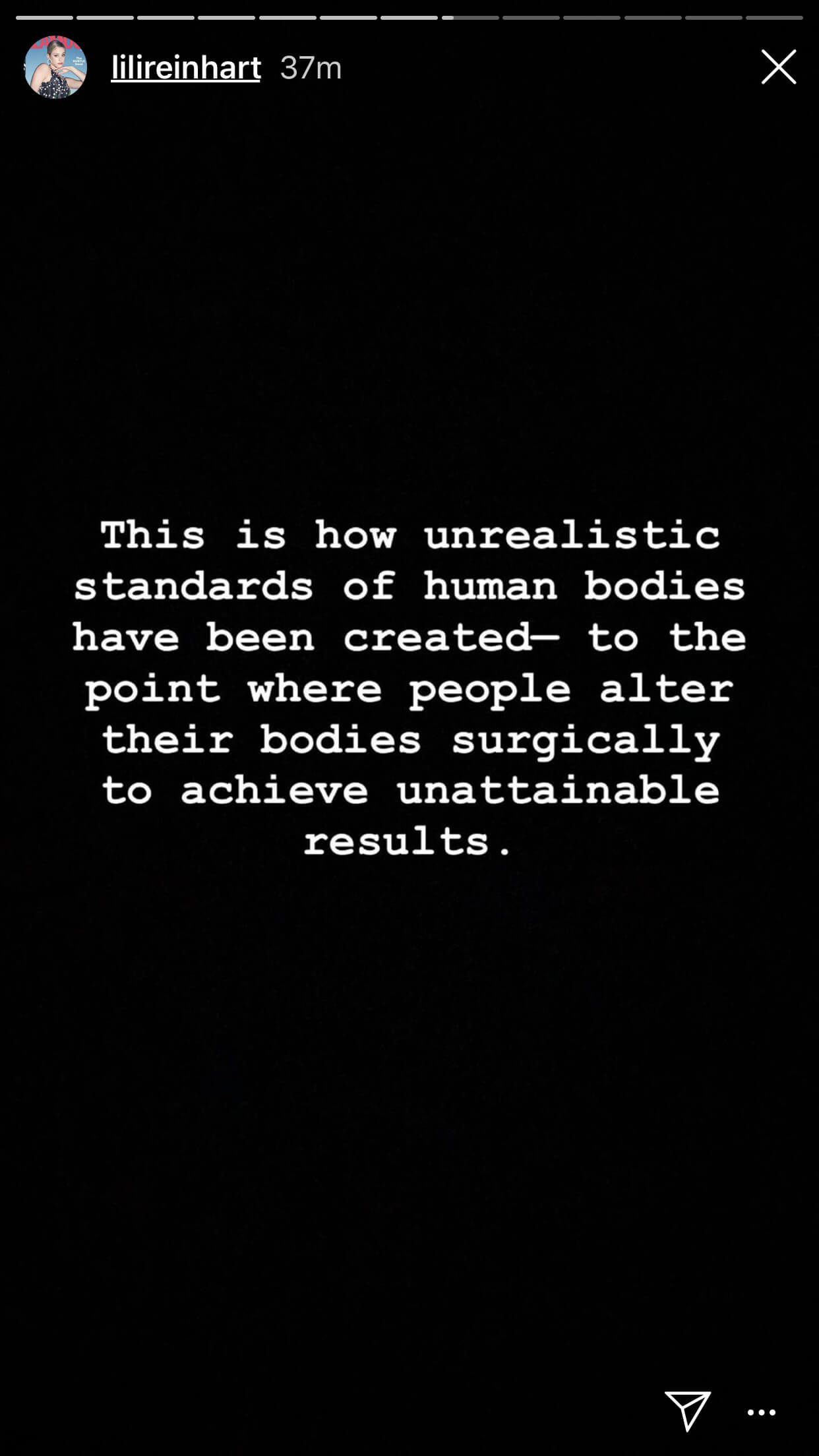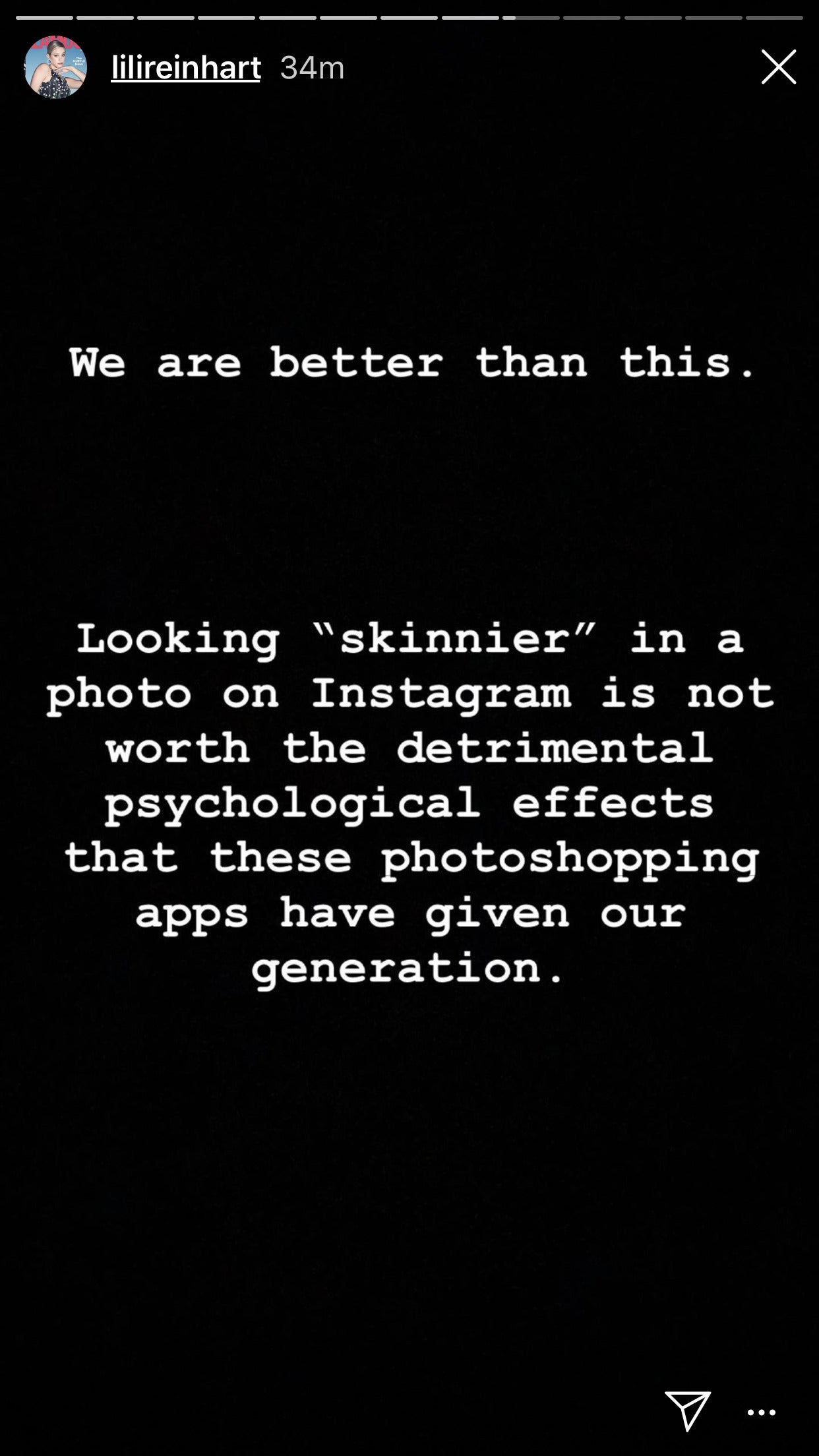 "Our bodies should not conform to 'one size fits all,'" Reinhart concluded.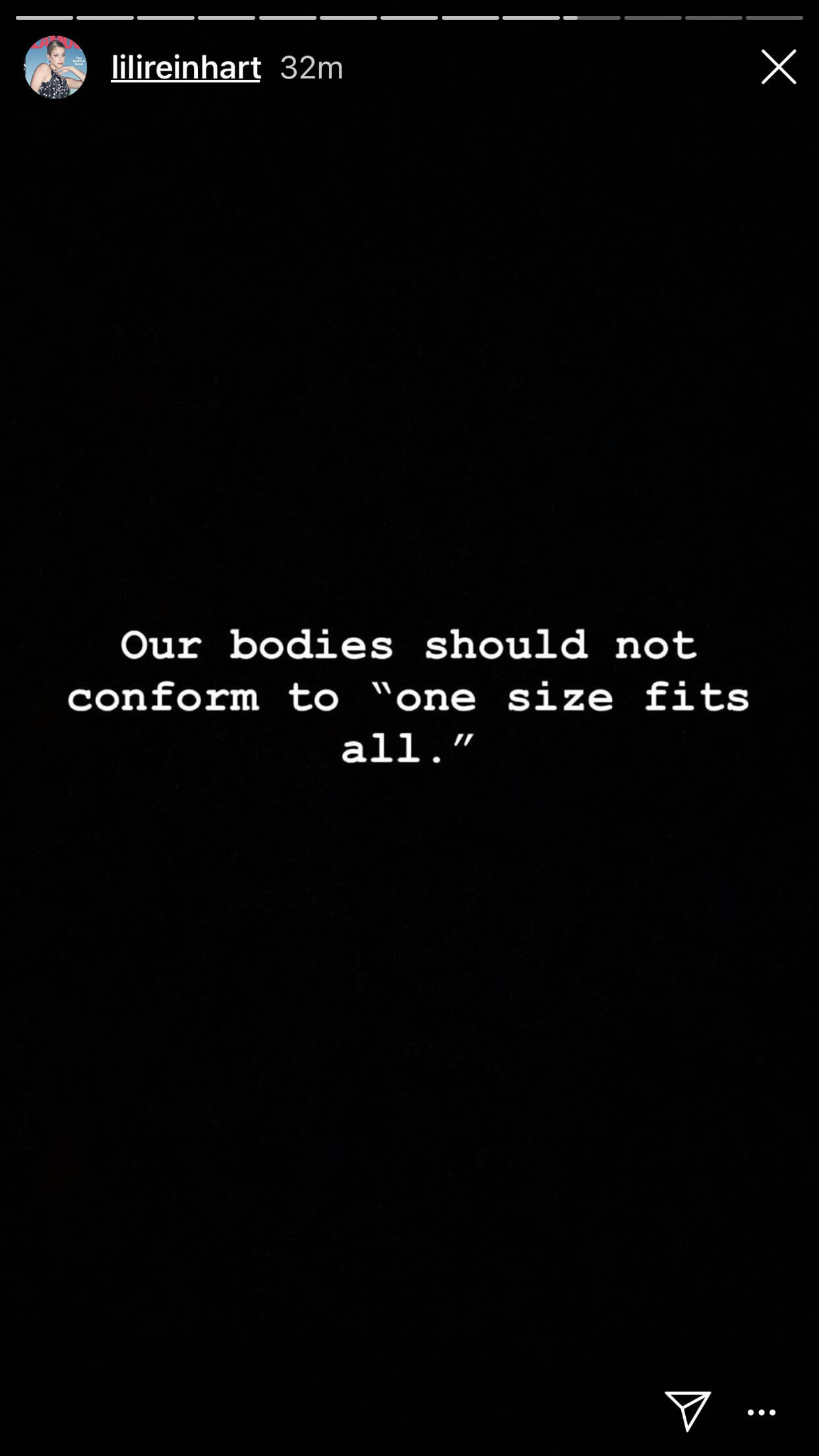 Fans soon took to Twitter to express their gratitude for the actress's sentiments.
"Best person in the world: Lili Reinhart," user @sprousefracaso wrote.
the best person of the world: lili reinhart pic.twitter.com/tPxdckQr4M

— Beelu☆ (@sprousefracaso) November 17, 2019
"She is so so inspiring always fighting the real, important issues and never afraid to stand strong. I am so incredibly proud to call myself a fan of Lili Reinhart," user @wowreinhart wrote.
she is so so inspiring❤️always fighting the real, important issues and never afraid to stand strong. i am so incredibly proud to call myself a fan of lili reinhart pic.twitter.com/C1c26vmqRV

— harriet ♡ (@wowreinhart) November 17, 2019
H/T BuzzFeed 
READ MORE: