Call it anime lesbian porn or yuri hentai, whatever works for you. Lesbian hentai has broad appeal with straight folks and queer women alike, and these days, there's so much lesbian anime porn available that it can be hard to pick the top of the genre.
Just a decade ago, it would be hard to even legally acquire yuri hentai. A significant portion of lesbian anime porn during the 2000s and early 2010s came from pirated anime and manga or out-of-print VHS releases and DVDs. As anime has gone more mainstream, officially licensed localizations have cropped up from MangaGamer, Sekai Project, and Fakku that let anime and manga fans officially support their favorite creators.
So where should you start? Read on for the Daily Dot's top lesbian hentai recommendations.
1) Best slice-of-life lesbian hentai manga: Office Sweet 365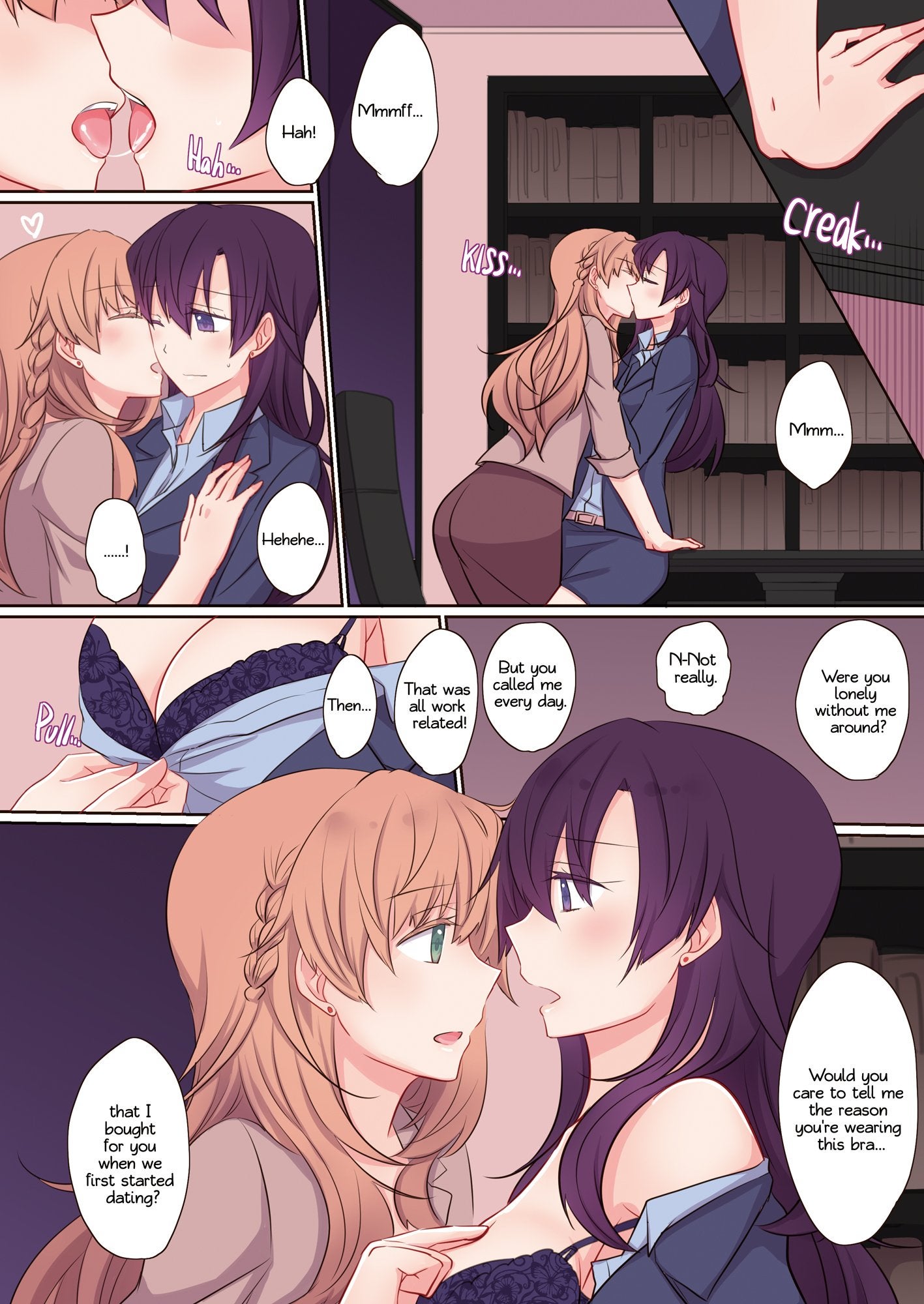 There's something so pure about vanilla hentai, doubly so when it features two lesbian lovers in a slice-of-life tryst. This yuri hentai manga follows Japanese businesswomen and lovers Kazuha and Director Kaname. After Kaname returns home from a trip abroad, the two find one another in a sultry office hook-up that's as sweet as it is naughty.
Created by yuri hentai artist Isya as part of the 434 Not Found doujin circle, Office Sweet 365 and Isya's other yuri manga can be read over at Fakku.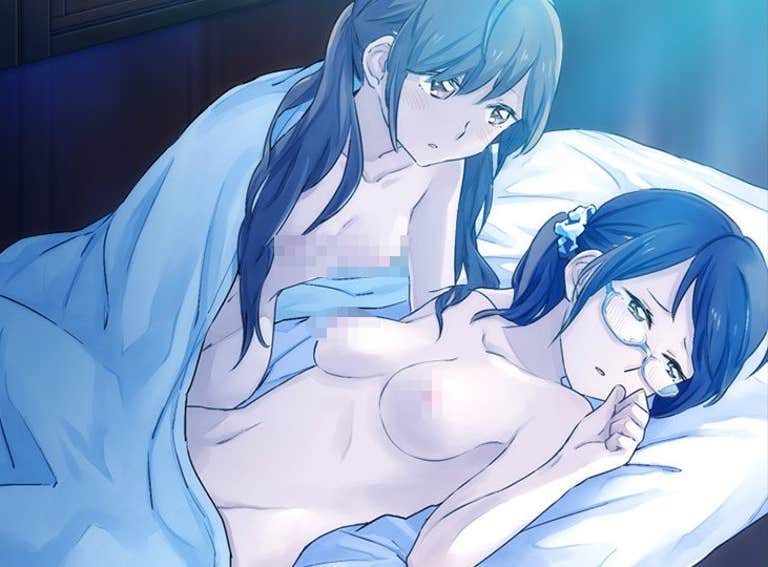 Back in 2012, Kindred Spirits on the Roof shook up the English-speaking visual novel world for offering one of the most heartwarming adult yuri games imaginable. Years later, it's still a classic, in no small part because its gorgeous 18+ scenes hold up.
Kindred Spirits follows student Yuna Toomi who discovers two female ghosts in love with each other who don't quite know how to take their affection beyond the spiritual level. Yuna proceeds to foster lesbian relationships among her fellow students in an attempt to help her new ghost friends learn how to become physically intimate. It's as sweet and tender as it is well-written, making it a must-buy for yuri fans new and old. Grab it uncensored via MangaGamer.
3) Best western lesbian hentai comic: Erotech
Slipshine's Erotech isn't technically an anime porn comic, but it certainly wears its inspiration on its sleeves. The series follows Iris, an advanced robot AI who, through her creator Zoe's late-night masturbation session, ends up receiving a firmware update that fills her brain with a yearning for human sexual experiences. So begins Iris and Zoe's journey as the latter helps Iris learn about the wonderful power of masturbation, cuddling, queer sex, and human social norms. Subscribe to Slipshine to catch regular updates.
4) Best lesbian hentai fanart: Juri Yuri Yuri
If you've ever played Street Fighter IV or Street Fighter V, then you know Taekwondo martial artist Juri Han is an utter babe. She's borderline canonically queer, too, since she can be seen flirting with the women she's about to go up against in battle. Criticism aside (games journalist Maddy Myers accurately critiques her as the "depraved bisexual" stereotype), she's a great fit for some lesbian fanservice, and Juri Yuri Yuri delivers.
In this yuri hentai manga, Juri goes to "battle" with SNK fighting character Yuri Sakazaki. And by battle, we mean Yuri bound by her hands and at Juri's mercy as she dominates her final competitor. Illustrated and written by Norasuko and published by Fakku, Fakku Unlimited subscribers can read the manga on the distributor's official site or purchase it from Norasuko's Gumroad.
5) Best classic lesbian hentai: GTS Viper
In GTS Viper, succubi Carrerra, Mercedes, and Rati find themselves entangled with a human named Ogawa. The three-part original video animation series follows their exploits as all four play a central role in a war between Heaven and Hell. In the meantime, expect plenty of lesbian sex scenes. Most memorable of all is the opening moment where Carrera tops Rati and fingers her before eating her out, and an iconic angelic futanari sex scene during Episode 3's climax (pun intended).
All three episodes of the GTS Viper OVA are available via a Fakku Unlimited subscription.
6) Best hardcore lesbian hentai: Etsuraku no Tane
Most of our recommendations are relatively tame. Etsuraku no Tane is not. Schoolgirl Murasawa Itsuki attends an all-girls boarding school on her grandparents' insistence while struggling with the death of her late parents. Then, a tentacle creature possesses her and fills her with the craving to sexually prey on other girls. Classic stuff!
This hentai OVA is an adaptation of the Etsuraku no Tane visual novel by WendyBell and offers a quick, albeit incredibly erotic, look into its world. Expect less plot and more focus on hardcore sex scenes featuring everything from lesbian bondage to double penetration via tentacles. Part femdom fantasy, part BDSM-centric lesbian hentai, part yuri anime, and part school girl-sexual-awakening-turned-horrific, Etsuraku no Tane definitely earns the title "erotic horror" well.
If you're one to mix your tentacle porn with some domineering lesbians, check it out. Just be warned, Etsuraku no Tane is hard to come by given it was released in 2015. Most renditions of the anime are via bootleg fansubs online.
READ MORE: