Kendall Jenner denied rumors on Saturday that she posted an edited image of herself holding a Black Lives Matter sign to her Facebook account.
Jenner's response came after a large social media backlash developed over the image, which many believed to have come from her real Facebook account. Many assumed that the picture was an inappropriate display of performative activism.
The image in question is a doctored photo of Jenner holding a sign that reads "Black Lives Matter" and wearing a mask. In the shadow behind Jenner, the reflection of the sign is clearly absent. While this proves the photo is fake, the outrage over the image stemmed from whether or not Jenner herself had posted it and claimed to be present at a protest when she wasn't.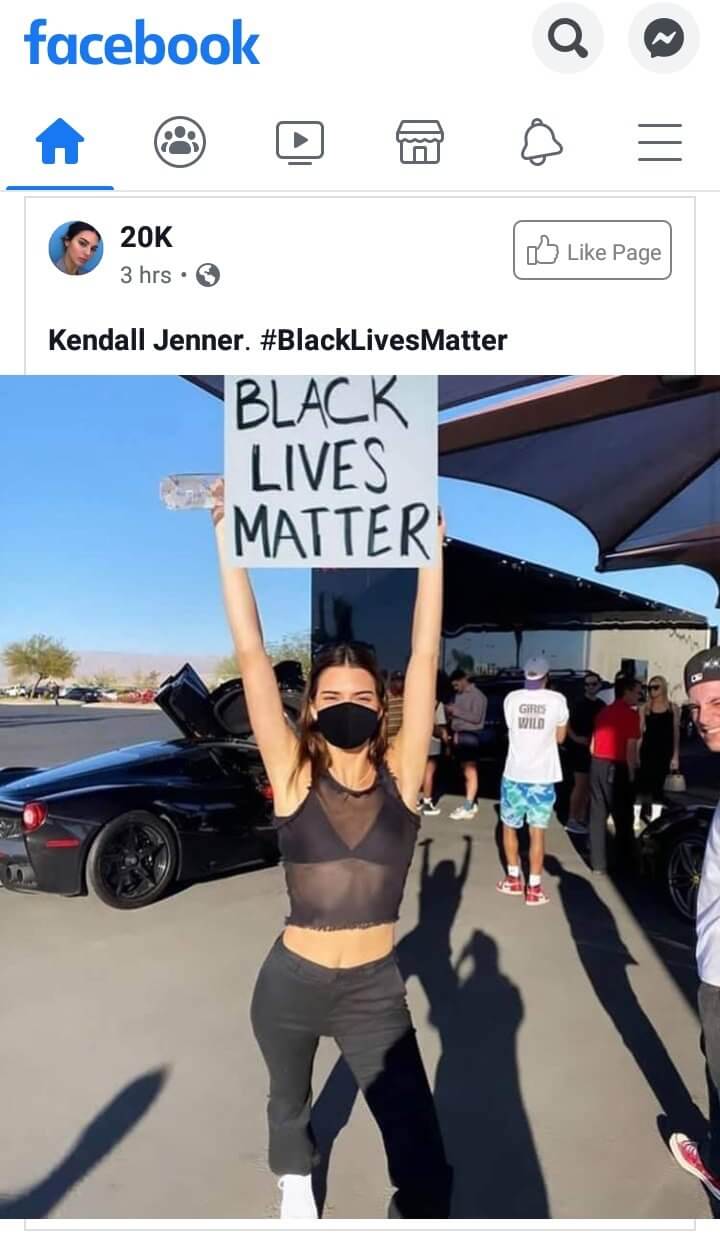 Twitter user @9Oskissy shared the picture, implying Jenner uploaded the fake protest photo. The tweet now has more than 200,000 retweets.
"HELP I CAN'T BREATH," @9Oskissy tweeted Friday along with a close-up photo of Jenner's shadow.
Many users were quick to reply that Jenner herself never shared the image on any of her official social media accounts.
"Obviously, the pic isn't legit," Twitter user @SquaredCircleIV wrote. "And I don't think it's something she has posted anywhere. Can't find it on IG, FB or anywhere else. Looks like someone is trying to get her some heat."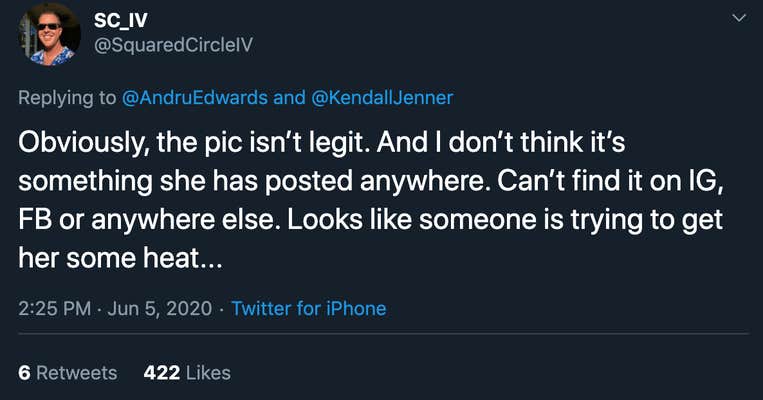 Twitter user @z3dster examined the Facebook page that first posted the image and concluded it clearly didn't belong to Jenner.
"So this post is Facebook fake news which is fun," @z3dster said. "We can see the group name is 20K and from Facebook the full name is 20k.endall."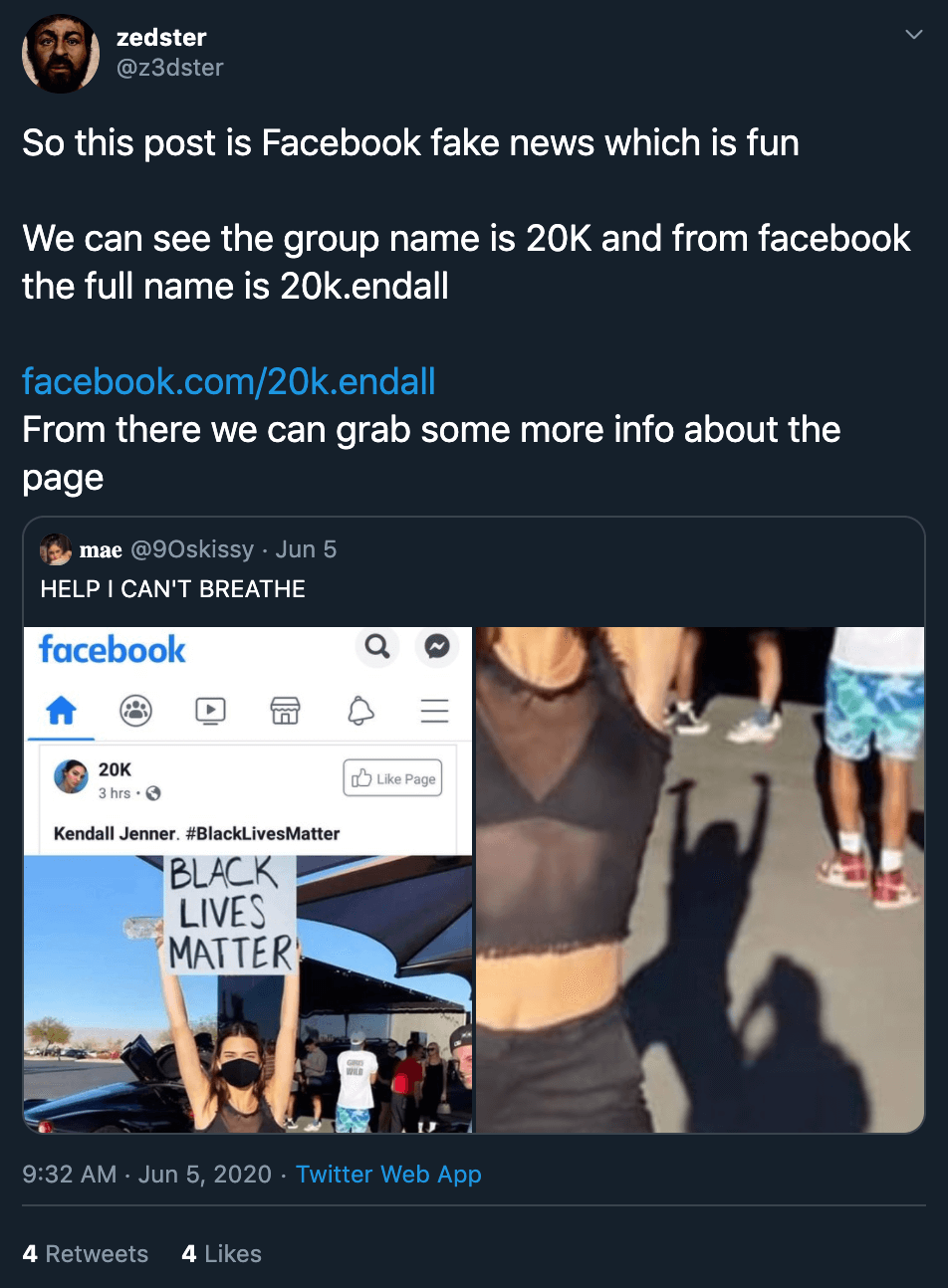 In a reply to his original tweet, @z3dster shared a screenshot of the Facebook page showing it was created on May 2 in the Philippines.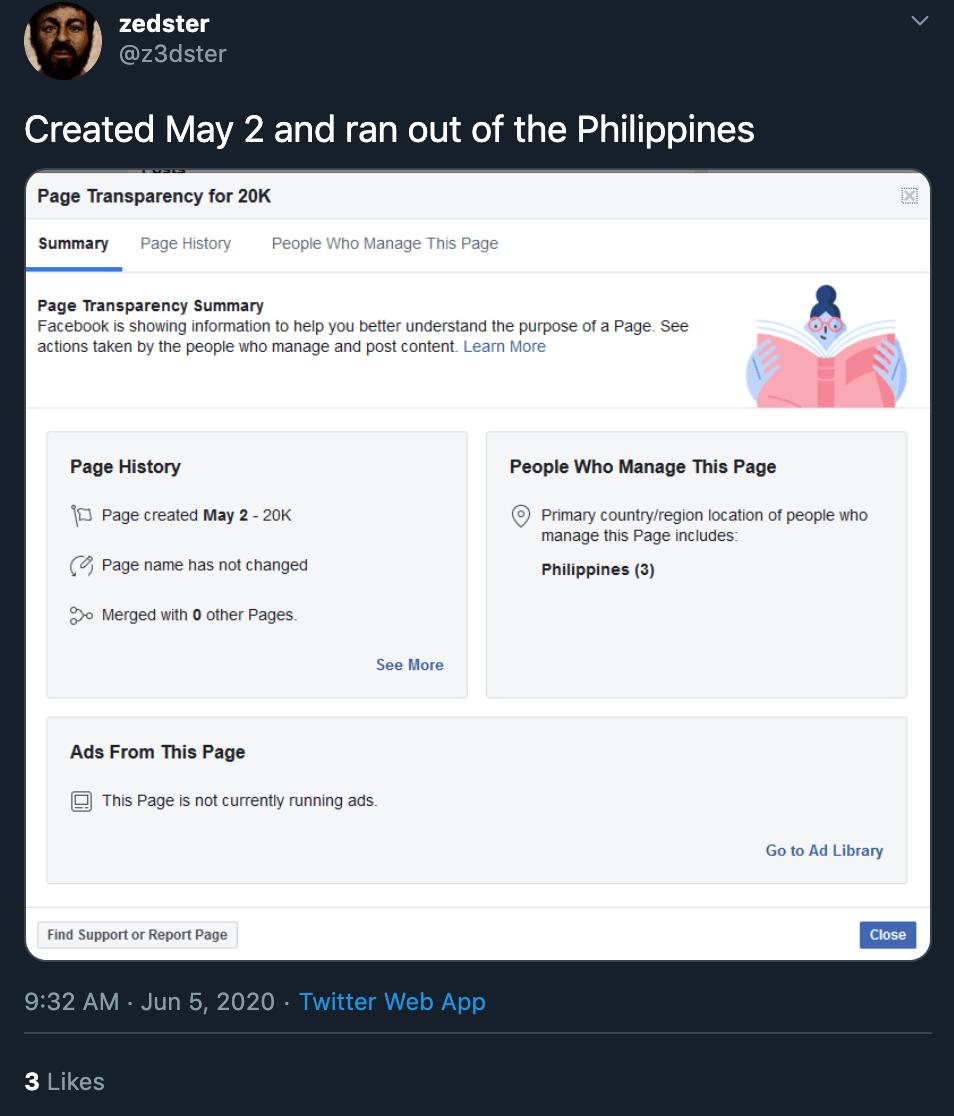 But despite Twitter sleuths cracking the code, many people still believed the picture to be true. Jenner herself finally took to Twitter to address the image, replying to one of the widely spread tweets with it.
"this is photoshopped by someone. i DID NOT post this," Jenner said.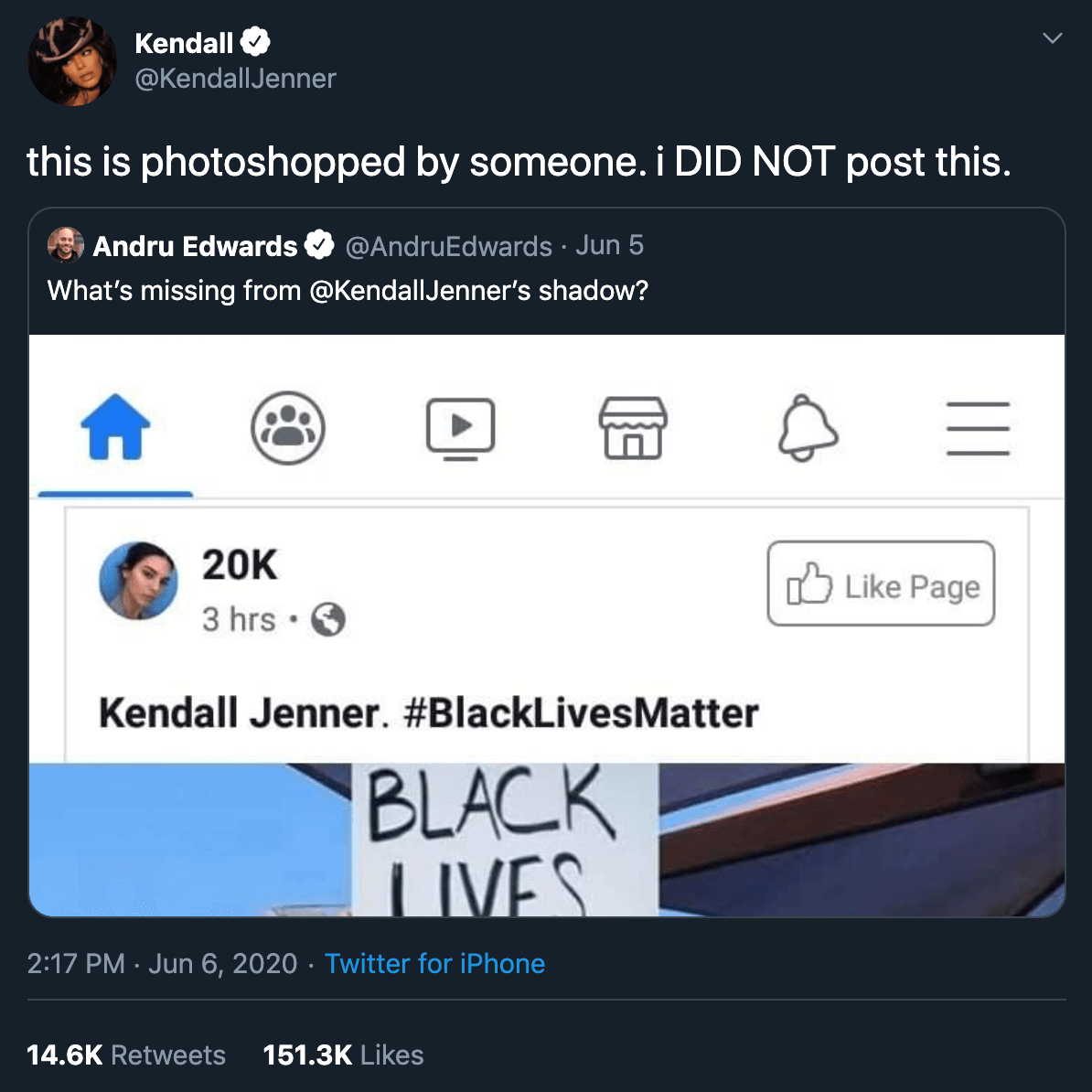 While the star has yet to be spotted at a protest, she did speak out in an Instagram post last week about George Floyd's death and the Black Lives Matter protests.
"I will never personally understand the fear and pain that the Black community go through on a daily basis, but I know that nobody should have to live in constant fear," Jenner wrote on Instagram. "I acknowledge my white privilege and promise I will continue to educate myself on how I can help."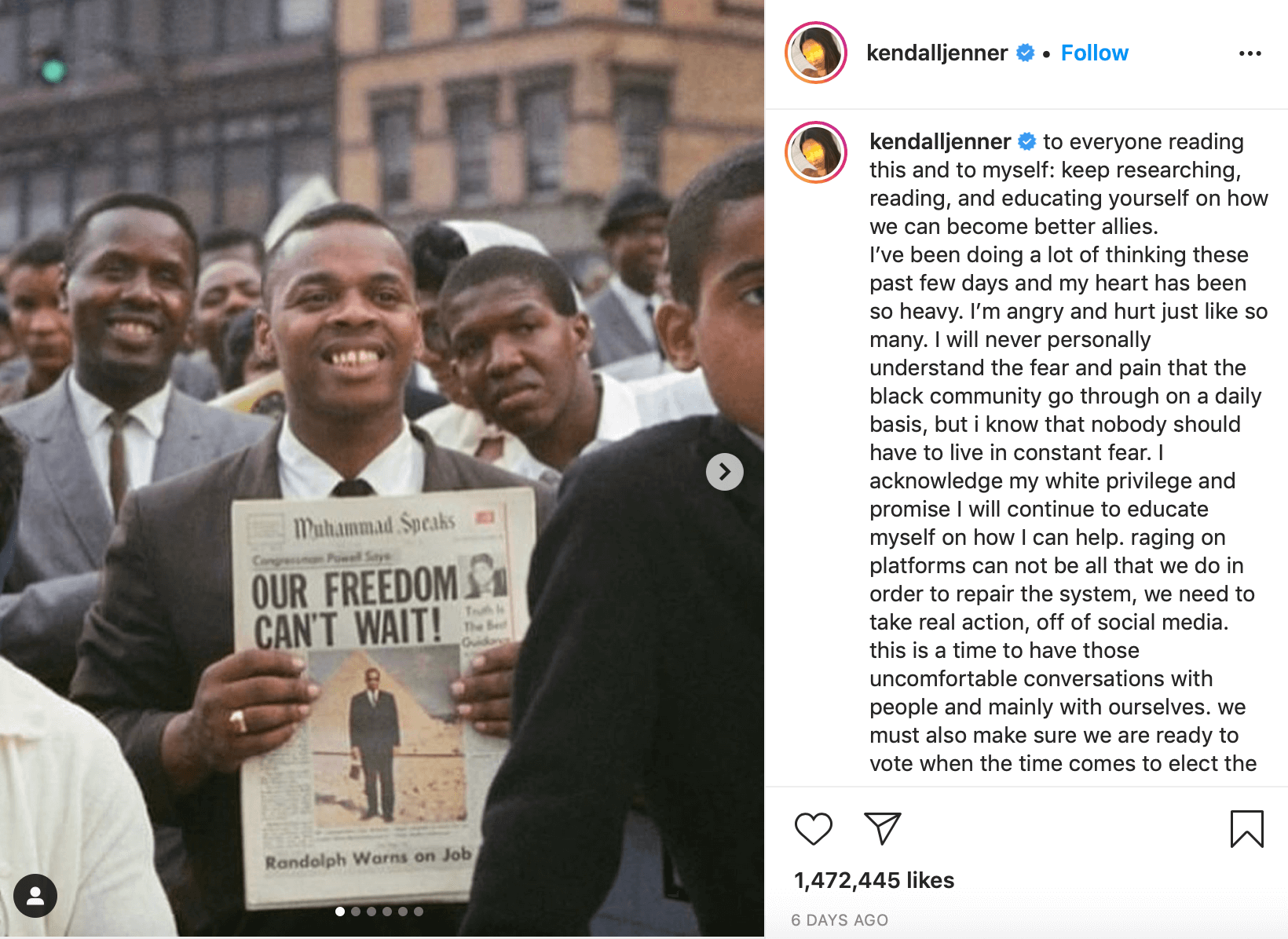 READ MORE: