The Kanye West outrage machine is merciless and righteous. His pro-Trump musings spark ready-made essays and stacks of angry tweets. People who don't listen to the guy's music pull off the road to interject their frustrated thoughts into your timeline. The hip and young counterculture idols write him off as "canceled" and "trash."
It's all earned criticism for a musician who plugs his ears when friends call out his damaging false equivalencies and dated thoughts on gender roles. But I'm puzzled by who else is left out of this chatter.
The difference between West and Queensborough rap legend Nas, who is slated to release an album on Friday produced by West, is that only one rap legend is fighting backlash—and the other has fans who don't seem bothered that two of his exes say he's a domestic abuser.
On May 1, West officially jumped the shark when he suggested that 400 years of slavery was a "choice" for the enslaved. The notion empowered conspiracy theorists and racists to post trolling comments and remains a hot-button point of contention on Twitter. Many, like the journalist and activist Shaun King, said they wouldn't be listening to West's album Ye because of West's antics.
"To be honest, I don't listen to music from people who love and support Trump and say slavery was a choice. I don't care how fresh a beat is or how raw the lyrics are. When you advance a man that causes literal harm to people, I can't shift my mind to then love your art," King tweeted on June 1.
What two women say Nas did, though, is just as, if not more, horrific than West's words—and it should definitely offend just as many people.
On April 26, Nas' ex Kelis detailed "mental and physical abuse" in an interview about their marriage, which lasted from 2005 to 2009, and said she kept quiet for nearly a decade about why it ended. She said Nas hit her on multiple occasions while drunk and that he left her with "bruises all over my body at that time."
Nas has yet to publicly acknowledge Kelis' revelations, but she's not alone. In 2006, Carmen Bryan, the mother of Nas' daughter, wrote in her autobiography It's No Secret that Nas once punched her with a closed fist so hard that she saw stars. She says that the domestic violence occurred when Nas suspected her of cheating on him.
Yet Nas remains a beloved icon in hip-hop: 1994's Illmatic gets the same routine acclaim by hip-hop fans that the Beatles do by Rolling Stone writers, and he's considered an introspective, progressive, and vital voice of protest. He's the super-lyrical apostle who breaks bread with kings. The philosopher widely respected the world over for his evocative storytelling about the human condition. If Diddy takes a photo of you standing next to Nas, Diddy will crop you out to accentuate Nas' royal status.
But fuck Nas, he beats women. It's practically a Vince Staples tweet, perfectly suited for the #MeToo era when we are supposed to be condemning men who have long gotten away with harming women. Anyone? Anyone?
Apparently not.
On Tuesday, West tweeted about editing the Nas record ahead of Friday's release. The cultural conversation on Twitter, even searching explicitly for the phrase "fuck Nas," was almost entirely devoid of backlash for the alleged spousal abuse. Instead, the overwhelming majority of tweets containing the phrase "fuck Nas" on Tuesday are telling West not to fuck up the Nas album as its chief architect, or are outright thrilled to hear it.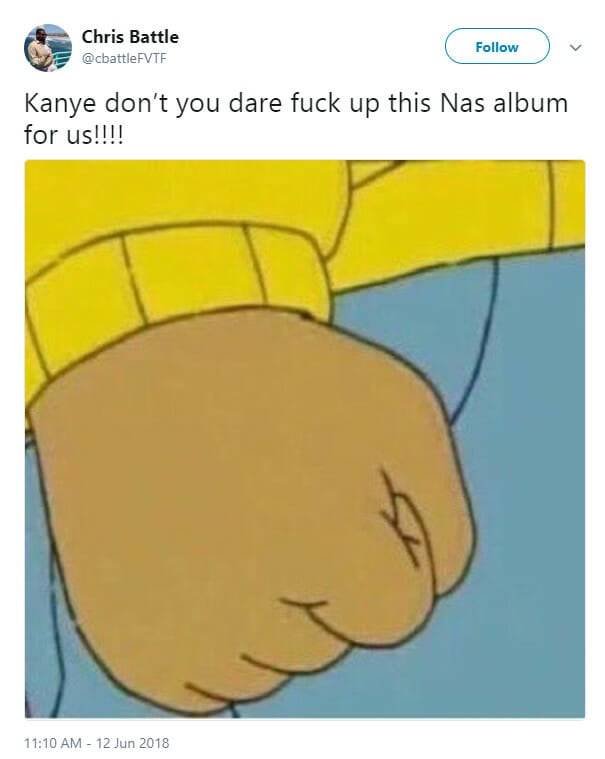 The most recent Google News story as of Tuesday for a "Nas Kelis" search is from May 22, which brings up a series of articles framing Kelis as a child-support-hungry hanger-on. (She's sold 6 million albums worldwide in her nearly 20-year R&B career.) A recent video from Esquire, presented by Cartier watches, finds Nas speaking about his creative process; as branded content, it does little but to mythologize him, and he's done few other "interviews." Maybe we'll talk about the ethics and demons of Nas' music once the record is out, but don't count on it.
Music at-large doesn't seem interested in unpacking its rampant misogyny in the era of Me Too. A panel at the SXSW music conference in Austin, Texas, this year was even dedicated to figuring out why, but little is changing.
When Spotify decided to ditch R. Kelly from its official playlists, choosing to not actively support a widely reported abuser, the backlash from the music business forced the music streaming service to backpedal and scrap the idea. A 22-year-old rapper with one of the biggest dance crazes of the summer was in 2015 convicted of abusing a 13-year-old girl in a sexual performance. A 20-year-old rapper facing charges for domestic battery by strangulation, false imprisonment, and aggravated battery of a pregnant woman scored a Billboard No. 1 album this year amid the legal issues. We continue to prove that the pain of women, especially women of color, isn't worth changing for.
I'm a fan of the latest West album. I'm a fan of Nas' music, despite the diminishing returns on albums of his that don't contain the phrase "illmatic." (2001's Stillmatic holds up real nice). But it's time for Nas to answer for his apparent behavior, and for rap fans to funnel their West-centric and forward-looking outrage on social media toward Nas as well. It's time we affirm and amplify the public pain Kelis and Bryan have shared. If you can't resist listening to the dream-team pairing of West the producer and Nas the rapper on Friday, then at least do so with an alert, critical ear, and not a gushing fanboy's heart. Art shouldn't merely reaffirm our values, after all, and its creators should be held accountable.