Tired of OnlyFans? You might want to check out a rising competitor on the market. JustFor.Fans is a popular sex worker-run adult fan site where viewers can check out their favorite adult models' photos, videos, and cam shows. But how does it work exactly, and is it a good OnlyFans alternative? Here you'll find everything you need to know about the service, including our in-depth JustFor.Fans review.
JustFor.Fans (also called "just for fans" or "just fans," depending on who you talk to) was launched by sex worker Dominic Ford predominantly by and for adult industry members.
It's not quite a household name, but if you're an adult performer or consumer looking for a more dedicated adult industry fan site, it's a top recommendation for an OnlyFans alternative.
What is JustFor.Fans?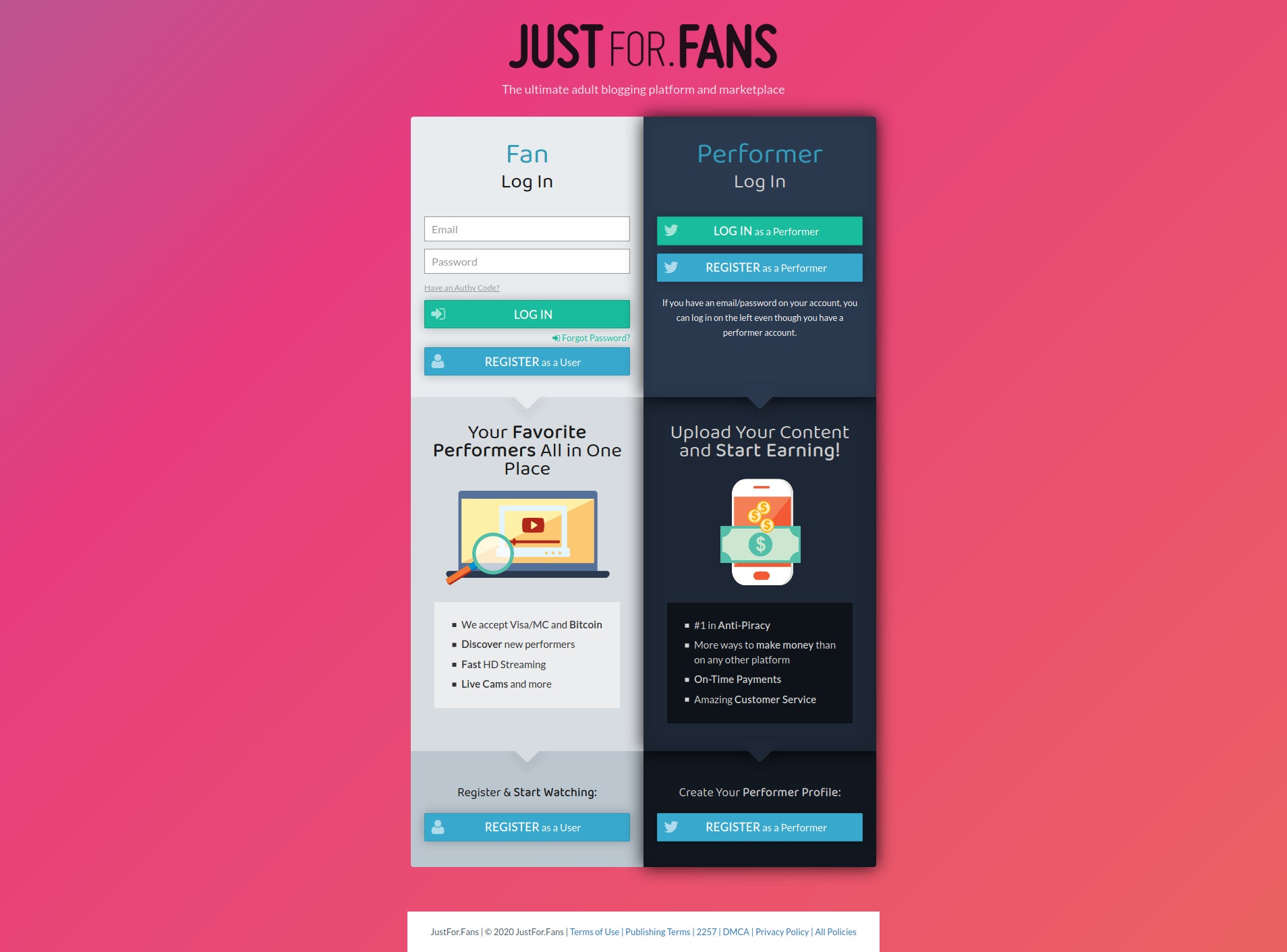 JustFor.Fans is an "adult blogging platform and marketplace." The site functions like a mix between ManyVids and Tumblr, although its main appeal comes from purchasing monthly subscriptions to adult models' feeds and keeping tabs on their photos, videos, and more.
The platform differs from its competitors by offering a more comprehensive adult experience. The site lets viewers watch performers' cams, purchase clips, order items from stars, pay for sexting, buy access to performers' Instagram or Snapchat, and more. It also lets users filter for models based on gender and genres, encouraging user exploration on the site.
Additionally, JustFor.Fans isn't as strict with kink bans as its competitors AVN Stars and OnlyFans. Lactation, water sports, asphyxiation, fisting, ageplay, and incest roleplays are all allowed. (Hypnosis porn, however, is still banned.) This makes it a fantastic OnlyFans alternative for both fans and models.
The site also boasts quality-of-life improvements for models and subscribers. This includes a promotion page boosting subscription sales, a page with models' free previews, a dedicated store for purchasing services and items from models, and a movie store separated by category.
Together, these features make JustFor.Fans more comprehensive for adult fans—as long as your favorite models are on the site.
How does JustFor.Fans work?
JustFor.Fans' userbase is split between two groups: content creators and customers. Creators upload content for their fans, and fans pay a monthly fee to access their material. Fans can also purchase items or services à la carte.
The platform takes a small percentage of all transactions, and models receive the rest as a payout. The process is relatively straightforward and not that different from other fan sites.
How to get started
The only thing fans need to register an account is their email and the password they set up.
The process is a little more complicated for models:
First, you'll register your account via a Twitter login, then you must upload your ID and a W-9 form (if you're in the U.S.), and file your bank information for payouts.
After you're verified, you can start making money on the site and access its adult industry directory to connect with agents, shooting locations, and more.
How payments work
Payments are made via bank transfers in the U.S., E.U., U.K., Canada, Australia, and Mexico, according to the JustFor.Fans FAQ. For other countries, creators must use "either cryptocurrency to get paid (like Bitcoin) or a service like Payoneer or Paxum."
Payments are issued weekly or monthly. Initially, payouts required a $50 minimum to deposit, although JustFor.Fans has since lowered this down to $20 due to the pandemic, the site notes.
For more FAQs, head over to the JFF Publications Knowledge Base.
How much does JustFor.Fans cost?
Creating an account and using JustFor.Fans is free for both performers and subscribers. Models take up to 85% of their payments in payouts, so technically speaking, there's at least a 15% commission "cost" to all payments on the site.
For customers, JustFor.Fans isn't your traditional adult subscription service, so it's hard to estimate the exact cost users can expect to spend.
In theory, you can use JustFor.Fans as a free service by viewing free posts and previews only. But if you plan on subscribing to models, expect to pay between $4.99 to $14.99 monthly per model.
These can be staggered throughout the month, although the cost can add up quickly. For example, pages generally hover at or below $9.99, so if you subscribe to 10 models each at $9.99, expect to pay up to $100 per month. Most models offer bundle deals at a discount.
JustFor.Fans review: A good OnlyFans alternative?
If OnlyFans attracts models that dabble in more softcore porn, then JustFor.Fans is built for adult content in all shapes and forms, especially kink, fetishism, and traditional porn clips. So is it worth spending money on JustFor.Fans?
JustFor.Fans Review: Perks for fans
JustFor.Fans' perks are a big deal. Because JustFor.Fans is primarily geared around adult content, it features a sizable category system for checking out models and studios that specialize in specific content, such as femdom, MILF, or financial dominatrix (findomme) content.
This contrasts with OnlyFans, where users are largely forced to find models on Twitter, Instagram, and other social media platforms first. JustFor.Fans also has a fairly straightforward user interface, whereas OnlyFans notoriously throws features into different menus.
In terms of JustFor.Fans' model dashboard, things are pretty identical to other fan sites. If anything, the site feels a little less modern. However, the media gallery lets users easily swap between photos and videos during their one-on-one time with their favorite models' pages.
JustFor.Fans Review: Perks for models
For models, JustFor.Fans has a huge advantage over OnlyFans. The site's performer dashboard offers a business directory for connecting with fellow adult industry members, a scheduled post tab, thorough stats on subscriptions, geo-blocking options.
The site also lets users stay in touch with their fans through KeepFollowing.me if their Twitter account goes down. The service even offers affordable healthcare for sex workers through NextGen.
Best of all, JustFor.Fans offers some of the best anti-piracy protection available in the industry. All uploads are given fingerprinting metadata, and the site works with Ford's anti-piracy company Porn Guardian to pull pirated content caught online, Vice reports.
The system has already led to one porn thief being tracked down, according to a July press release obtained by the Daily Dot.
"During COVID, it's been difficult for models to make money, so pirating their content is personal… it quite literally takes the food directly off the table of the models, many of whom depend on this income because their other jobs have dried up during quarantine," Ford said in the press release.
"It doesn't stop piracy, it just limits the damage. And limiting piracy means finding out who it is and stopping where it began: on their pay site account."
JustFor.Fans vs OnlyFans
Still, there's something to be said for OnlyFans' simplicity. It's also the most popular fan site, and you're more likely to find your favorite performers on there than JustFor.Fans.
In comparison, JustFor.Fans has so many choices and filtering options that it can feel a little bloated. And despite its cryptocurrency-friendly payment option and anti-piracy protections, the site blocks VPN logins by default and requires users to explain why they're using a VPN just to access JustFor.Fans. This poses a conundrum for sex workers and clients who need to protect their online privacy.
The difference between JustFor.Fans and OnlyFans is a bit like ManyVids and Pornhub. The former two are run by sex workers and have features that are ideal for adult consumers and creators alike, whereas the latter two are far more popular among consumers.
But like ManyVids, JustFor.Fans is a fantastic standalone fan site and outshines its competitor in numerous ways. Because the site is run by a sex worker, supports marginalized performers, and has clearly taken steps to protect users from piracy, it's easier to trust JustFor.Fans than OnlyFans.
Sex workers should consider monetizing both platforms instead of just one. But if you have to choose, JustFor.Fans certainly makes for a fantastic OnlyFans alternative.
JustFor.Fans vs. OnlyFans: Which one should you choose?
OnlyFans is far more popular than JustFor.Fans and carries brand recognition for that reason: it's the fansite among fansites. On average, your favorite adult models are far more likely to use OF than JustFor.Fans.
However, JustFor.Fans is run by a sex worker and is built specifically for sex workers, and it features far more user experience (UX) improvements than OnlyFans. It's easier to track purchases on JustFor.Fans, including how much you're paying for subscriptions, and you're far more likely to find fetish material on JustFor.Fans due to its lax content moderation rules.
Granted, all of that is moot if you don't know any JustFor.Fans models. Your likelihood of using (or rather, not using) JustFor.Fans comes down to whether you follow sex workers using the site, and there's no point in using the fansite if you don't know anyone on it.
In short, OnlyFans benefits significantly from its popularity, and an OF account is a must-have in 2020. But if you know a sex worker on JustFor.Fans, go ahead and sign up. It's a great OnlyFans alternative that gives more power to adult models than its popular predecessor. Plus once you're on the site, it's a great way to find other independent models and studios creating niche content unavailable on other fansites.
Editor's note: This article is regularly updated for relevance.
READ MORE: