Vice Magazine's new vice: firmly entrenching its foot in the depths of its own mouth.
The publication, a beacon of strong, transparent news coverage from such exotic locales as North Korea and Libya, was recently rumored to be embedded in Central America with the antivirus software legend John McAfee, who's wanted for murder in his adopted homeland of Belize and maintaining a blog that documents his fugitive tactics.
McAfee was actually the one to out the mag. In a Monday post to his Who Is McAfee blog, the suspected killer revealed that he's "currently safe and in the company of two intrepid journalist[s] from Vice Magazine" and that the two—editor-in-chief Rocco Castoro and photographer/videographer Robert King—were working on a video documenting the chaos.
Vice followed just a few hours later with a post of their own, one titled "We Are With John McAfee Right Now, Suckers" that explained to readers that Castoro and King had spent the past four days with McAfee and were working on a long-form documentary.
The post also included a picture, one that, like all other pictures uploaded to the Internet, contained a GPS tag that delineated its originating locale. GPS tags are things that you can usually remove from the file if you take the necessary steps, something that Vice apparently did not think to do.
And thus, a hacker who operates under the Twitter handle of @simplenomad was able to discover that McAfee and his new friends were on the eastern side of Guatemala, perched along the Rio Dulce.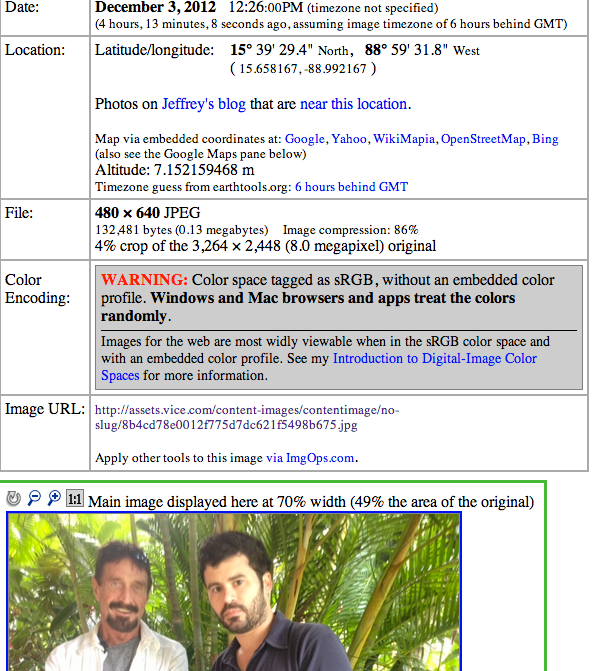 News of the slip-up broke Monday afternoon after Gawker's Adrian Chen tweeted a link to the picture's EXIF data. A few minutes later, King posted a note onto his Facebook page explaining that "The GEO tag was manipulated. … To keep our location secret."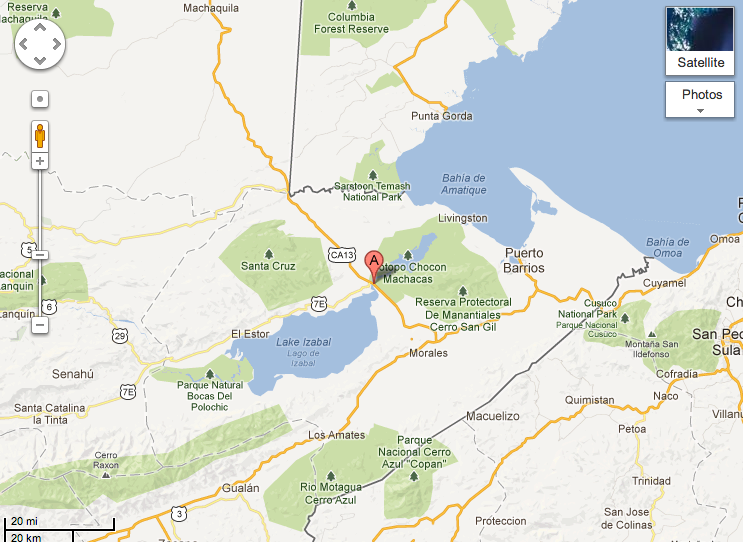 A sly little trick they both pulled (if it's true), but King should remember that he and Castoro would be interfering with a murder investigation, which is better known as the crime of obstruction of justice, and not really a smart move.
The two should also try to get their story straight with the subject of their documentary. McAfee's added a post to his blog in the time since news of their whereabouts broke, one titled "Another Apology" that comes clearly written in haste.
"I openly apologize to Vice Magazine for manipulating their recently published photo.  I have been ferocioously put my place by Mr. Rocco for "interfering" with the objectivity of their reporting. I, for my own safety, manipulated the xif data on the image taken from my cellphone, and created a fake emrgency so that the urgency of movement led, as I knew it would, to the hasty posting on their website.  I felt that our tenuous situation demanded action, and that was the action that I chose.

I do not believe that Vice will remain with me further.  Again, my apologies."
So now we've got three different stories, two reporters reportedly on the run, and one rogue antivirus pioneer who seems happy to cover everybody else's tracks. Not to mention the fact that Gregory Faull's killer still technically remains at large. And does this mean we're not going to get that Vice documentary? Everybody around here was really looking forward to that.
Photo via Robert King/Vice