Tech

Tech

The gadgets, platforms, and software that make your digital life possible. If it bleeps, clicks or blinks, you'll find it here.

Internet Culture

Internet Culture

There's a community for everyone online.

Streaming

Streaming

News, reviews, and guides for the world of online entertainment.
Jeremy Edberg, tech chief, leaves site
Just two days after Reddit announced three new hires, Jeremy Edberg, the community's chief architect and lead technologist, said he planned to leave.
Just two days after Reddit hired three new programmers, Jeremy Edberg, the site's chief architect, lead technologist, and a well-respected community administrator, said he will leave the Condé Nast-owned website.
"It is with great difficulty that I find myself writing this post," Edberg wrote in the blog post announcing his departure. "Reddit will still be a huge part of my life, and I will still be a heavy participant. I will just be a civilian now."
Edberg gave little hint as to why he was leaving or what his plans were post-Reddit.
"Well, I don't actually have anything lined up just yet," he wrote. "My newfound free time will enable me to pursue a lot of projects that I've been wanting to work on for a while, like advising startups at Year One Labs and Dishcrawl."
Edberg has been a popular contributor in the Reddit community, gathering scores of 35,066 link karma and 104,164 comment karma in the more than four years he's been a member.
During his time at Reddit, he rarely shied away from taking part in controversial issues, helping out a as a kind of customer service rep, or jumping into one of Reddit's many charitable movements.
Most Redditors reacted with sadness at Edberg's departure.
"I just want to say thanks a ton and good luck with everything," said swampsparrow in his response. "We'll miss you but we'll see you around . . . Thank you from the bottom of my karma for all the hard work you have done around here."
Many also were curious as to why he was leaving. Edberg did not immediately respond to a request for comment from the Daily Dot.
But he did have post a picture that perhaps said more than words. ("In honor of the occasion," he wrote, "Zach Weiner, of Saturday Morning Breakfast Cereal has graciously provided a comic to sum up this blog post."). It's a sly reference to the "Most Interesting Man" meme that's been circulating on the site: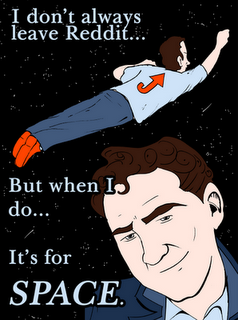 Kevin Morris is a veteran web reporter and editor who specializes in longform journalism. He led the Daily Dot's esports vertical and, following its acquisition by GAMURS in late 2016, launched Dot Esports, where he serves as the site's editor-in-chief.
© The Daily Dot, all rights reserved.
Represented by Complex Media, Inc. for advertising sales.