It's been a chaotic week in the world of Jeffree Star. Insider's Kat Tenbarge released a scathing report that included allegations against the beauty vlogger that he sexually assaulted multiple men, used a stun gun on people, and offered hush money to his victims. At the same time, Star accused his now-ex-boyfriend, Andre Marhold, of stealing when he moved out of his house. But many people are claiming the theft allegation was staged because Star knew the bombshell article was going to be released.
On Wednesday, Hip magazine screenshotted a comment on Marhold's Instagram page from Star asking him to return the stuff he stole from him. 
Star wrote in a comment, "Hey! Since you can't answer the phone right now, can you give me all the stuff back that you stole from my house?? What kind of lowlife fucking scum does that? Give it back!!!! If you need a return label, just ask."
Then, accounts claiming to be Marhold's "backup accounts" emerged with narratives that have not been confirmed by Marhold's official Instagram account. On Friday, Marhold said one of the accounts, @_amarxiiii, is fake.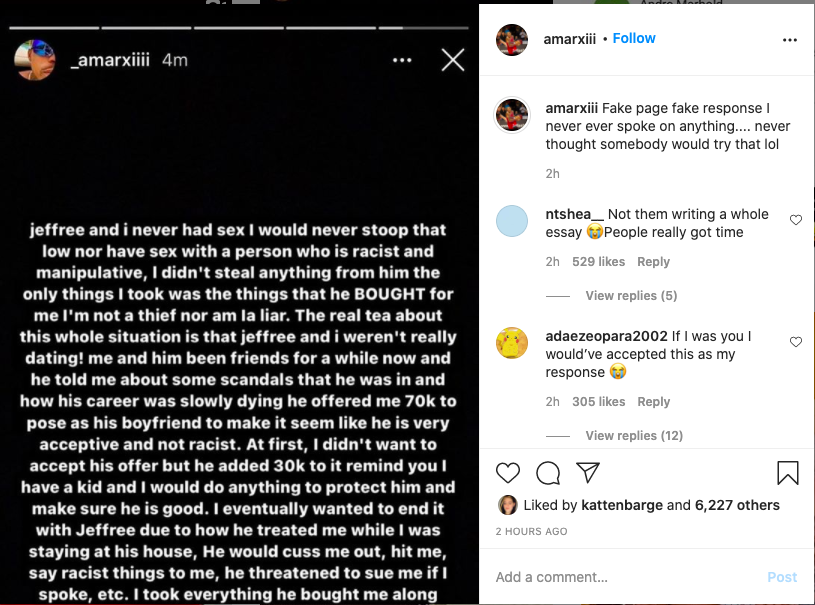 The fake account claimed that Marhold only entered the relationship with Star because Star offered him $70,000 to recover his image and show that he's not racist. Screenshots from the accounts page and Instagram story were posted to Twitter. The page also claimed that Star cheated on his ex, Nathan, with his best friend and has HIV.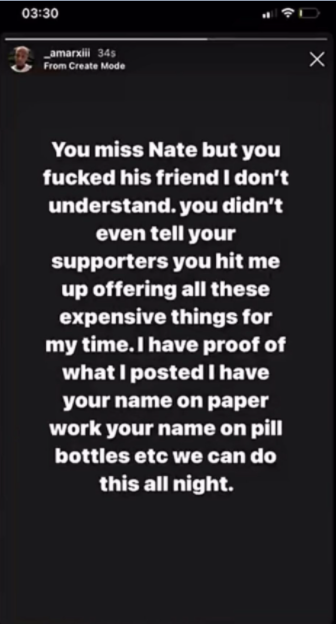 On Wednesday, Star said on Instagram that he wanted to explain what "actually" happened. He said that "people aren't always what they seem."
"I've been hanging out with someone," he explains, "just two grown adults, hanging out having sex and chilling. Nothing serious. But, I was presented a whole different person from who this man really was."
Star says that "this person" had no money, no job, "not even a bank account." Then, he said, when he sent "this person" on their way, "Louis Vuitton luggage," backpacks, and sunglasses went missing.
Amid the accusations, Star did a cash giveaway on Twitter, and Insider released the explosive report.
"Several former associates say Star engaged in violent and abusive behavior on multiple occasions during the late 2000s, including multiple allegations of sexual assault," Tenbarge wrote. "Four people who spoke with Insider said Star groped men around him without consent. Five people told Insider they personally saw Star using a close-range stun gun or other tasing device to hurt and intimidate people around him."
Insider spoke to many of Star's accusers and victims but Star himself has yet to address the controversy. He only tweeted once after the story came out, writing, "Gooood morning everyone! How are ya??"
Star, who has been known to block his critics, also blocked Tenbarge. As she tweeted the story, many people replied to say they weren't surprised by the allegations.
"Jeffree Star played the internet last night," one person tweeted. "He concocted a BS fight with his Ex, while both promoted CASH APP giveaways, to distract us from the story by Kat Tenbarge. We all knew Jeffree Star sexually assaulted people – Kat brought receipts."
---
Must-reads on the Daily Dot