Warning: This article contains sexually explicit content that may be NSFW.
Quick: What's the one way Israelis can boost IDF soldiers' morale during the ongoing ground invasion in Gaza? Why, by getting women to show their boobs on social media, of course.
As a demonstration of what is world-renowned as the Israeli male's progressive attitude toward gender equality and women's rights, an Israeli man has set up a Facebook page called "Standing with the IDF—Maintaining a Protective Edge." The page primarily consists of images of scantily clad Israeli women, most of whom have "I Heart IDF" emblazoned on their breasts or buttocks.
According to the Times of Israel, the creator of the page, Gavriel Beyo, says that the page was intended to boost soldier morale during Operation Protective Edge, the current offensive in Gaza:
"We have two bountiful resources in Israel that are impossible to compete with, Israeli minds and the most beautiful women in the world," Beyo explained in a post on Facebook.
"We also have a military front so… why not combine the two?" he added.
And here, the English text on the group's About page: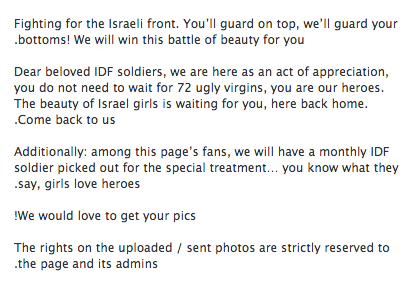 Regardless of what you think about the current operation in Gaza, or even the Israeli-Palestinian conflict in general, there's nonetheless something unsettling about women espousing jingoistic, pro-military sentiments on their naked bodies when the death toll in Gaza has just surpassed more than 700 casualties. (On the Israeli front, 32 IDF soldiers and three civilians have been killed).
Look, ladies: I get it. Really, I do. Your country is at war, and you're concerned for the safety of your husbands, fathers, and brothers (and fellow women, in case y'all are forgetting), and you want to help out the best way you know how. And God knows, as a Jewish woman myself, I appreciate everyone doing her part to dispel the myth that all ladies of Semitic descent are curly-haired, big-schnozzed, Yiddishe mommes, and thanks very much for proving that we can, contrary to popular belief, be desirable too.
It's not a good look for the soldiers in the IDF, who are already doing a sub-par PR job of rallying the world to support the ground campaign. And for the Palestinians whose family members have been displaced, injured, or killed in the current conflict, it feels tasteless, a willfully ignorant indifference to the realities of war. Couldn't you send a nice card or care package instead?
H/T Times of Israel | Photo via Standing With IDF/Facebook / Photo via Manuela Montanarelli (CC BY 2.0) | remix by Jason Reed