The ongoing conflicts in Gaza and Ferguson may be more than 6,400 miles apart, but the photos from both cities tell, at times, very similar stories.
In Ferguson, Mo., police have been forced to don full riot gear and parade through the streets with rifles, as thousands of people protest each night over the shooting of 18-year-old Michael Brown on Aug. 9 by a Ferguson police officer.
Police have also contended with looters who have destroyed storefronts and decimated Ferguson's business community, St. Louis's News 4 KMOV reported early Saturday morning.
"When will it stop?" a volunteer outside a looted business told News 4 KMOV. "When will the negative stop?"
The militarization of police has inundated Twitter and other social channels with photos and videos of police using tear gas and rubber bullets to manage crowds.
The federal programs that turned police in #Ferguson into an occupying army https://t.co/sxDWWFVatq pic.twitter.com/g12S05V4CE

— Talking Points Memo (@TPM) August 14, 2014
Only in a #policestate would police shoot at people at a protest against police shooting people. #Ferguson pic.twitter.com/3MYfEzdur4

— Occupy Congress (@OCongress) August 14, 2014
RT @elonjames: Someone tell me how this is a reasonable response to protests over police brutality? #Ferguson pic.twitter.com/cndCR6vUqt

— Tony Karon (@TonyKaron) August 14, 2014
News organizations like Slate have provided historical accounts of police militarization in the States and its detrimental effects.
The photos from Ferguson particularly gripped comic artist and illustrator Shane Pangburn, who grew up near St. Louis in southern Illinois. In order to help understand what exactly is happening in Ferguson, Pangburn and I combed through dozens of photos to create a profile of the average militarized Ferguson police officer.
Using the websites securityprousa.com, policesupplyonline.com, and chiefsupply.com, Pangburn and I also estimated the cost of each piece of equipment these officers are wearing, including their helmets, utility belts, and shin guards.
In total, and at retail cost, it can cost upward of $1,400 to retrofit one officer in riot gear.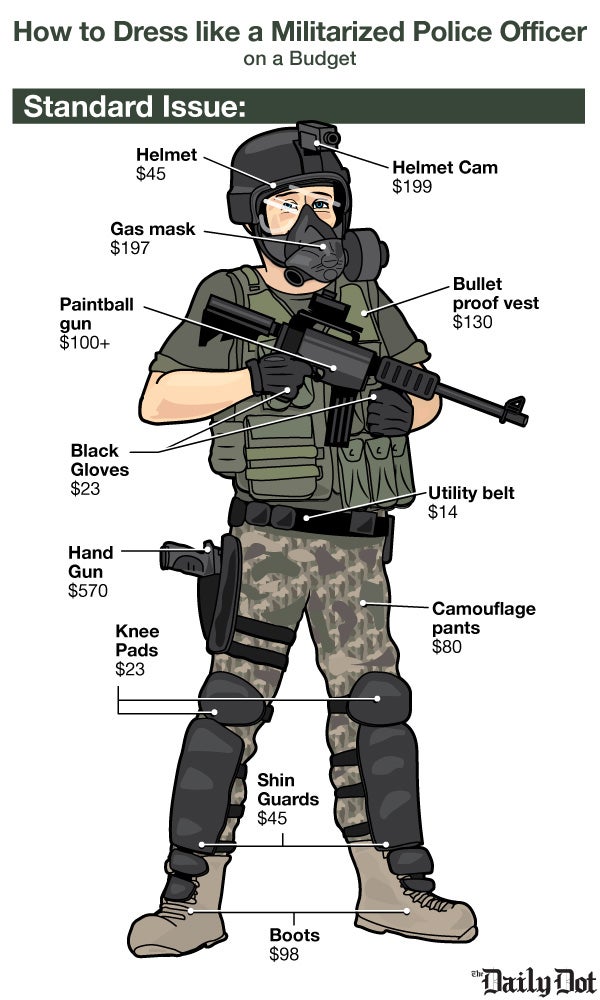 "Since 2006, according to an analysis by the New York Times, police departments have acquired 435 armored vehicles, 533 planes, 93,763 machine guns, and 432 mine-resistant armored trucks," Slate reported. "Overall, since Congress established its program to transfer military hardware, local and state police departments have received $4.3 billion worth of equipment."
These armored trucks have also been used in Ferguson to transport police and blockade roads. The trucks carry supplies like rubber bullets.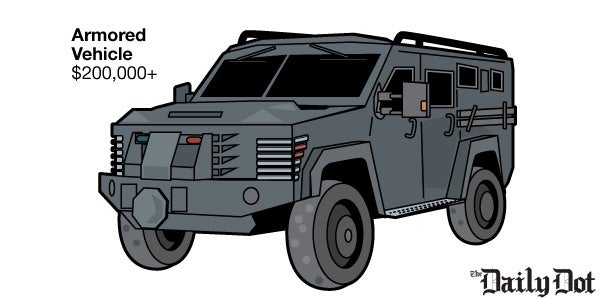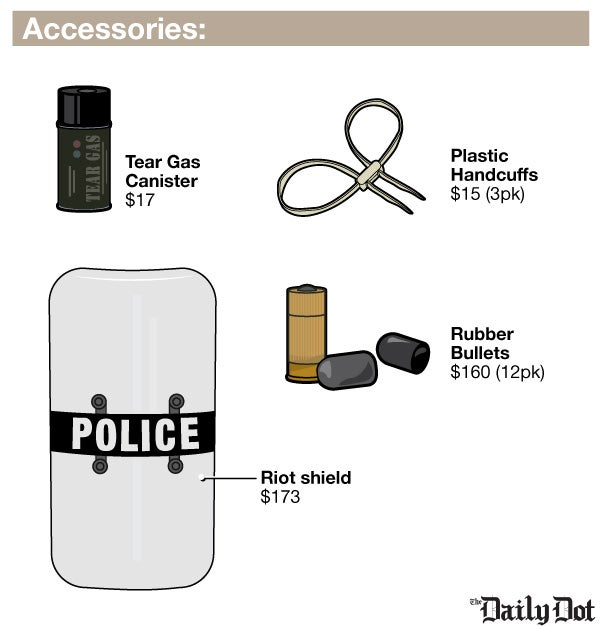 Amidst the pictures of police, one of a man tossing a canister of tear gas while holding a bag of potato chips has become the most iconic photo from Ferguson. The man goes by @eyeFLOODpanties on Twitter, and has inspired the creation of T-shirts, memes, and illustrations, Mashable reported.
MT @manofsteele Wow…A man picks up burning tear gas can and throws it back at police. #ferguson pic by @kodacohen pic.twitter.com/dsE5KjHXds

— Ryan Parker (@TheRyanParker) August 14, 2014
Here's roughly how much it cost for @eyeFLOODpanties to piece together his unforgettable attire.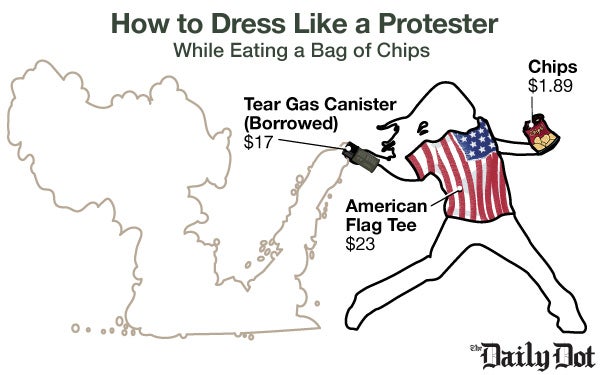 Illustrations by Shane Pangburn