If you hadn't been paying attention to this week's national weather news, you might think Hurricane "Harvery" is leaving flooding and mass destruction through Texas in its wake instead of Hurricane Harvey—the real name of the natural disaster. Why? Because that's the trending hashtag for the storm ripping through south and southeast Texas.
Yep, #HurricaneHarvery seems to have become the United States' go-to hashtag for all things Hurricane Harvey related. Even verified Twitter accounts for news organizations have fallen victim to the misspelled trending topic.
Rockport HS is gone and destroyed pray for them that they all have somewhere to go #HurricaneHarvery #PrayforRockport #PrayingForTexas 🙏🏽🙏🏽 pic.twitter.com/3GVZBxjuhk

— •JÜÑĘ• (@junryl0814) August 26, 2017
Hats off to #truckdrivers, still delivering food and fuel in #Houston despite #HurricaneHarvery.

— John Walters (@jhswalters) August 26, 2017
.@GovAbbott and @MayorAdler will serve dinner to evacuees tonight at the Delco Center #HurricaneHarvery #KVUEHarvey

— Ashley Goudeau (@AshleyG_KVUE) August 26, 2017
A few strong to severe storms possible on the high plains and of course in Texas today with #HurricaneHarvery #COwx #TXwx #4wx pic.twitter.com/ez7BmKgqDp

— Chris Spears (@ChrisCBS4) August 26, 2017
https://twitter.com/Breaking911/status/901447997485199360
So far it looks like the Trump administration has been on the ball with preparation for #HurricaneHarvery.

Will the media give him credit?

— RD (@real_defender) August 26, 2017
There could be a number of reasons why Twitter users have gotten #HurricaneHarvery trending as opposed to #HurricaneHarvey, and it's not just because an entire population of people don't know how to spell "Harvey."
For the record, I myself typed "hurricane harvery" into Google's desktop search engine earlier today and didn't realize it until Google suggested "harvey" instead—perhaps several other people did the same while tweeting and didn't have an autocorrect feature to tell them?
In response to an inquiry from the Daily Dot, a Twitter spokesperson directed us to Twitter's frequently asked questions on trends. According to the page, trends are solely determined by algorithms, meaning they don't use people to course-correct when misspelled trends go viral. Once they go trending, they'll typically show up on desktop and mobile as suggestions when you start typing in the trending term that Twitter thinks you're referencing.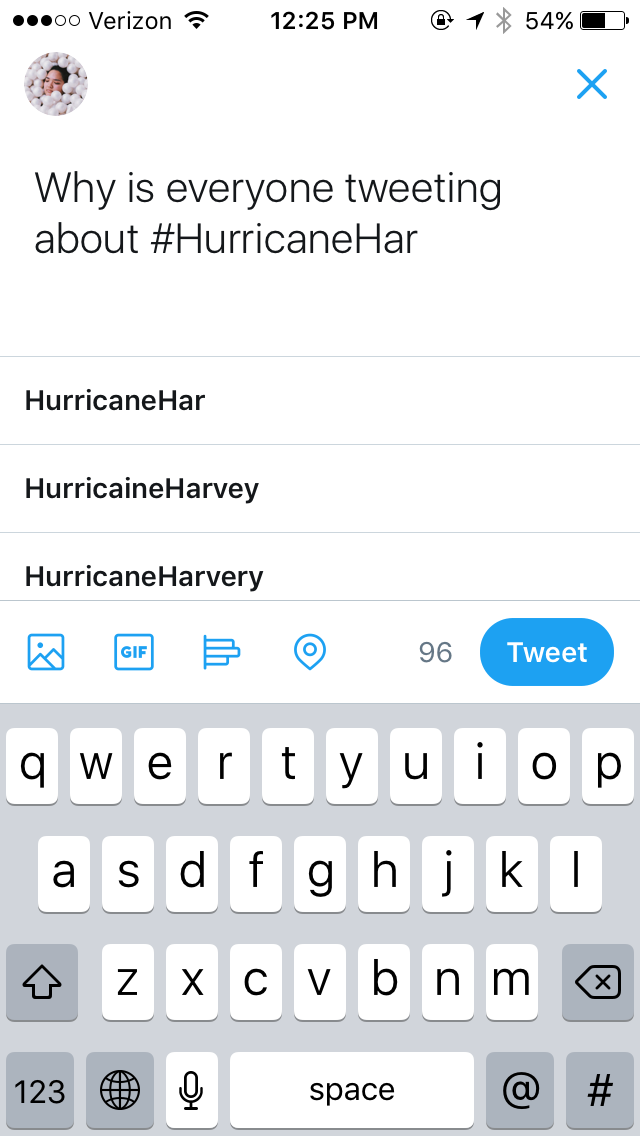 While my own suggestions are leaning toward the correct spelling, others might be getting "Harvery" instead. Then, they might tap on the suggestion to auto populate the hashtag and send the tweet out faster without realizing it's misspelled.
Additionally, people pointing out the misspelled hashtag by using the hashtag will also keep the misspelled trend trending. So yes, my own self-righteous tweet isn't helping the situation.
https://twitter.com/samjgrasso/status/901467584125689857
Photo editor @mhamtil informs us that "one of the top trends on Twitter in Texas right now is #HurricaneHarvery, misspelled." pic.twitter.com/wS83maU29x

— Sarah Blaskovich (@sblaskovich) August 26, 2017
why are people using #HurricaneHarvery. this is confusing to me. why is the misspelled name trending

— lvl 45 chao$ potu$ (@thetomzone) August 26, 2017
Is it me or Is the hurricane name misspelled in the trending hashtag? 👉🏾 #HurricaneHarvery

— inaLibaxSankataabato (@hamdiiyah) August 26, 2017
Everyone is using the tag #HurricaneHarvery and not realizing its misspelled as Harvery and not Harvey lmfaooooo

— Sinni (@Sinnimonbuns) August 26, 2017
However, there is some hope—sometimes the algorithm will group together trends and hashtags, meaning that we could see #HurricaneHarvey trending, with tweets about #HurricaneHarvery, "hurricane," "Harvey," and related tweets nested inside the trend.
Until then, just know, dear reader, that the U.S. isn't doomed because we all don't know how to spell the name of Sabrina the teenage witch's love interest or Batman's two-faced nemesis. And please, look through the hashtag to signal-boost potentially life-saving messages or learn how else to help the people weathering the storm.