If you're reading this, odds are you're looking for answers to a very specific (and potentially time-sensitive) question. Just how effective are condoms? If used properly, condoms are great at preventing pregnancy and sexually transmitted diseases (STDs), which is why 93 percent of sexually active women choose condoms and men are even more likely to use condoms than women. Everyone's doing it, and most people are doing it with condoms.
What's more, when used in combination with another compatible form of birth control like the pill, condoms are even more effective at preventing pregnancy. So after you've asked for consent, here's what you need to know about condom effectiveness.
How effective are condoms against pregnancy and STDs?
If used perfectly, condoms can be up to 98 percent effective, according to Planned Parenthood. But because humans are tragically and perpetually flawed, that efficacy rate is actually closer to about 85 percent. Yes, that lowered percentage may seem scary, but it simply means it's your job to ensure that you're using condoms properly so that you can be as protected as possible.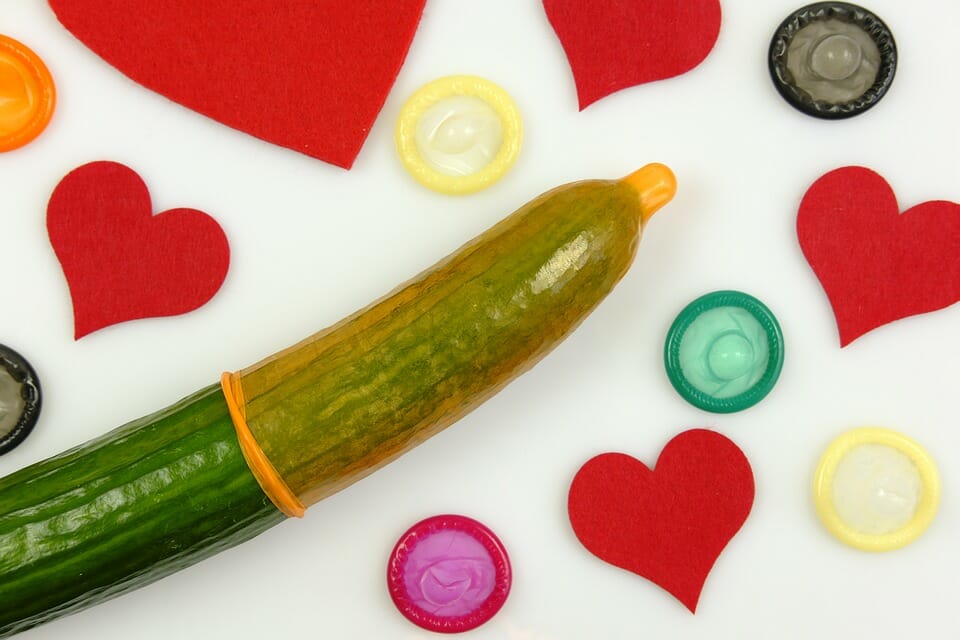 Putting a condom on
It's easy to think this is a no-brainer, especially if you were ever subjected to a health lesson involving bananas and a lot of stifled teen laughter. However, just 39 percent of high school students were properly taught to put on a condom in health class, according to BirthControl.com. That's a shockingly low number. Plus, everyone could use a refresher.
First, make sure the condom isn't expired. It's important to note that most condoms have a shelf-life of about five years from the time they were manufactured. Using an expired condom puts you at a higher risk of breaking or tearing the condom. Same goes for a condom with ripped packaging, holes, or weird discoloration.
An important (and fun!) way to know you're putting it on correctly is to make sure it looks like a little hat. This means that the rim, or rolled-up part, should be facing out. Pinch the tip of the condom as you place it on the head of the penis to leave room for ejaculate to collect. From there, roll it on all the way up the shaft of the penis. There are a lot of great video tutorials on this process if you're more of a visual learner.
You should be using condoms properly every time you have vaginal, oral, or anal sex to ensure maximum protection. "Properly," in any case, means putting the condom on as soon as possible when you're getting down to it and leaving it on the whole time you're having sex. Pre-ejaculate, or pre-cum, can contain STD germs or—rarely—sperm that could lead to pregnancy.
The truth about having sex while pregnant
Condoms and STD prevention
Condoms are the best way (aside from abstinence) to prevent STDs. Other forms of birth control—like pills, implants, or IUDs used to prevent pregnancy—do not prevent the spread of germs that could cause sexually transmitted infections.
There are a lot of tried-and-true condom choices at your disposal that offer different sensations and experiences, but it's vital to note that only synthetic condoms made of latex or plastic can prevent the spread of STDs. This means lambskin condoms or other animal skin alternatives are not effective at STD prevention, only pregnancy prevention.
Editor's note: This article is regularly updated for relevance.