A Montana student is roasting her classmates on TikTok for what was a seemingly futile attempt at a "walkout" in protest of face masks.
"So we had an optional mask walk out / protest," TikTok user @supremeleaderkyloren wrote in the now-viral video, posted last week.
The user, who goes by Ben Swolo, wrote that "less than 30 kids" showed up to the "protest," with a shot of their gathering recorded through a window from a higher floor.
In the shot, the few maskless students are seen hanging around outside.
Swolo also shared other instances from the protest featuring parents standing on the roadside with signs, placards, and American flags.
"Unmask the truth and us!" read one sign.
"Parents stop the lies and abuse!" read another. "Home school!"
"No medical martial law!" read a third.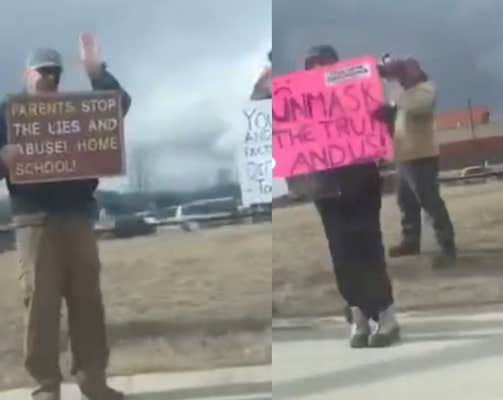 According to Swolo's post, there were more parents than students at the protest.
As the nation ramps up its vaccination efforts, Montana appears to be having challenges in getting its residents vaccinated. As of mid-February, only 5% of its total population was fully vaccinated, according to KTVH, which is about roughly 52,000 people. And as of last week, more than 138,000 people in the state were fully vaccinated, according to the Missoulian.
---
From our friends at Nautilus
---
Montana medical professionals are currently fighting a bill that would allow unvaccinated children to attend schools. There are also some health professionals actively advocating against the vaccine.
Swolo's video has received almost 25,000 views. Many are expressing their frustrations and are joking about the protest in the comments section.
"I'm embarrassed for them," the top comment on the video reads.
"The parents wanted covid that badly," wrote one user. "Shame. well not really."
"I love how kids would rather go to class than attend that protest," wrote another.
---
Today's top stories