As a nervous flyer, I'm usually too busy pounding Xanax to worry about schmoozing with potential business contacts mid-flight. But I might be alone in this: Virgin Airlines has partnered with Here on Biz, a new location-based business social-networking app, to make the app available during flights. 
Essentially a LinkedIn for those who rack up a lot of miles, Here on Biz allows passengers to message potential business contacts on their plane, at their destination, or even on a different Virgin America flight.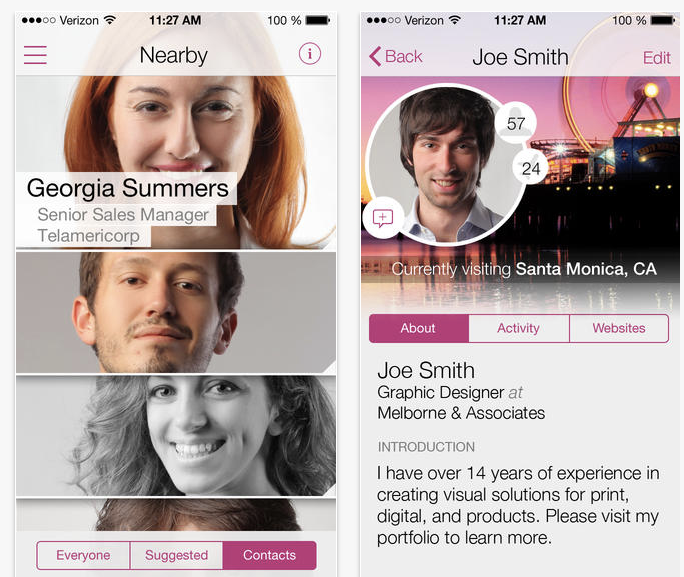 Screengrab via Here on Biz
If you're willing to throw down 10 bucks on access to Gogo's in-flight Wi-Fi, Here on Biz allows you to "to take advantage of those serendipitous travel moments where people with complementary business interests are in the same place at the same time—even if that place is on a plane somewhere 35,000 feet above the US," CEO Nick Smoot told the Verge:
With our iOS app and this partnership with Virgin America, you can find your next big connection in seat 4C—or even just a row away from you.
Aside from the fact that most fliers would probably prefer to read Skymall and pass out in a puddle of drool instead of elbowing through the aisle to hobnob with account execs, what is the necessity of an app intended for use mid-flight, when you can just shell out a few bucks for Wi-Fi and use another platform with the same function (like, for instance, LinkedIn) instead? 
There seems to have been a spate of in-air social networking apps as of late (anyone remember Wingman, Tinder of the sky?). They seem to be targeted specifically at people who are so focused on managing their time efficiently on the ground, that they feel an obsessive compulsion to take care of their real-world needs, be they business or sex-related, 35,000 feet in the air. 
The thing is, though, planes are not for networking or getting laid or any of your other real-world, on-the-ground needs. Planes are for getting drunk and sleeping. They're essentially giant iron flying beds. Just enjoy the flight—no one's gonna hold it against you if you don't score that big advertising account or the digits of that redhead in 4C before landing. 
H/T The Verge | Photo via Theis Kofoed Hjorth/Flickr (CC BY-SA 2.0)