When Heraa Hashmi, a 19-year-old student at the University of Colorado, was asked by a classmate why Muslims don't condemn terrorist attacks by Muslim extremists, she decided that show her classmate that he had it all wrong. And she did so by creating a Google spreadsheet document that noted each time a Muslim leader spoke out against terrorism—a document that is now more than 700 pages long.
classmate: why dont muslims condemn things
me: *goes home makes 712 page long list of Muslims Condemning Things with sources*
me: fight me pic.twitter.com/sDhwUMIAK1

— caveheraa (@caveheraa) November 12, 2016
Hashmi records comments on attacks ranging from 9/11 to the Pulse nightclub shooting in Orlando to multiple ISIS and domestic violence incidents, and she notes who condemns the incident, the person's bio, and the source material for it.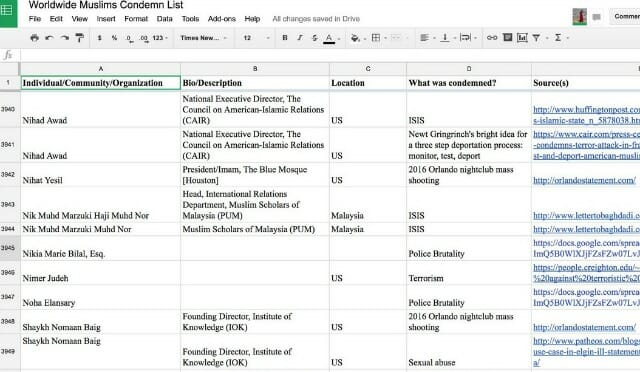 Hashmi told Teen Vogue she spent two hours a day for three weeks searching Google for statements and then recording it on the spreadsheet. For Hashmi, the idea had a simple premise.
"I wanted to show people how weak the argument [that Muslims don't care about terrorism] is," she told the Guardian.
Even so, she also said it's ridiculous that people of her faith are seemingly held to a different standard than those from any another religion.
"1.6 billion people are expected to apologize and condemn [terrorism] on behalf of a couple of dozen lunatics. It makes no sense," she told the Guardian. "I don't view the KKK or the Westboro Baptist Church or the Lord's Resistance Army as accurate representations of Christianity. I know that they're on the fringe. So it gets very frustrating having to defend myself and having to apologize on behalf of some crazy people."
Inspired by Hashmi's tweet, the Muslims Condemn website was born, and it basically mirrors Hashmi's initial idea: It records every condemnation by a Muslim leader after a terrorist attack.
Here's one recent example: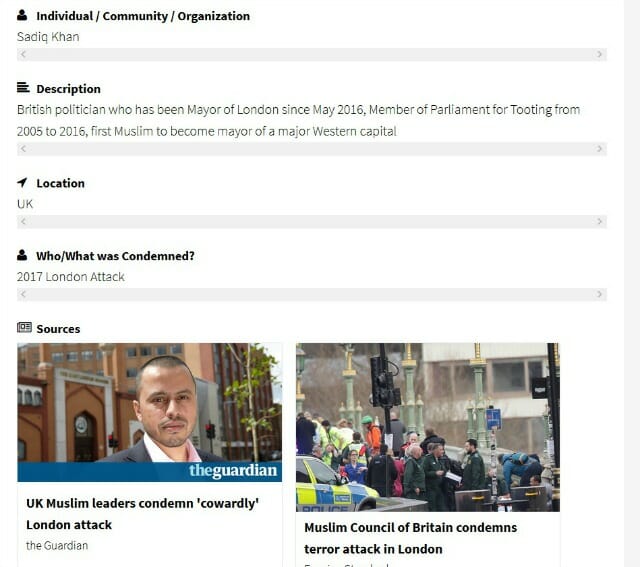 Still, speaking out about terrorist attacks isn't enough for some people.
We do workshops for youth addiction. Educational seminars. Volunteering with interfaith. Just because you dont see it doesnt mean we dont. https://t.co/JXdO0SNe7B

— caveheraa (@caveheraa) March 26, 2017
Huh, this comes to mind:https://t.co/EiCb0qDhBC https://t.co/hK39orcCI0

— caveheraa (@caveheraa) March 24, 2017
If anything, we have more reason to hate ISIS than anyone else. Most of their victims are Muslims. This thread: https://t.co/XZDmiEkcWg

— caveheraa (@caveheraa) March 24, 2017
What it reveals is my ability to remain calm in the face of bigots like you. That's what my religion teaches me. https://t.co/607nDQTdRz

— caveheraa (@caveheraa) March 23, 2017
In the wake of last week's London attack, in which Khalid Masood killed a total of four people and injured dozens more, and in a world where some Muslim women are afraid to wear their hajibs as Donald Trump wants to ban citizens from six Muslim-majority countries from entering the U.S., Hashmi's list is just as important as it was the day she created it.
As Hashmi told Seventeen last November, "I knew that even if it helped just one person, my efforts were worth it."