Step aside, Netflix: The latest Castlevania anime season has nothing on this hentai game. Castle in the Clouds is a Japanese side-scrolling action-adventure whip-em-up that merges the Konami classic's gameplay with uncensored anime porn.
Developed by doujinshi (or self-publisher) Libra Heart with art contributed by pixelteishoku, Castle in the Clouds follows a busty bounty hunter named Lily in a fantasy world filled with bandits, adventurers, and plenty of monster girls. Players travel through forests, caves, dungeons, and icy terrain where gigantic monster women are pit against the player in boss battles. The game is filled with sex scenes, from vanilla encounters to nonconsensual gang bangs to kinky tentacle sex.
"Beware of enemies that have hearts floating over them… if they catch you they'll make sure you won't be able to walk straight for a while," the game's Steam description warns. "Sometimes succubi lie in wait inside treasure chests. If they hit you with their horny beam, you become unable to fight… either take some recovery medicine or masturbate to climax."
Castle in the Clouds is something of a spiritual successor to Libra Heart's Succubus series. Like Castle in the Clouds, these adult games play, look, and feel similar to the original '80s and '90s Castlevania titles. While both Castle in the Clouds and the Succubus games already have English language versions on DLsite, American adult games publisher Critical Bliss is interested in expanding Libra Heart and pixelteishoku's audience in the West by bringing polished English versions of their games to Steam.
Critical Bliss is run by LewdLogic, the founder of LewdGamer, and the publisher functions based on the idea that there is an established audience for traditional video games with explicit sexual material. In one example, Logic linked the Daily Dot to the r/castlevania subreddit, where Libra Heart's Midnight Castle Succubus was praised as a "super solid" take on Castlevania that "pays a ton of tribute to the series." Critical Bliss plans to publish its localized version of Midnight Castle Succubus before Castle in the Clouds.
"I have been a personal fan of these guys for quite a long time. They are one of the few Japanese doujin devs that I know that try to make interesting gameplay experiences by taking inspiration from old school games and putting a lewd spin on them," Logic told the Daily Dot. "The games, unlike a majority of titles in our industry, are fun to play while also providing erotic content."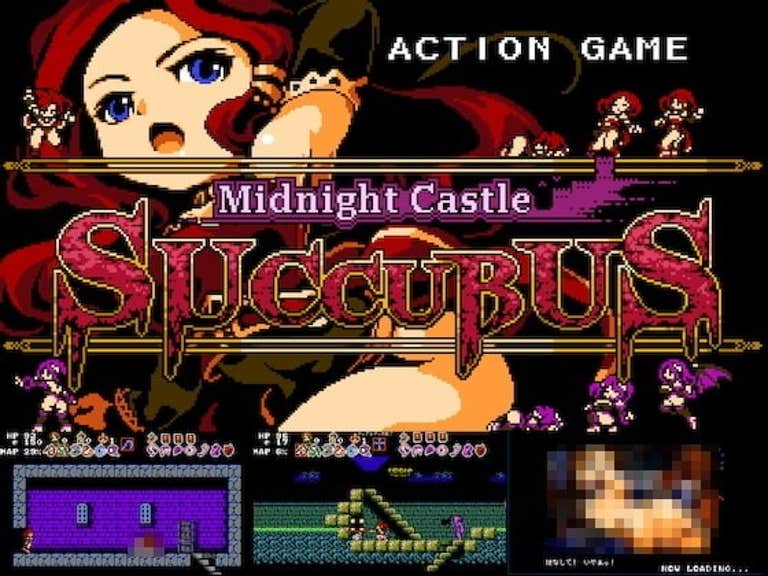 Traditionally, adult games get a bad rap, as if every porn title is a vulgar cash grab fishing for a quick buck. And while there's some truth to the stereotype, 18+ titles with nuanced gameplay and explicit erotic material are actually more complicated to develop than traditional safe-for-work games, Logic said. For example, the games often mix combat mechanics with interesting sexual material.
"That's something that [gives] every game dev that aspires to make The Legend of Zelda: Ocarina of Time with porn added to it a headache," he told the Daily Dot. "But I genuinely [believe] (and have the data to prove) [there's an] audience for it. In fact, I feel one of the only ways for our scene to truly captivate the rest of the market is to make something so good that even if people think the porn elements are distasteful, it's still a must-play."
Midnight Castle Succubus and Castle in the Clouds are still being refined before launching on Steam, although the latter can already be wishlisted. In the meantime, Critical Bliss announced two other titles from the Succubus series, Sword of Succubus and Tower of Succubus, will also receive localizations on Steam.
READ MORE: