There's a pig wearing a pink bow romping alongside a gray Great Dane at a dog park that just popped up in San Diego's East Village neighborhood. Their owners look on, some sipping craft beers, others uploading photos to Instagram the curious encounter. This might be called a dog park, but pigs are clearly just as welcome.
"Quartyard is an urban park and the first of its kind downtown," says David Loewenstein, 30, the designer and cofounder of the pop-up urban space. "The most surprising part about downtown [San Diego] is there just isn't a place you can already go to sit outside, have a beer, just hang out, bring a lunch, have a lunch—so to be able to set up a location like that is such a no-brainer."
The urban oasis was conceived, created, and implemented by RAD Lab, a design and development firm operated by Loewenstein and two other quirky millennial architects, Philip Auchettl and Jason Grauten, whose paths crossed at grad school in San Diego.
"We were looking at city-owned property [that] wasn't being used and [thinking] how we could give it back to the community," said Auchettl, a 29-year-old import from Melbourne, Australia.
At first, Quartyard was nothing more than a master's thesis that would guarantee their degree. In the nearly two years since its conception, however, Quartyard has grown from a crumbling mound of asphalt into an urban playground that employs more than 30 people and holds a capacity of 1,500. This summer alone, Quartyard has seen tens of thousands of visitors come and go.
The  area was abandoned and desolate prior to Quartyard taking over the site at 1102 Market Street. Located east of the infamous restaurant-ridden Gaslamp Quarter and south of Cortez Hill in downtown San Diego, the site has undergone a drastic evolution since the three architects got their hands on the property.
"We came out here, and it was just trash and vagrancy and blight," recalls Jason Grauten, another of Quartyard's founders. "The ground had huge holes in it; there was busted-up asphalt. There was a really gnarly chain-link fence that was just going all different kinds of ways and with trash stuck all in it. Where other people see asphalt, others see opportunity. This piece of land was busted before and it just attracted the wrong kind of people and the wrong things. People just walked by it, and they didn't engage with the other people on a more pedestrian level."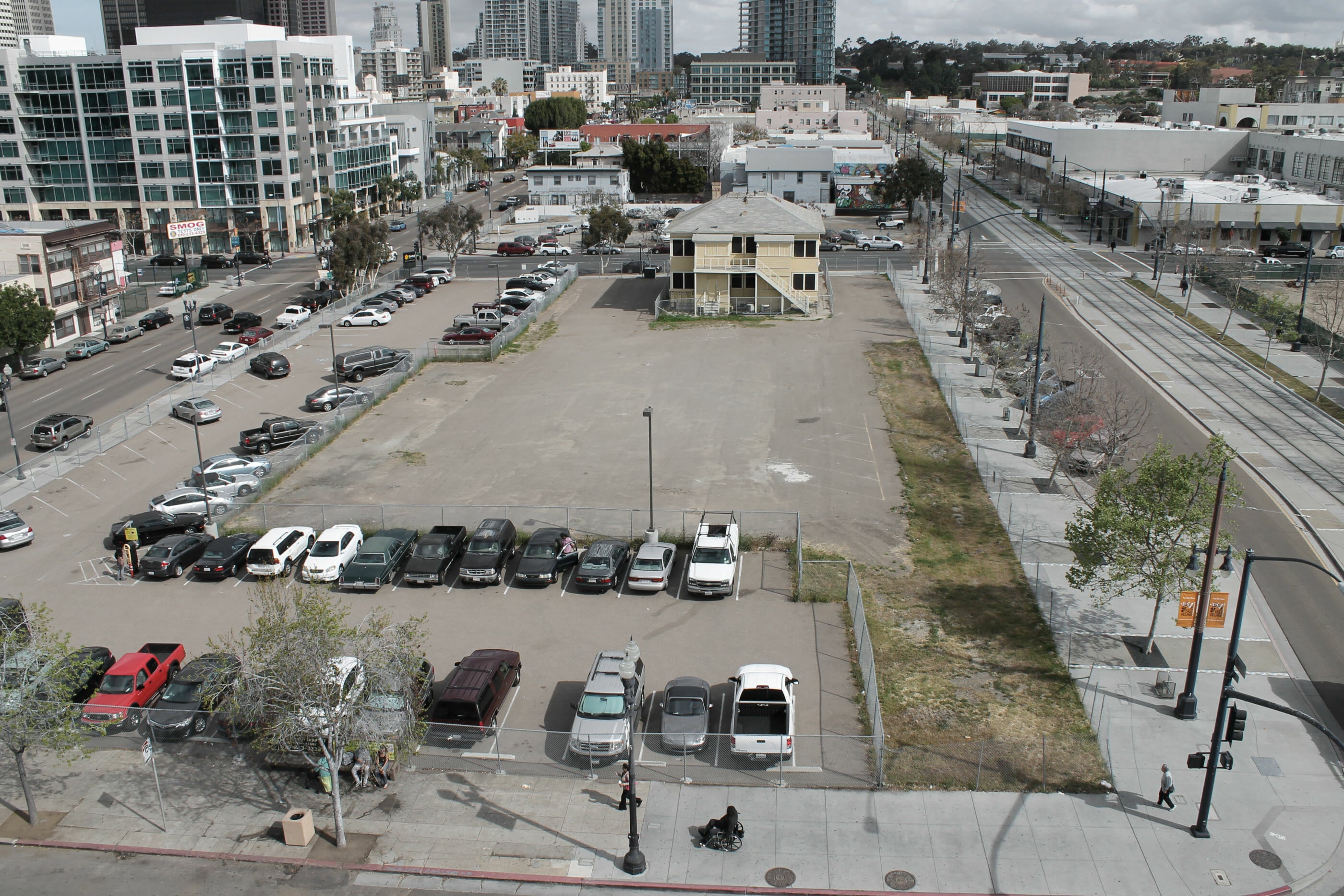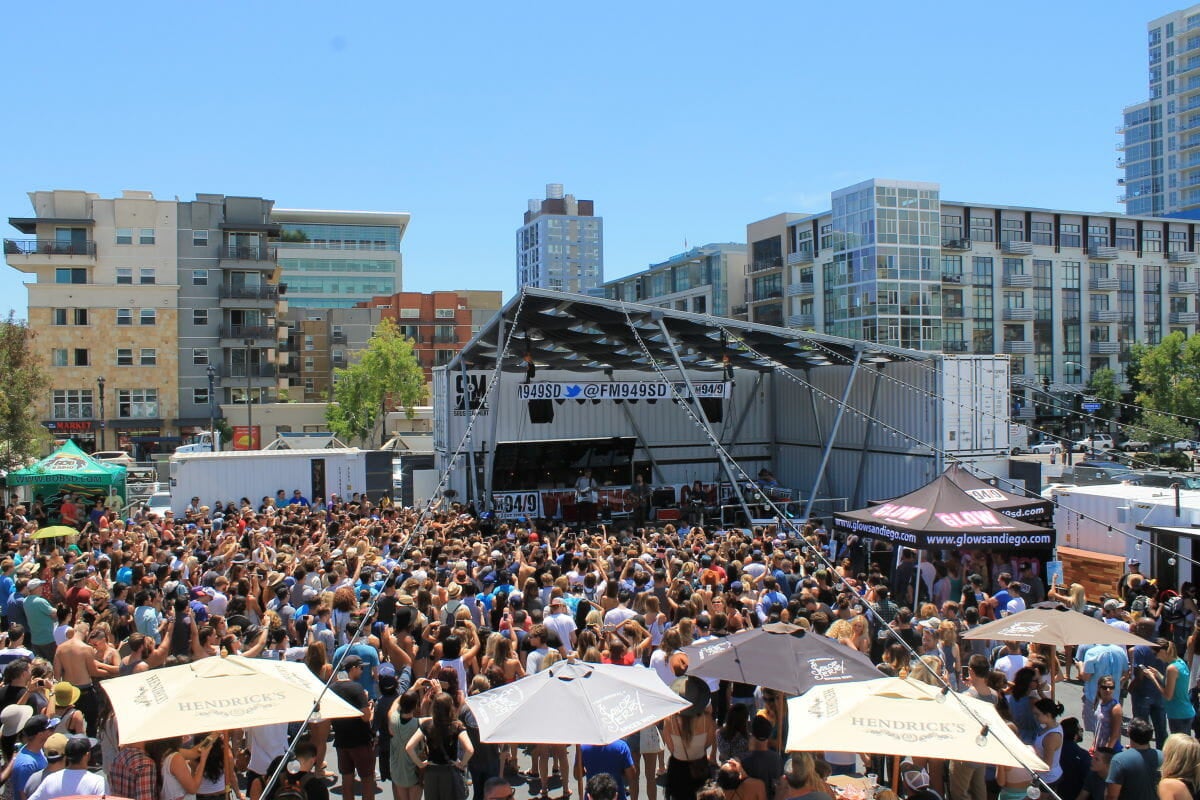 Christopher Henderson, a gentle, bearded graphic designer and frequent patron of Quartyard, agrees. "[Quartyard] is huge [for San Diego]; I think it takes away some of the stigma for this area downtown," Henderson says, referring to the neighborhood's reputation as a blue-collar business district that's populated by an abundance of the city's homeless.
Quartyard gives people like Henderson a reason to frequent the area. Indeed, a quick scan of Quartyard near sunset on a weekday evening reveals a swath of different people: mustached IPA drinkers, dog lovers, San Diego Padres fans, families, construction workers, and young entrepreneurs.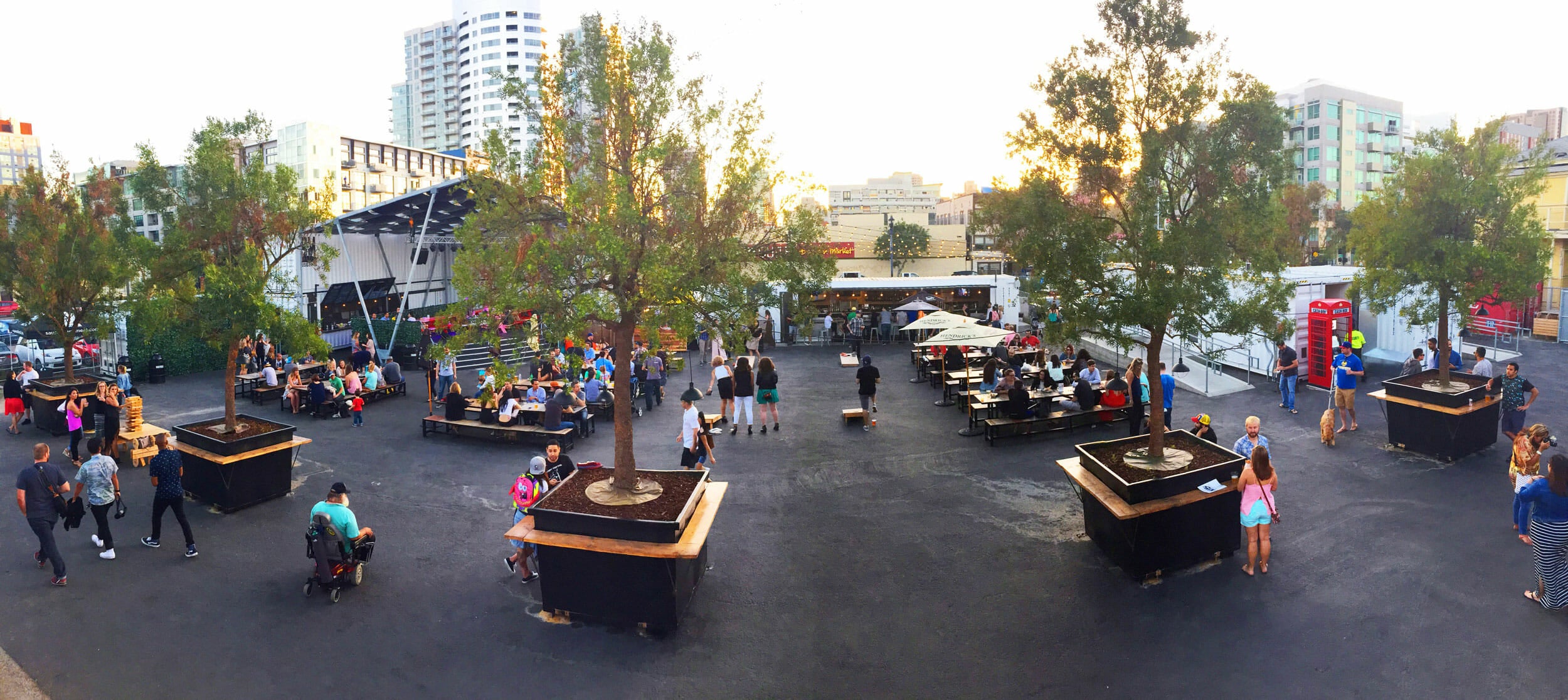 "I've seen common areas like this in San Francisco and in New York, but nothing here in San Diego. It kind of has a kick-back vibe, and there's a creativity to it," Henderson, 34, adds. "It's cool to find other small-business owners. This place is becoming more and more of a hub for that. For us, considering we want to get our name out there and vice versa, it's rad to meet other people."
"We bring them, get them to interact with one another, walk around, talk, mingle, and really connect with each other—residents and tourists alike," Grauten adds.
In the Quartyard Craft Beer Garden, local restaurant manager Emilee Wallace clutches a frothy IPA in one hand and the leash to her 5-year-old German shepherd/Lab, Quincy, in the other.
"There's no one else you can go to grab a beer, grab a glass of whiskey, and go hang out in a dog park," says Wallace as she struggles to maintain balance, Quincy excitedly dragging her owner towards the dog run. Wallace recently moved to San Diego, lives a couple blocks away, and visits Quartyard four or five times a week.
"I love the food trucks, I love the people; it's just a good vibe. San Diego is a big dog town, so a lot of us gravitate towards this."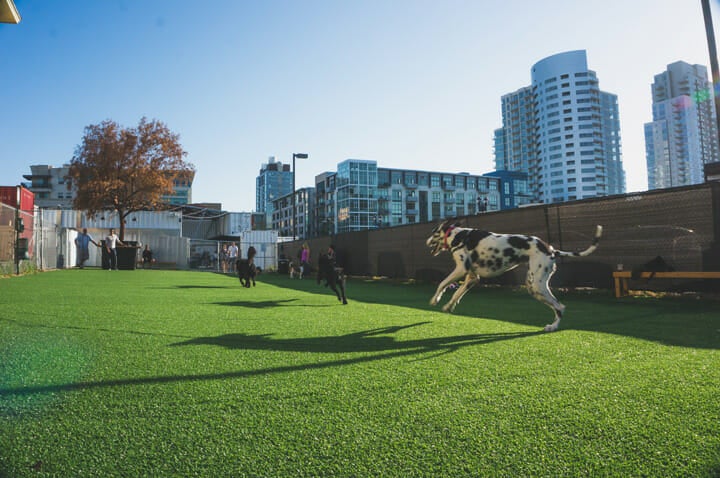 Quartyard is modeled on similar pop-up spaces in cities everywhere from Brooklyn to London. But this one has a unique edge: It's funded entirely by a Kickstarter initiative. RAD Lab raised nearly $60,000 in about a month via the crowdfunding site to make Quartyard a reality.
"When we were students, we didn't know how we were going to fund a or where to even get started," Loewenstein recalls. "To get that initial seed money to begin this kind of journey, we didn't even know where to begin. We stumbled upon Kickstarter and realized this had such potential and opportunity to get people to just invest in the community and invest in themselves to come here. The buy-in was out of control."
Working with the city of San Diego, municipal governments, and developers to acquire a lease, proper permits, and approval for their design proved tedious and took months to accomplish.
"This hasn't been done here before," Loewenstein says. "We had to get a brand new code conditional-use project rewritten based around the project; the codes were changed. It was a long, drawn-out process, but we paved the way for future projects like this to happen on a much quicker and easier basis."
Once the bureaucratic dust cleared, the cofounders consulted the community of East Village.
The team placed a large sign asking on the site's fence that simply asked, "What do you want here?" They invited neighborhood residents to scribble their suggestions, and the response was positive and overwhelming in volume. There were recommendations to transform the East Village site into everything from a snake zoo to a new San Diego Chargers stadium. In the end, the consensus was some kind of park.
"The community had that input to begin with, [and that] really gave them a sense of ownership of the project itself," Auchettl explains. "Their initial thoughts and driving input really built this place, which is pretty cool."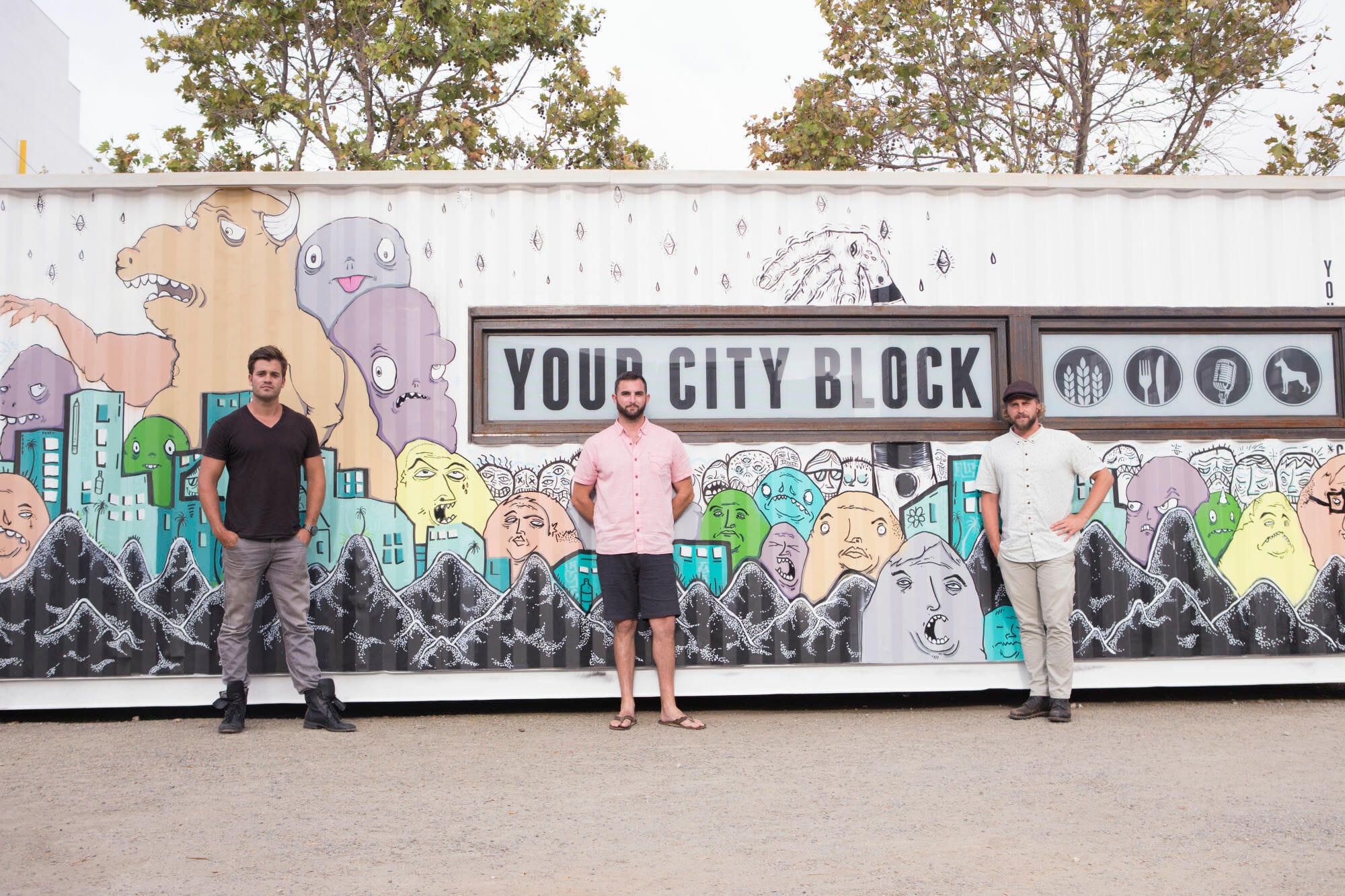 The team then acquired the shipping containers that would come to house Quartyard's businesses from Long Beach Port Authority. They converted them in an offsite, state-approved facility while simultaneously preparing the foundations on Market Street that the shipping containers would ultimately be plugged into. After the site's ground was broken and foundations installed, Quartyard seemed to spring to life overnight.
From a design standpoint, part of Quartyard's appeal is its versatility. It took RAD Lab less than a day to set up the site—about six hours in total—through the use of a crane and a few trucks.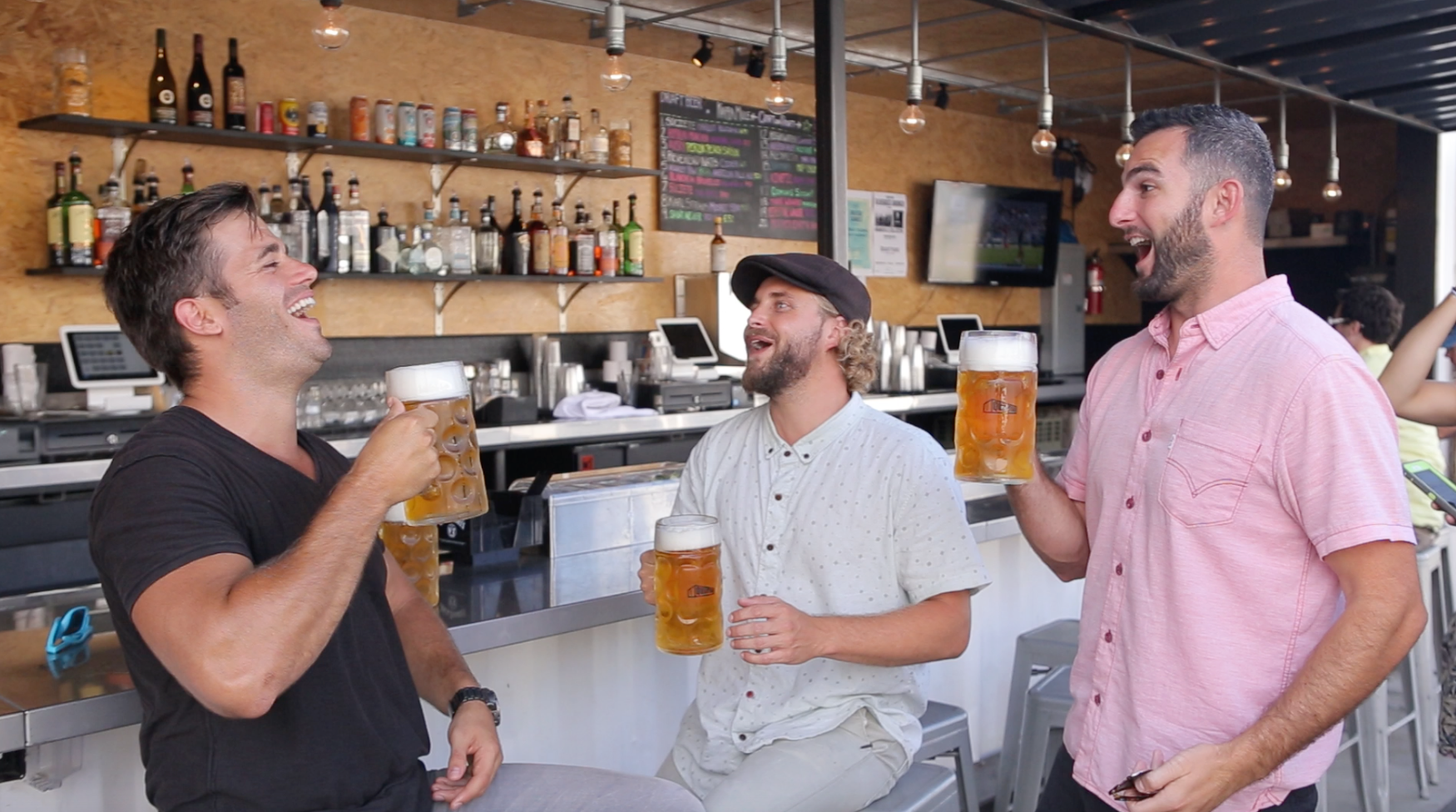 "We were done by lunch and drinking beers by the afternoon," Loewenstein smiles. "We worked on this project for years, and it was all done in six hours, getting the containers into place and all set up."
It won't take much longer to disassemble, either. Quartyard wasn't built for longevity. The site will only operate at its current address on Park Boulevard for the next two to three years, at which point RAD Lab will likely move Quartyard to a different location in the city. The design firm is already scoping out potential locations.
"We could pick this all up and go install it on a new site," Loewenstein says. "Break the welds from the foundations, put these things on trailers, and move them to the new site. It's kind of the solution to the challenge."
This Daily Dot article was made possible by Heineken. The City Kickstarts editorial series has no formal relationship with Kickstarter. The project featured, Quartyard by RAD Lab SD, is independent and is in no way affiliated with or funded by Heineken or the Daily Dot.