For most people, the biggest downside of higher education is the cost. So who in their right mind would turn down a chance to study at Harvard, all expenses covered—and get a salary for it, to boot? Assuming they aren't averse to a little identity fraud, that is.
This opportunity of a lifetime comes to us via Craigslist, where an apparently schoolwork-averse and extremely wealthy young man just admitted to the Ivy League university is hiring an accomplice in an outrageous academic caper: just show up next August and enroll as him.
"All you have to do," he blithely explains, "is attend all classes, pass all tests, and finish all assigned work, while pretending you are me." Tuition, boarding, and other living expenses are taken care of, and on top of that you'll make $40,000 a year. Walk away with a diploma in 2018 and you'll get a $10,000 bonus (but probably won't get to keep the enviable credential).
Click to expand: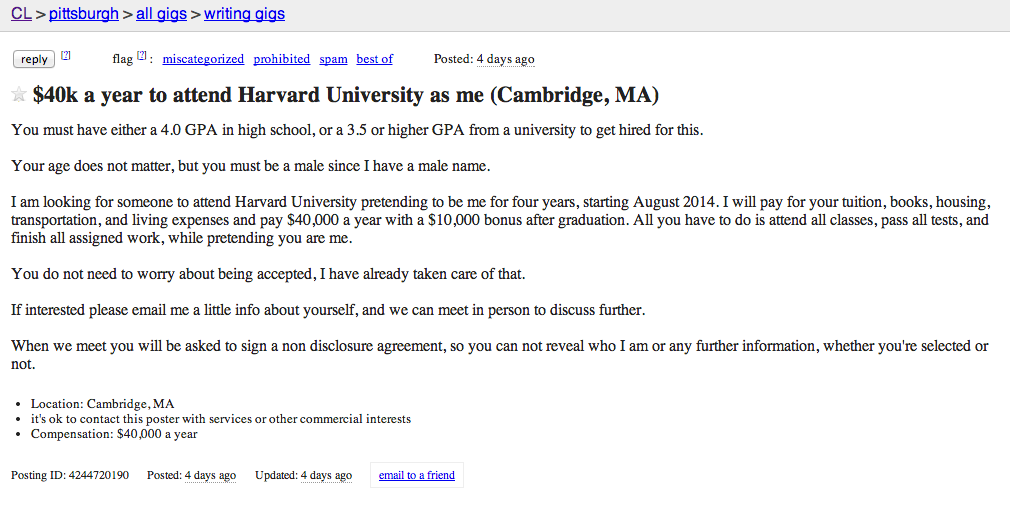 "You do not need to worry about being accepted," the poster writes. "I have already taken care of that." What you do need to worry about is your own academic strengths: a 4.0 high school GPA, or 3.5 for a university, is a must. Once you get to Harvard, of course, it's all easy A's.
You'll have to sign a non-disclosure agreement, though I have my doubts about a crime-based contract holding up in court. I'd just take the first payment and then out this dude on a prime-time CNN show. Sure, it might be nice to spend a few semesters smartening up in a Cambridge library, but upending the life of someone who thought he could skate clear through it? Priceless.
We forwarded the ad to Harvard's director of admissions, Marlyn E. McGrath, who was rather unfazed by the con. "I think this is a modern variant of an old phenomenon, made easier by technology," she wrote. "I have nothing helpful to say, I'm afraid, but you are good to send this along."
Photo by Mitch/Flickr