When was the last time you checked Facebook? Are you on Facebook now? Did you log in an hour ago? Yesterday? How about 99 days ago?
Facebook recently conducted an experiment to measure how News Feed content affected the moods of 700,000 unsuspecting users. Now a Netherlands-based non-profit, 99 Days of Freedom, is conducting it's own experiment of sorts—are we happier without Facebook?
The process is simple:
1) Change your profile picture to the "99 days" logo.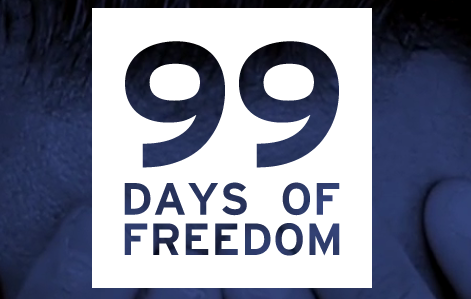 2)  Create a personal countdown on their website and share the link on your Facebook page.
3) Stop using Facebook for 99 days.
"Like a lot of Facebook users, many of us were bothered by reports of secret mood experiments," says Merijin Straathof, Art Director for Just Creative Agency, which houses the initiative.
… Everyone had at least a 'complicated' relationship with Facebook. Whether it was being tagged in unflattering photos, getting into arguments with other users or simply regretting time lost through excessive use, there was a surprising degree of negative sentiment. Then someone joked, 'I guess that the real question is, 'How do you feel when you don't use Facebook?' There was group laughter, followed by, 'Wait a second. That's a really good question!
The goal is to report back to 99 Days on how your Facebook hiatus affected your notion of happiness with "happiness surveys" taken at the 33, 66, 99-day marks.
But do you really think you can give up Facebook for more than three months? So far, 1,200 people have signed up to sign off of Facebook since the campaign launched July 8.
"We had a lot of arguments about the experiment's duration. If it's too extended, participants will lose interest. If it's too short, there's no meaningful behavioral change to assess. In the end, we landed on a 99-day program with periodic surveys and posts, hoping that such interaction will serve as a support group of sorts," Straathof said.
"Facebook is an incredible platform, we're all fiercely loyal users and we believe that there's a lot to love about the service," says Straathof. "But we also feel that there are obvious emotional benefits to moderation. Our prediction is that the experiment will yield a lot of positive personal experiences and, 99 days from now, we'll know whether that theory has legs."
H/T USA Today | Illustration by Jason Reed