Twitter is a fantastic medium for getting your voice out there and heard. It's not so great of a medium for expressing a desire to shoot up a police force.
Florida State University sophomore defensive back Tyler Hunter took park in the latter last Friday after getting pulled over on Tallahassee's Tennessee Street for making an illegal turn and wearing his seatbelt incorrectly.
Unhappy with the altercation, Hunter took to Twitter to express his feelings about the dustup. In doing so, he posted a few tweets that he'd probably like to have back.
Hunter explained that the cops tried to take him to jail for wearing his seatbelt the wrong way before admitting that he was getting very aggravated with the situation.
After tweeting a few lines of bravado, Hunter wrote, "We need to do like Cali n****s and kill cops," an obvious oversight that will likely earn him a few laps around the training facility this summer.
Coach Jimbo Fisher has yet to address the situation publicly, and the school has been moot on the issue in the days since. So has Hunter, who deleted his Twitter account shortly after posting the tweet. The tweet, however, can still be seen via social media analytics tool Topsy.
Sports scandal site Throw the Flag was able to capture a screenshot of Hunter's final messages. You can read them below.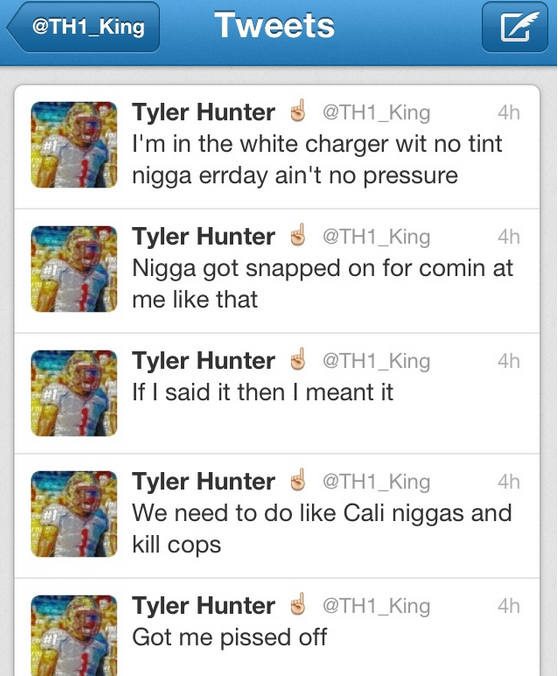 Twitter's content boundaries prohibit users from publishing or posting "direct, specific threats of violence against others."
Photo via Facebook