A video posted to Reddit Sunday depicts a white woman repeatedly shouting out racial slurs to a group of landscapers. The slurs were directed at the Black men in the group, who refrained from reacting to the woman's hateful language. 
The original poster of the video appears to be the Twitter account @Blac1st, which shares videos related to racism in the United States, including some videos that highlight instances of flagrant racism. Sunday's video of the woman harassing the landscapers was reposted to the subreddit r/PublicFreakout, which describes itself as a page "dedicated to people freaking out, melting down, losing their cool, or being weird in public."
The video is entitled "Queen of Karen's verbally and racially attacks Landscaping crew SAD," and appears to be a perfect fit for r/PublicFreakout's corner of the internet.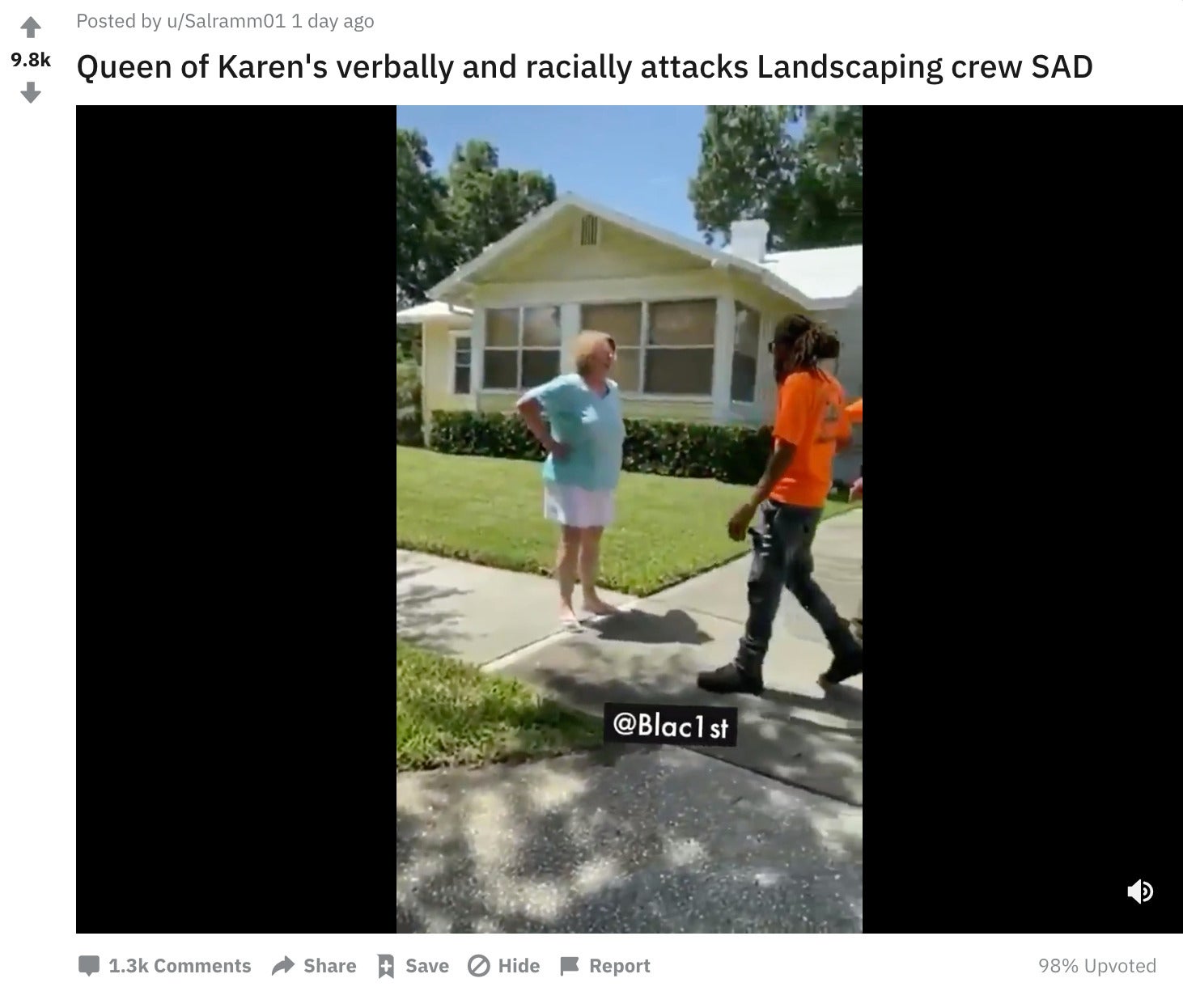 At the beginning of the video, the white woman—the "Karen" in question—is in the midst of shouting "come on you fucking bitch" to the landscaping crew over and over again. She walks closer to the landscapers on the sidewalk, who seem slightly amused by her outburst. 
"Hey can you get this lady," one of the crew members says to an onlooker.
The crew continues to back away from the woman, including the person filming the video, who appears to be a landscaper as well. At around the 45-second mark, the woman drops the N-word as she appears to get more heated and puts her hands on her knees.
"Fuck you, you fucking [N-word] bitch!" she screams at least five times in a row. 
The landscaping crew, clearly shocked, continues to back away from her and one of them asks, "are we good to go?" 
The woman continues repeating slurs as the crew packs up their equipment and gets ready to leave. A middle-aged white man from a nearby house walks outside and approaches the woman.
"Who are you?" she shouts at him. "Are you fucking with me? Are you fucking with me?"
The man replies that she's disturbing people, to which she responds, "am I disturbing you, you fucking bitch?"
It is unclear from the video where exactly the scene took place, though the landscaping crew's truck is shown to have a Florida license plate. Also unclear from the video is what sparked the woman's episode or when she was finally subdued.
---
Must-reads on the Daily Dot