Opinion
The following article contains explicit sexual content.
One of my favorite "games" to play at comic cons and video game expos goes something like this: Look for all the smut you can find and check it out. At some conventions, like PAX East, smut is almost non-existent. Other times, it's all over the place. But most of the time, there is a little bit of porn, and the lion's share is for straight, cisgender men—not a queer trans dyke like myself.
Before Anime NYC popped up in 2017, New York Comic Con was well known for its hentai sales at manga booths. One vendor in particular, Hen Da Ne, had a lasting presence at the convention until it moved to Anime NYC in 2018. Hen Da Ne is a retailer for import doujinshi, or self-published manga. The booth mostly sells 18+ material, and it covers an enormous range of fandom ships and fetishes. From tentacle porn to femdom, it's a smut aficionado's dream. If you want to see hot anime girls, Hen Da Ne is the best stop to shop.
I like what Hen Da Ne represents, but I rarely felt comfortable browsing through its stacks at NYCC. Most of the content there isn't made for queer women. Each time I visited the booth in 2015 to 2017, I never saw a woman staff the table. In 2016, one vendor wore a MAGA hat.
Despite the fact that hentai manga and anime is incredibly popular with women—Pornhub Insights notes that "hentai" is the most viewed Pornhub category among women in Russia, Kazakhstan, Belarus, Ukraine, and Peru, and is 81% more popular with women aged 18 to 24 overall—it's pretty common to see men curate all of the adult content at geek cons. This makes browsing for adult material as a woman difficult because you never know whether the person on the other side of the booth sees you as a fellow porn connoisseur or a piece of meat.
But when I went to Flame Con, I never had to worry about a vendor or attendee acting inappropriately. In fact, it was one of the safest and most inclusive conventions that I ever experienced. And, much to my wallet's dismay, it was a feast for queer porn.
Flame Con 2019
Flame Con began in 2015, and my first Flame Con was two years later. At the time, I didn't really connect with it. I was still working out my relationship with queerness, and I felt like there wasn't enough material out there for a lesbian trans girl like me. So I took a break from Flame Con. I came back to the convention this year partly because of its growth over the years, and partly because my IRL friends were going, and I wanted to tag along.
I didn't know what to expect after a gap year, but the convention that I walked into over the weekend was utterly amazing. As soon as I walked into the show floor, I started seeing 18+ material created by a wide assortment of queer creators, from trans women to cis lesbians. Some artists sold zines with gay monster girls and monster boys. Others wrote gay sci-fi hookups and smutty erotica about kink at the workplace. In the latter's case, adult boys' love (also known as "yaoi" in the west) artist orcamode caught my eye with his 18+ erotic comic Hidden Beneath. The zine, stylized like a manga, features a gay encounter with an office worker wearing rope bondage underneath his suit.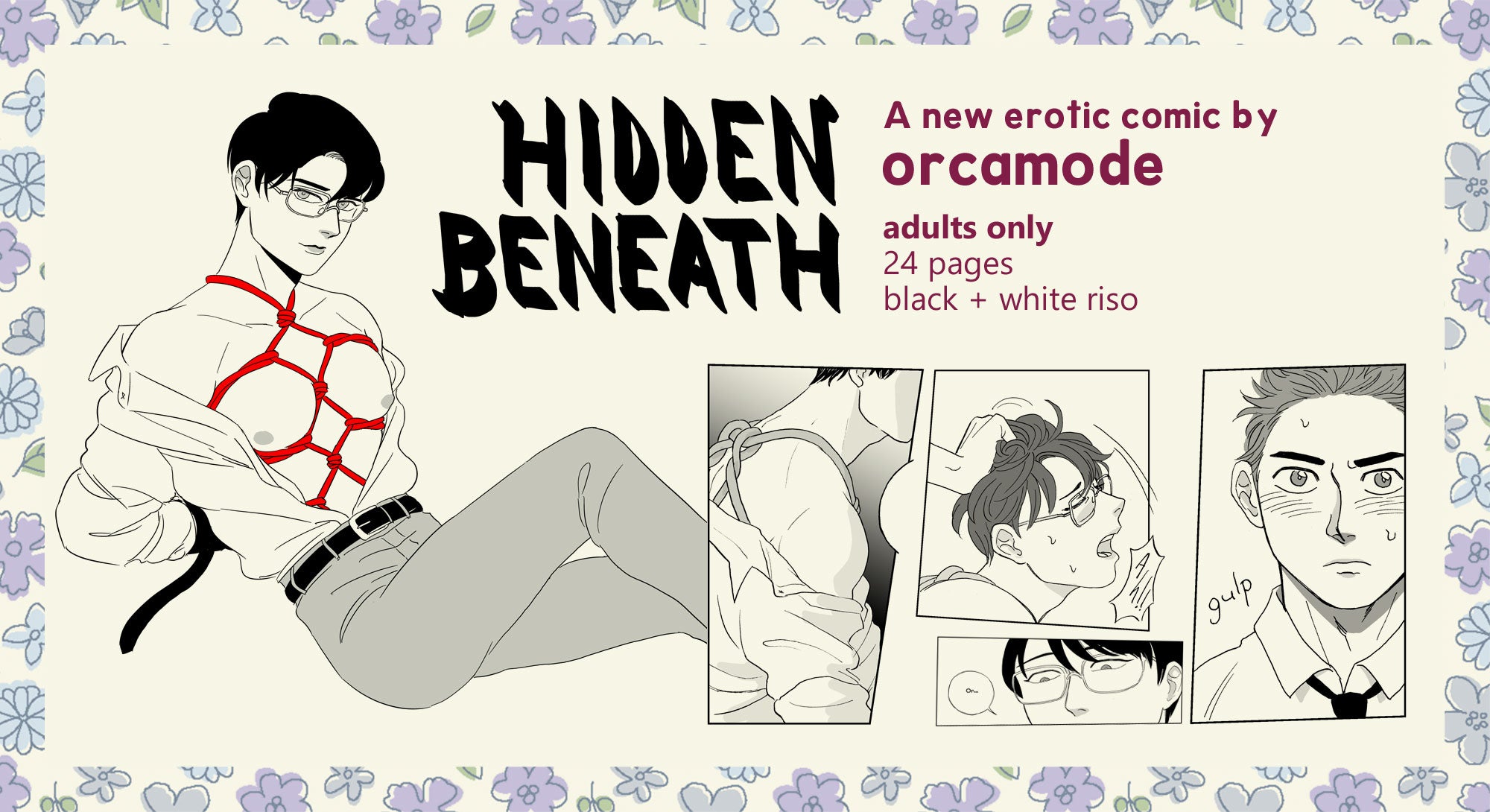 "Flame Con attendees have always been one of the most receptive of my adult work out of the handful of conventions we do," orcamode told me, referencing Hidden Beneath's publisher Yam Fam. "Back in 2016, I had really just started sharing my adult work with others, and the excitement I felt from the attendees really energized and encouraged me to make more."
But my favorite part of Flame Con was the sheer amount of suggestive art and adult content available for queer women. From topless demon dommes to genderqueer lovers posing seductively for the viewer, I felt right at home in the artist's alley. It was like someone took my Twitter timeline and brought it to life. Best of all, adult and suggestive material with trans and gender-nonconforming bodies were incredibly common, including smut with trans men, women, and nonbinary folks.
One 18+ zine I picked up, Lilac Allure by AtlasNir (who uses they/them pronouns), features original characters in various sapphic situations. One character from the collection is a trans woman, and the way AtlasNir portrays her body and genitals during sex is utterly adorable. I immediately gushed about her to AtlasNir at the table, telling them how much I loved their work. I felt like an adult creator was making smut for someone like me.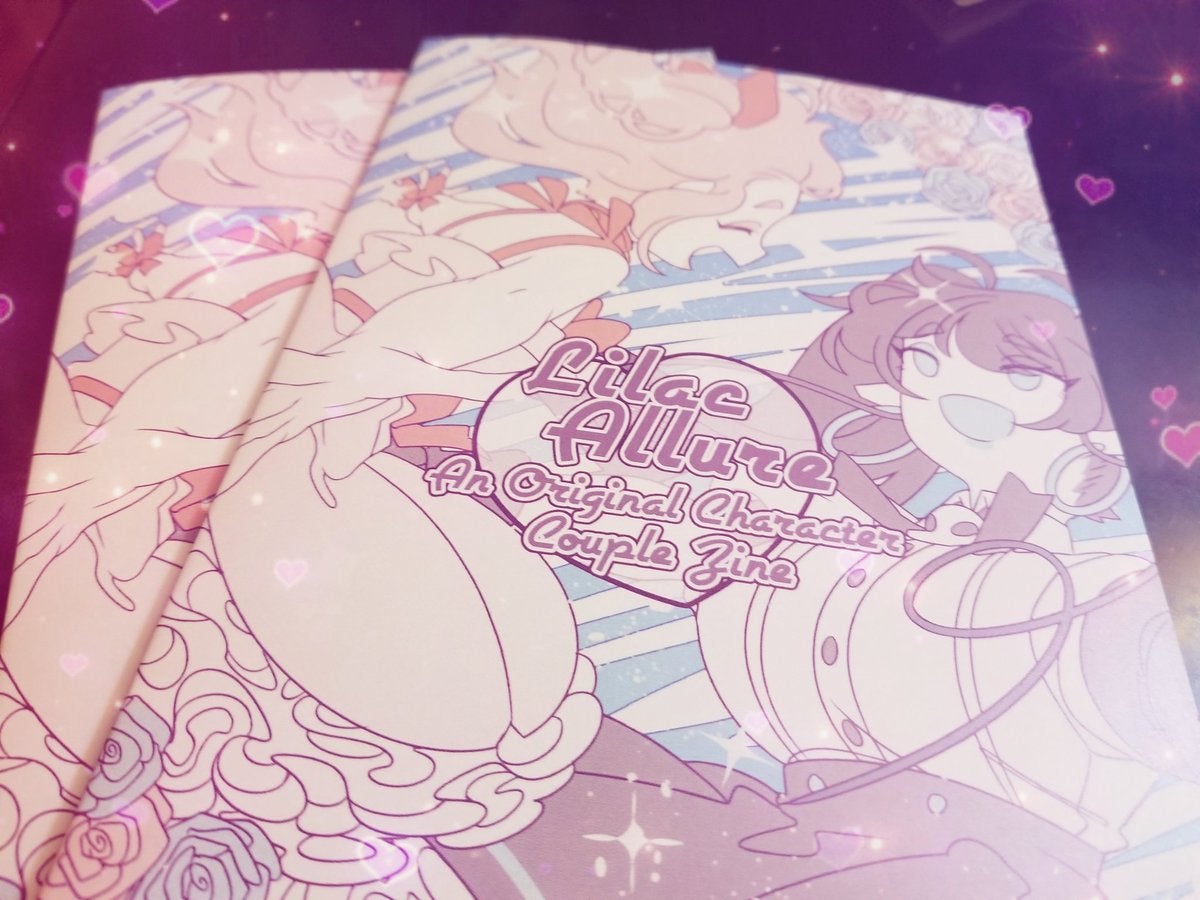 Other artists—including some of the most marginalized in the queer community—seemed just as grateful for a convention like Flame Con. Seosamh is a trans 18+ content creator who illustrates queer artwork along with his partner Anka (who uses they/them pronouns). I bought two collections from Seosamh during Flame Con, both featuring explicit trans-for-trans depictions of sensuality, like trans femmes posing seductively and trans men receiving oral sex.
Because Flame Con has a "lack of expectation for cishet material" and queer con-goers feel comfortable "divulging their [sexual] interests to someone they perceive to be of like minds/experience," Seosamh says the convention allows him to be true to himself in a way that other cons just don't allow. "Right now, Flame Con feels unique in its group acceptance of NSFW trans/queer content, and I do feel it's still conditional, for myself (fat, gay, trans, ND [neurodivergent], etc.) and of course for people far more marginalized," he said.
Queer folks need porn with their bodies to feel affirmed, loved, and desired. There's a long history of queer porn embedded within the LGBTQ community for this reason. Like myself, Archie Bongiovanni (who uses they/them pronouns) is a huge fan of queer adult content and all things related to sex. This doesn't come as a surprise; their comic Grease Bats on Autostraddle is full of affirming, inclusive lessons on everything from queer cruising to gender presentation. They believe adult content absolutely belongs at conventions like Flame Con, in part because it's a cornerstone in building so many LGBTQ communities.
"Queer smut is part of queer history. I think cons should expect and plan on it, and artists should be prepared for folks of all ages to come to their tables," Bongiovanni said. "I have books that are kid-appropriate and some that are not and so it's a mixed range of folks that swing by."
When I reached out to Flame Con organizer Geeks OUT, Vice President and Flame Con Chair Steve Gianaca told me that the convention "has always accepted adult content from our creators" and that the nonprofit does not "actively censor our artists." As long as all outward-facing material is PG-13 and adult content is only available via request, NSFW artwork is welcome.
Still, it seems Geeks OUT doesn't reach the same level of enthusiasm for 18+ queer creators as the show's artists. When asked whether queer adult material is an important part of the comic convention experience, Gianaca replied: "no more than any other part." He also said Flame Con's attendees "are far more likely to bond over a shared fandom than love of adult material." It's a notably muted response to a community that needs more protection than ever amid SESTA-FOSTA, laws intended to eliminate sex trafficking online that critics fear will result in heightened censorship.
"While I am sure there are intersectional overlaps of sex workers and adult content creators at Flame Con, our primary goal is to develop community amongst queer geeks," Gianaca said. But folks like Bongiovanni and Seosamh clearly believe adult content is a vital part of the queer art scene.
"I will say at most conventions, there are creators making adult content that's beautiful, interesting and hot," Bongiovanni said. "I definitely saw some great adult work [at Flame Con] and of course I love it. It's honestly what I look for at conventions and where my money usually goes."
A policy that protects sex workers and supports the most marginalized folks creating adult content among us, like trans smut creators and adult artists of color, is absolutely essential. Flame Con is a good start, but it's just the beginning. We need more conventions like it—and full-throated support from leadership for sex workers and adult content creators.